Price-Checking Thanksgiving Dinner Across 5 Retailers
Thanksgiving is a time to gather with family, watch some football, and change the subject when Uncle Jerry gets political.
And that's not all: Thanksgiving is also a time to EAT. Every year, Americans go all out on traditional Thanksgiving foods like roast turkey, stuffing, and pie.
But the recession this year means that budgets are tight for many families. And gatherings will likely be smaller due to the COVID-19 pandemic. That means price-conscious shoppers will be counting pennies as they shop for their big Thanksgiving meals.
Recently, we sent a team of our mobile shoppers (we call them agents) to scope out traditional Thanksgiving foods at 5 different retailers: Whole Foods, Aldi, Kroger, Target, and Walmart. Our agents price-checked the cheapest products available at each retailer, and checked the nutritional value of the different brands.
A Cartload of Price-Checks
Before diving into individual products, let's compare the price of a shopping-cartload of Thanksgiving goodies across our 5 retailers. We took the most commonly available low-cost option for each food, then calculated the price per ounce of the whole basket. Let's take a look!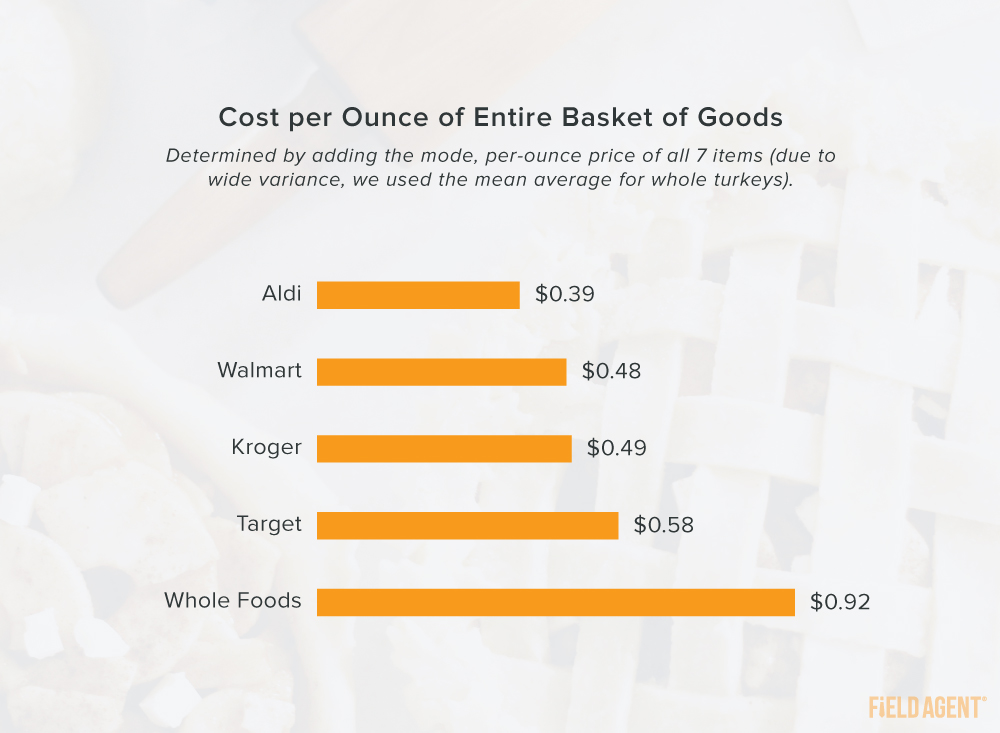 Aldi swings a clear victory when it comes to savings. Per ounce, shoppers pay only $0.39 when purchasing the cheapest options - 9 cents cheaper than the runner-up, Walmart ($0.49). On the other side of the spectrum is Whole Foods, racking up $0.92 per ounce.
What About Nutrition?
For shoppers, cost isn't everything. We had our agents investigate the nutritional info associated with each product, then we stacked up the results for each shopping cart.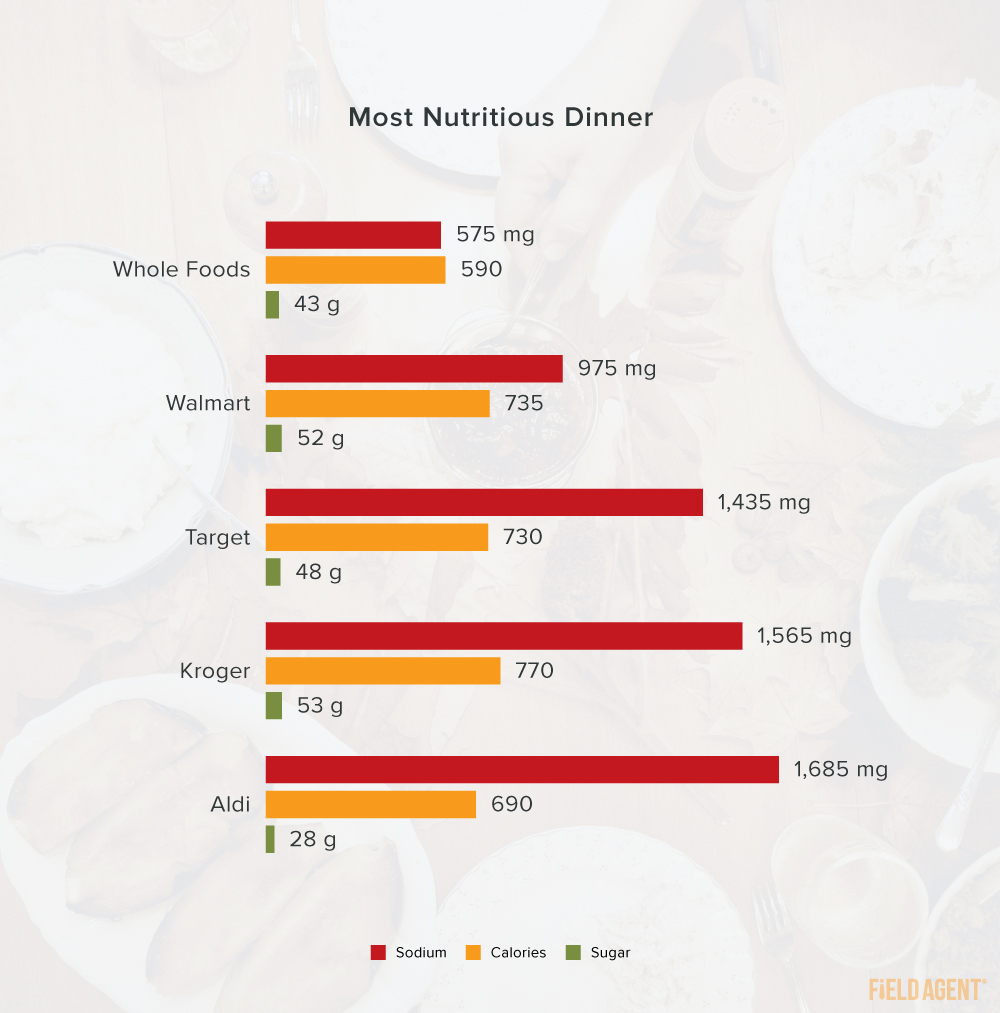 When it comes to healthy products, Whole Foods takes the (gluten free, low-sugar) cake. It's clear that the retailer's higher prices translate to healthier options for Thanksgiving dinner.
The Breakdown: Individual Ingredients
Let's get down to the nitty-gritty. Which retailers have the lowest prices on Thanksgiving staples? We had agents look for the lowest prices available at their local retailers (including sales and discounts like Whole Food's Amazon Prime membership discounts). How cheaply can a shopper pick up their Thanksgiving dinner? Lets find out.

Overall, Aldi was consistently inexpensive, offering the cheapest options in 6 out of 7 categories. Walmart took the silver medal, coming in second place for 5 foods.
What did the agents themselves have to say?
"Whole Foods is a healthier place to purchase food goods. I would not purchase all my Thanksgiving items here, but definitely the foods that are organic and non-GMO."

"Aldi provides all I need for thanksgiving dinner and the prices are low."

"Kroger is my go-to for Thanksgiving dinner supplies. They typically have everything I need ready and in stock."

"Not as much variety as you would see at other grocery stores, but if I was preparing Thanksgiving dinner, I would shop at Target because of the savings."

"It seems like I can get everything I need at Walmart for a great price. I expect some special prices will be offered closer to Thanksgiving day. I will probably do most of my Thanksgiving shopping here."
Stay Competitive This Thanksgiving
One thing's certain: if your brand relies on Thanksgiving sales to succeed in Q4, you need to be sure your prices are competitive.
Field Agent gives you peace of mind, with retail audit and price-checking capabilities. Keep your prices accurate, wherever your product is sold. Learn how below!