Rapid Response: Price-Checking 12 Goods Inside 12 WHOLE FOODS Stores
On Monday, Amazon officially assumed ownership of 460 Whole Foods stores—and immediately went to work on customers' perceptions of the retailer's prices.
In June, when Amazon first announced its intentions to purchase the grocery chain, Field Agent targeted 300 regular Whole Foods shoppers with a quick survey. We asked, among other things, "What do you want Amazon to change about Whole Foods?"
The top response? Sixty-one percent said they hope to see a drop in everyday prices. As one shopper said, "Super excited!!! I hope this acquisition makes Whole Foods a bit more affordable."
Now, just one day into the Amazon era at Whole Foods, it appears the online powerhouse is already giving shoppers what they want: lower prices. But how deep and widespread are the price cuts?
Price Check: 12 Goods, 12 Stores, 12 States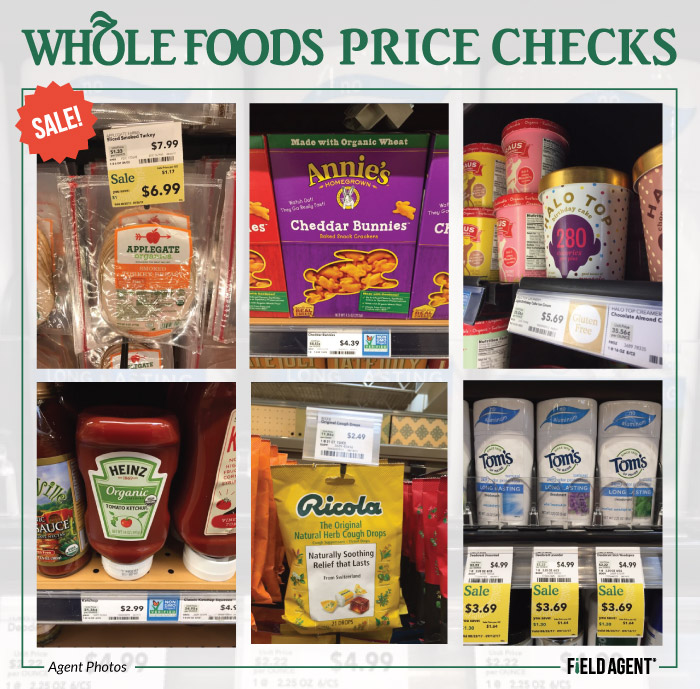 Since June, retail-auditing firm Field Agent has been collecting pricing information on a randomly-selected basket of 12 goods—including Ricola cough drops, Tom's of Maine deodorant, Annie's Homegrown Cheddar Bunnies, and 365 Everyday Value 2% Milk—inside 20 Whole Foods stores across 20 different states.
Below we offer the before-and-after prices (i.e., pre- and post-Amazon pricing) on a basket of 12 randomly-selected goods from 10-12 different Whole Foods Markets.*
*Each product in the index averages together pricing data from between 10 and 12 stores. The index combines data collected from Whole Foods Markets in the following locations: Little Rock, AR, Lafayette, CA, Fort Collins, CO, Baton Rouge, LA, Brighton, MA, Portland, ME, Troy, MI, New York, NY, Woodmere, OH, Mount Pleasant, SC, Dallas, TX, Seattle, WA.
As displayed in the index, prices for our basket of goods dropped 5% between August 4, 2017 and today.
The going rate for seven of the products in our 12-good basket did indeed fall over the course of the month, with Tom's of Maine deodorant showing the greatest decline (-26%). Three other products remained stable from the beginning of the month to now, while two items—Ricola Cough Drops and Mrs. Meyer's Dish Soap—went up in price, 7% and 24% , respectively.
So, yes, results suggest Whole Foods' prices have lowered since Amazon took over, though our study may suggest the company is initially focused with slashing prices only on a specific selection of goods.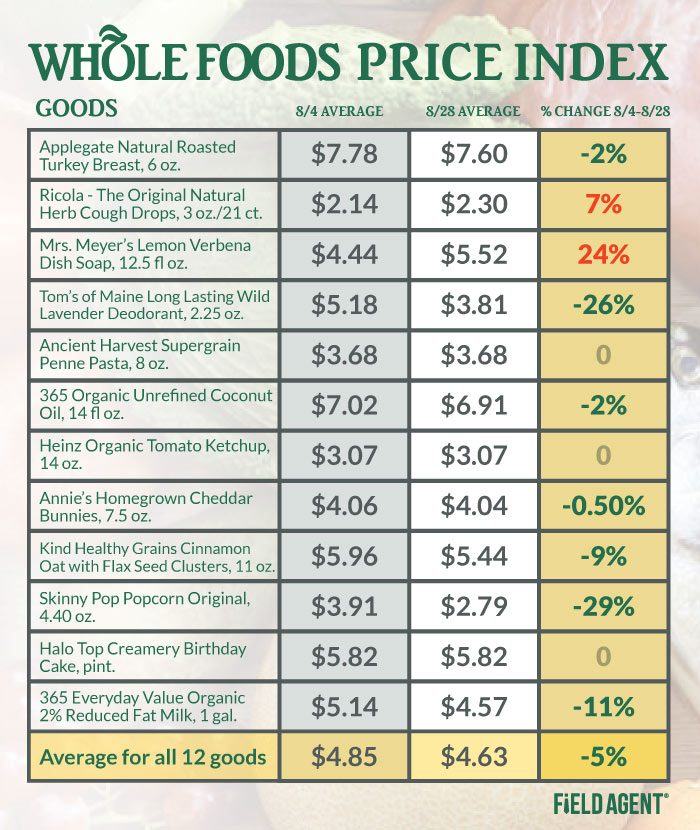 Explore the Rise of Online Grocery Shopping. Download Groceries 2.0 Revisited!
Carol Spieckerman, President and CEO of Spieckerman Retail, views the price-cutting campaign as primarily a way to change customers' perceptions.
"Whole Foods isn't wasting any time cranking up the buzz machine and that's a smart strategy," Spieckerman said. "By many accounts, the price changes aren't particularly widespread at this point but any changes will have the effect of shifting perception as the media is essentially providing free advertising by covering the reductions."
Thus, patience will be key as companies and media outlets try to interpret price changes at Whole Foods. Only time can reveal true structural price change on a product-by-product basis.
Signs of the Times: Amazon in Whole Foods
While conducting price checks inside Whole Foods Markets, Field Agents also captured these photos of Amazon-branded signage. Not all stores, agents reported, are presently featuring such signs.
It's Here!

Groceries 2.0 Revisited
Explore the rise of online grocery shopping in this completely updated and widely expanded second edition to our popular original report. Authoritative and entertaining, Groceries 2.0 Revisited encompasses 11 mobile studies, 5,890 survey responses, and 116 mobile mystery shop responses.
The free report offers a data-driven tour of several pressing topics of import to grocery retailers, brands and agencies, including:
Shopper concerns with online grocery shopping
Grocery pickup/delivery: current and expected usage with spotlights on Amazon Fresh pickup and delivery, Walmart pickup, and Jet Fresh delivery
The rise of meal kits
Grocery-shopping gadgetry with features on Amazon's Alexa, Dash Buttons, Walmart's "Scan & Go" app, and drone delivery
So come along as we examine the rise of online grocery shopping; join hundreds of business professionals who have already downloaded this free report!