Jet Fresh Grocery Delivery: All the Ingredients for Success?
Fresh-grocery delivery may take Walmart places it has never been before—like right smack-dab in the heart of New York City.
Clearly, the world's largest retailer is hungry for a bigger bite of the U.S. grocery delivery market—even as the company looks to give Amazon's delivery business, AmazonFresh, a run for its money. Just last week, in fact, the business press was buzzing about Walmart's expanded partnership with Uber to deliver fresh groceries in Dallas, Orlando, and Tampa.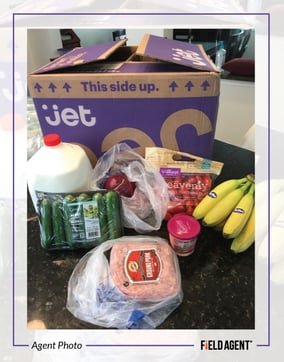 What may not be well-known is that Walmart is actually waging war with AmazonFresh on more than one delivery front. Under the Jet Fresh banner, urban-dwellers in parts of New York City, New Jersey, Connecticut, Pennsylvania, and Washington, D.C. already have access to Walmart groceries.
See also: How users rated AmazonFresh grocery delivery
The implications are huge: Grocery delivery is extending the colossal retailer's reach into formerly Walmart-less areas of the country.
But how is Jet Fresh delivery coming along?
Users Rate Jet Fresh Grocery Delivery
To understand how Jet Fresh is faring with customers, Field Agent recruited 21 shoppers (19 first-time users) to purchase at least $10 of groceries—including fresh and chilled items—from Jet.com for delivery to their homes. These agents rated the service on multiple dimensions, and, as the video below shows, chronicled their experiences in photo and video.
See Jet Fresh grocery delivery from the customer's point-of-view! Watch the video below.
For this study, our objective was to explore the experiences of a small number of high-quality users (N = 21). Thus, we asked several qualitative, free form questions, seeking to understand—and understand deeply—the experiences of Jet Fresh customers.
Bringing Home the Bacon: Lessons Learned
While Walmart and Jet.com can certainly be optimistic about many of the findings presented above, Field Agent's explorative, user-experience study of Jet Fresh suggests the grocery delivery service also has room for improvement.
Users appreciate Jet Fresh's convenience, speed, freshness, accuracy, and ease of use. Yet the delivery service, still very much in its testing phase, will want to take strides to strengthen customers' repeat intentions. Only 37% of first-time users in the study (n = 19) were more than moderately likely (i.e., extremely or very likely) to use Jet Fresh delivery again in the future.
It's Here! Groceries 2.0 Revisited
Explore the rise of online grocery shopping in this completely updated and widely expanded second edition to our popular original report. Authoritative and entertaining, Groceries 2.0 Revisited encompasses 11 mobile studies, 5,890 survey responses, and 116 mobile mystery shop responses.
The free report offers a data-driven tour of several pressing topics of import to grocery retailers, brands and agencies, including:
Shopper concerns with online grocery shopping
Grocery pickup/delivery: current and expected usage with spotlights on Amazon Fresh pickup and delivery, Walmart pickup, and Jet Fresh delivery
The rise of meal kits
Grocery-shopping gadgetry with features on Amazon's Alexa, Dash Buttons, Walmart's "Scan & Go" app, and Drone delivery
So come along as we examine the rise of online grocery shopping; join hundreds of business professionals who have already downloaded this free report!