Groceries 2.0 Revisited: The Rise of Online Grocery Shopping [Report]
Grocery shopping has come a long way since we first published Groceries 2.0 in 2015.
In just two years time, online grocery shopping has gone from a promising possibility to an ever-hastening inevitability, as Walmart, Amazon, and other retailers invest heavily in sophisticated digital capabilities for their grocery businesses.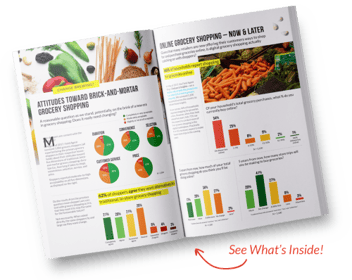 Exploring the rise of online grocery shopping, Field Agent is excited to announce the release of Groceries 2.0 Revisited, a completely updated and widely expanded second edition to our popular original report.
The video below offers a glimpse into several cutting-edge grocery pickup operations. Take a look!
Encompassing 11 mobile studies, 5,890 survey responses, and 116 mystery shop responses, Groceries 2.0 Revisited offers an authoritative and entertaining primer on the attitudes and behaviors of today's digital shoppers toward an assortment of grocery developments, including:
Grocery Pickup, including spotlights on…

Walmart curbside pickup
AmazonFresh pickup stations

Grocery Delivery

AmazonFresh delivery
Jet Fresh delivery

Grocery Tech

Amazon's Alexa and Dash Buttons
Walmart's "Scan & Go" app
Drone delivery

Online Meal Kits
The report also examines, in general, shoppers' attitudes toward conventional and digital grocery shopping, including their primary concerns about buying groceries online.
Groceries 2.0 Revisited is now available free for download.
Popping with colorful graphs and original photos, this professionally designed report is a must-have for all business professionals with a stake in the future of grocery shopping.
Download this free report today, and explore the rise of online grocery shopping.