Monster Insights 2017: Halloween Shoppers' Purchases, Favorite Brands
Halloween's a frightfully good time for many companies.
Indeed, the NRF projected Halloween spending at a startling $8.4 billion last year, the highest point in the 13-year history of the survey.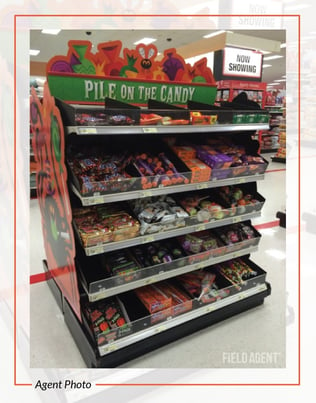 We at Field Agent know a thing or two about Halloween as well—specifically, about Halloween shoppers. Based on surveys from the past four years, we know:
Self-interest is a major factor when shoppers determine which treats to pass out at Halloween: We want the leftovers!
There are

two

Halloween shopping seasons:

pre-to-mid October when Americans buy costumes and mid-to-late October when they purchase candy and other treats
Chocolate bars, more than any other treat, dominate candy dishes on Halloween night
Of course, there are many other questions surrounding Halloween shoppers.
Monster Insights on Halloween Shoppers
On Tuesday night, Field Agent surveyed 1,501 Halloween households across the country. Each household reported plans to participate in Halloween 2017.
We asked respondents about their households' Halloween activities, purchase intentions, attitudes, brand preferences, and favored retailers for treats and costumes.
The full results are available below for you to view, download, and share.
Unwrapping the Results: What We Learned
Halloween 2017 should once again be a big night for many companies, including those selling candy, alcohol, and baking products.
Based on our survey, chocolate and soft candy will be found in many candy dishes nationwide. Expect Kit Kat/Reese's Peanut Butter Cups and Skittles/Starbursts to lead their respective categories.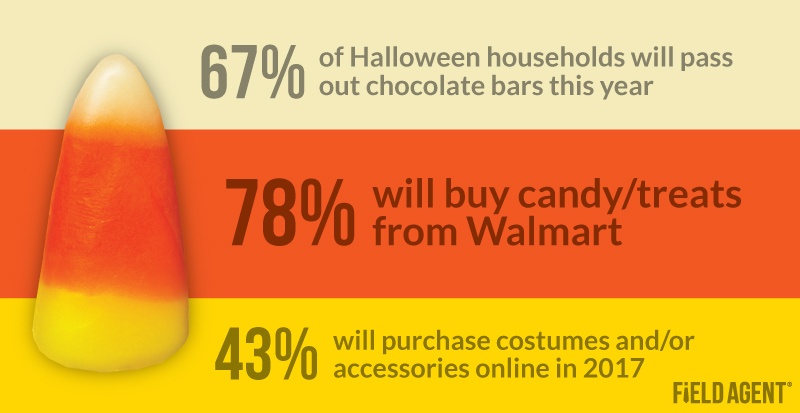 Walmart should be shoppers' go-to destination for candy and treats this year, followed by Target. For costumes, Walmart only narrowly edged out local Halloween specialty shops for most favored retailer, while Target and Amazon also made strong showings.
Notably, about 4-in-10 households said they'll purchase costumes or costume accessories online this year. Edible treats, however, are still primarily a brick-and-mortar affair.
Special Report: Comparing 4 Major Online Retailers
The competition between online retailers continues to escalate.
As reported by Progressive Grocer, Field Agent recently surveyed customers of Amazon.com, Walmart.com, Target.com, and Jet.com. We asked a series of timely questions, including:
Which products do you buy at the [specified] online retailer?
What does this retailer do better than its competitors?
Where does it need to most improve?
Do you intend to buy more or less from this online retailer in the coming year?
Go inside the mind of online shoppers. Claim your free copy of this popular report today!