Rapid Response: What Do Shoppers Think of Amazon 4-Star? [Video]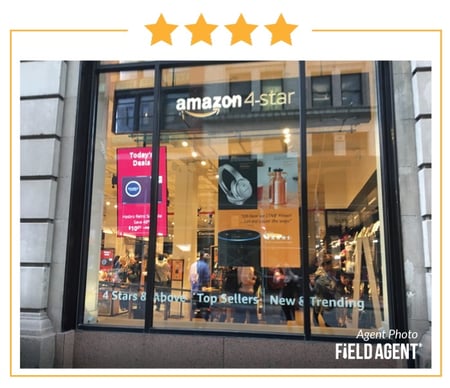 Amazon Books. Amazon Go.
Now, Amazon 4-Star.
The retailer's latest foray into brick-and-mortar retail opened Thursday in New York's fashionable SoHo neighborhood.
Amazon 4-Star, described by the company as "a place where customers can discover products they will love," showcases some of Amazon's best-selling, crowd-pleasing, and/or trend-setting products, each with an average online rating of 4 stars or higher.
See Also: How will Amazon fare with holiday shoppers this year? Download Field Agent's 2018 holiday report, packed with 30 pages of insights!
A cool concept, but what will shoppers make of it? Just hours after the store opened, retail-auditing and insights firm Field Agent was already collecting their feedback.

Instant Video: Inside Amazon 4-Star
Over the weekend, Field Agent dispatched 15 agents to Amazon 4-Star to collect photos, capture video, and, basically, give us the tour of Amazon's new digs. See the sights and sounds from 4-Star's grand opening in the video below.
Field Agent also asked these 15 shoppers several questions about their 4-Star experience. Scroll further down to see what shoppers said they like and dislike about the new store.
As the video above suggests, Field Agent collected shopper feedback from 4-Star participants. To get the full 4-Star experience, all shoppers were required to make at least one purchase inside the store, something we verified in photo.
The report below offers insight into the opinions and repeat-intentions of these 4-Star shoppers, shared immediately after visiting Amazon's latest B&M venture.
Retail Solutions for Any Challenge
Get visibility in-store, gather relevant insights, drive trial of your products, merchandise shelves, and more. You can even create
custom campaigns.
Explore the Field Agent Marketplace today.
Now Available! 2018 Holiday Insights Report
Field Agent's 2018 holiday insights report, "An Old-Fashioned, Omnichannel Christmas," is now available for free download!
From surveys with thousands of shoppers, this fun yet authoritative report offers an in-depth look at the plans and expectations of this year's holiday shoppers, including what gifts they're buying, where they're buying them, and how they're buying them.
Click below to download your free copy today!