Retail Madness: Shoppers Pick Top Tactics for Winning Retail Sales
March Madness is nearly upon us! It's a favorite sporting event for Americans, with millions upon millions tuning in for game after game over a span of a few action-packed weeks.
And not just watching, but filling out and keeping track of a bracket, too. Last year, in fact, some 36.7 million Americans completed at least one NCAA tournament bracket.
Which got us thinking: Why do basketball teams and fans get to have all the fun?
The retail industry, after all, is a fiercely competitive arena as well. And not just retailer versus retailer, brand versus brand; the competition extends to tactics, methods, and practices.
For instance...
Which product displays are better at driving retail sales: four-ways, endcaps, cart rails, or sidekicks?
Which product-page features are more likely to convert shoppers into customers: product descriptions, photos, videos, or reviews?
Which methods are most likely to convince shoppers to try a product: rebates, coupons, in-store demos, or digital demos?
Which actions, taken by a retailer, will entice more sales: cleaner stores, fewer out-of-stocks, friendlier employees, or more selection?
Well, who better to ask than the shoppers themselves?
And in true March Madness fashion...
On the Court: Retail Bracketology
To understand which tactics are most likely to win retail sales, we created four different mini-tournaments: in-store promotions, ecommerce, product trial, and retailer actions.
Then, we called on the shoppers—thousands of them—to determine the winners. In all, we collected over 2,500 survey responses* across two rounds of surveys.
*All survey respondents were U.S. adults at least 18 years of age and smartphone owners. The surveys were executed through the Field Agent platform, February 27 - March 1, 2022, with a non-random sample of shoppers. Survey #1 demos: Gender - Female (51%), Male (49%), Age - 18-20 (1%), 21-29 (16%), 30-39 (34%), 40-49 (29%), 50-59 (14%), 60+ (5%); Race/Ethnicity - Caucasian/White (64%), Latino/Hispanic (16%), African American/Black (14%), Other (6%). Survey #2 demos: Gender - Female (51%), Male (49%), Age - 18-20 (1%), 21-29 (16%), 30-39 (34%), 40-49 (29%), 50-59 (14%), 60+ (5%); Race/Ethnicity - Caucasian/White (64%), Latino/Hispanic (16%), African American/Black (14%), Other (6%).
It's time for tipoff!
Here are the results from Retail Madness 2022...
Tourney #1: Which product display is most likely to generate in-store, retail sales?
Retail outlets often contain a colorful array of product displays and signage.
Every year, brands spend billions on point-of-purchase materials to ensure their SKUs have the best possible chance of winning in-store, retail sales—and product displays like four-ways, endcaps, cart rails, and sidekicks help brands command shoppers' attention (and dollars).
Which is why successful brands take retail auditing seriously, ensuring their product displays are in-store, correctly assembled, properly positioned, and adequately stocked. Simple auditing solutions like this one can help.
So we asked shoppers, "Which [display] is more likely to convince you to buy a product while shopping inside stores for groceries/household consumables?" We provided descriptions and photos of each display type—to ensure survey respondents understood the difference.
As you can see, in first-round action, endcaps (54%) bested four-ways (46%) in what turned out to be a relative nail-biter, while cart rails (65%) roundly defeated sidekicks (35%).
This pitted endcaps against cart rails in the championship matchup, and, despite a first-round scare, endcaps (63%) made quick work of cart rails (37%).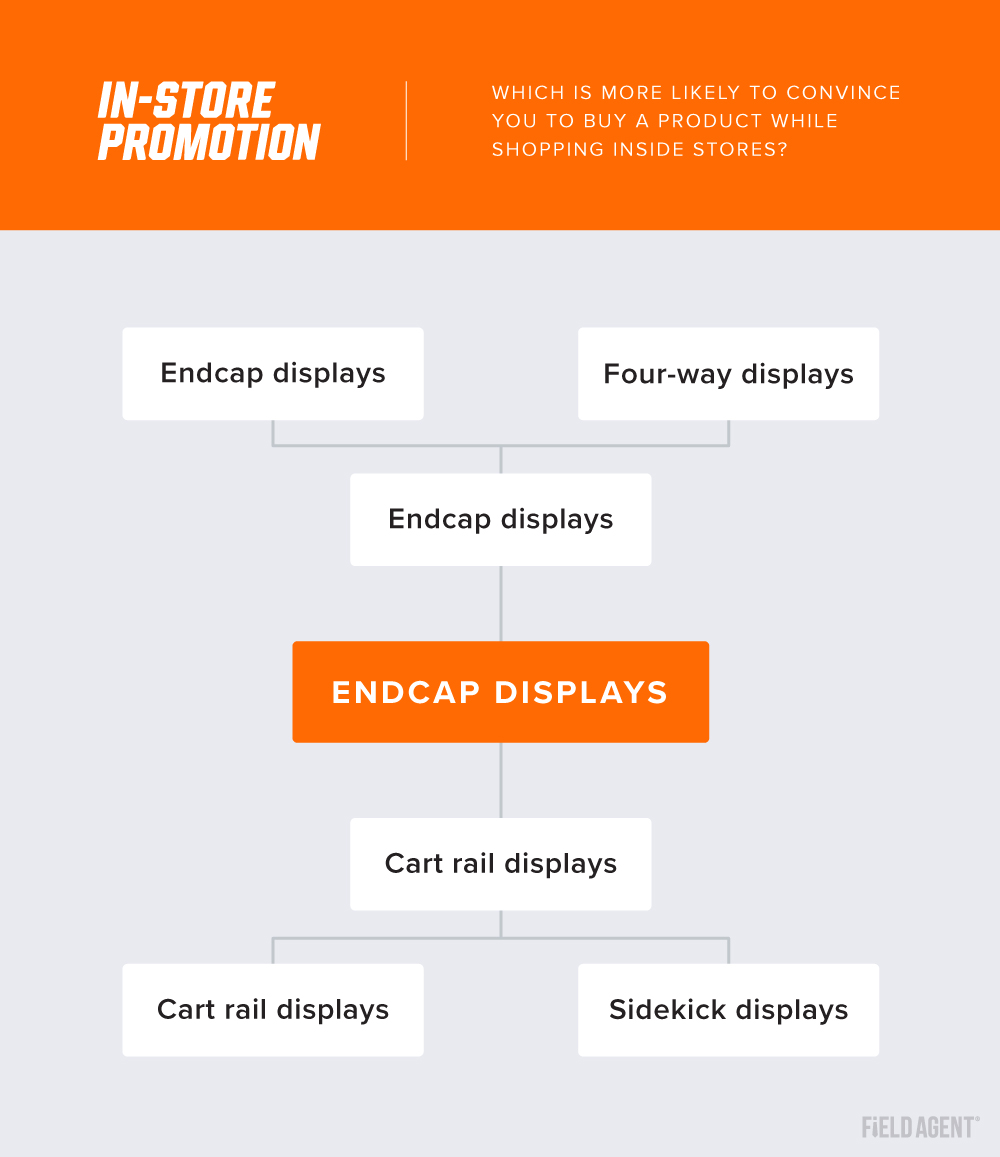 According to the shoppers themselves, then, endcap product displays have a comparatively persuasive effect over their in-store purchase decisions.
Endcaps, FTW.
Tourney #2: Which ecommerce product-page feature is most likely to win online sales?
What an intriguing question. After all, ecommerce sales continue to claim more shopper dollars, and, by one estimate, will account for 25% of total retail sales by 2025.
But which product-page features—product descriptions, photos, videos, or reviews—are best at converting browsing online shoppers into buying online shoppers?
Specifically, shoppers were asked, "Which is more likely to convince you to buy a product while shopping online...?" "Shopping online," we told respondents, includes everything from groceries to electronics, household consumables to household furnishings?
No contest. Product photography (72%) absolutely annihilated product descriptions (28%) in the first round, while product reviews (78%) easily pushed aside product video (22%).
Which means we got a matchup of titans in the championship: product photography versus product reviews. And we weren't disappointed; the contest went right down to the wire.
In the end, reviews (56%) beat photography (44%) to claim the title.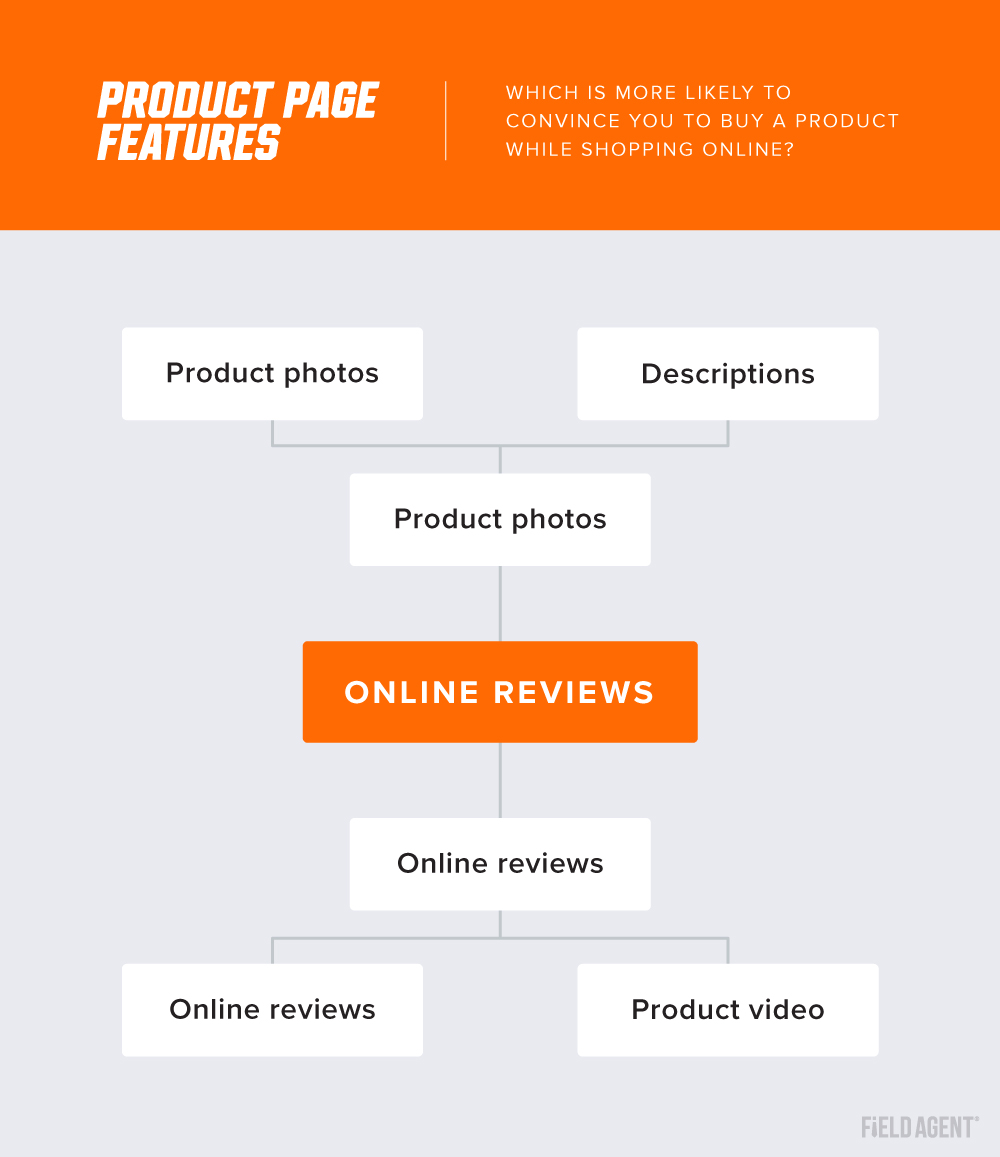 Given the strong showings by both product reviews and product photography, the lesson here is both clear and loud: brands should ensure both are at the top of their game.
Which is becoming easier by the day, with solutions like these Walmart-approved review products and this photography package.
Tourney #3: Which activity is most likely to drive product trial among shoppers?
As we described in our article, How Do I Drive Product Trial, new products always start from behind, and they must be able to generate trial among shoppers if they are to succeed.
Here, however, the question is: Which trial methods are most likely to drive product trial?
Or, as we put it to shoppers, "Which is more likely to convince you to try a grocery/household-consumable product?"
Rebates? Coupons? Traditional store demos? Or Digital Demos?
In round one, coupons (61%) easily handled rebates (39%), while Digital Demos (56%), described here, got the better of traditional, in-store demos (44%).
And in the championship match-up, coupons (58%) defeated Digital Demos (42%) to carry home the trophy.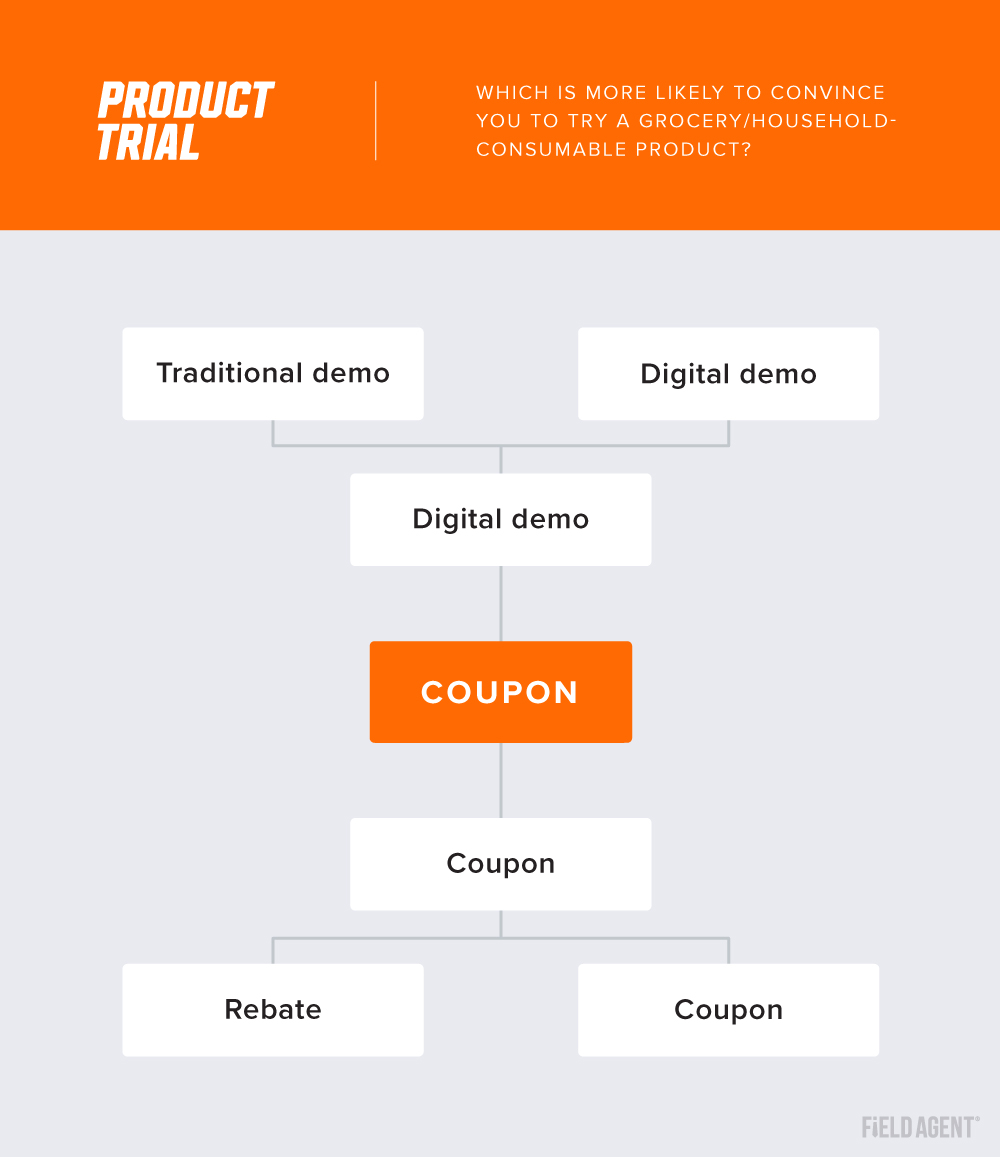 Of course, coupons and demos are fundamentally different ways of driving first-time purchase of products. Here, the bottom line may be that brands have a couple of powerful tools—coupons and Digital Demos—for generating trial.
Tourney #4: Which retailer action will result in shoppers buying more products?
But what about the retailers? What can they do to earn more dollars from store visitors?
For this mini-tournament, we paired "keeping products in-stock better" against "friendlier, more helpful employees." In-stocks won resoundingly, 81% to 19%, respectively.
Also in the first round, "cleaner, better organized stores" went up against "wider selection of products." Cleaner/organized stores (54%) edged out wider selection (46%).
Setting up a championship contest featuring "keeping products in-stock better," which prevailed 60% to 40% over "cleaner, better organized stores."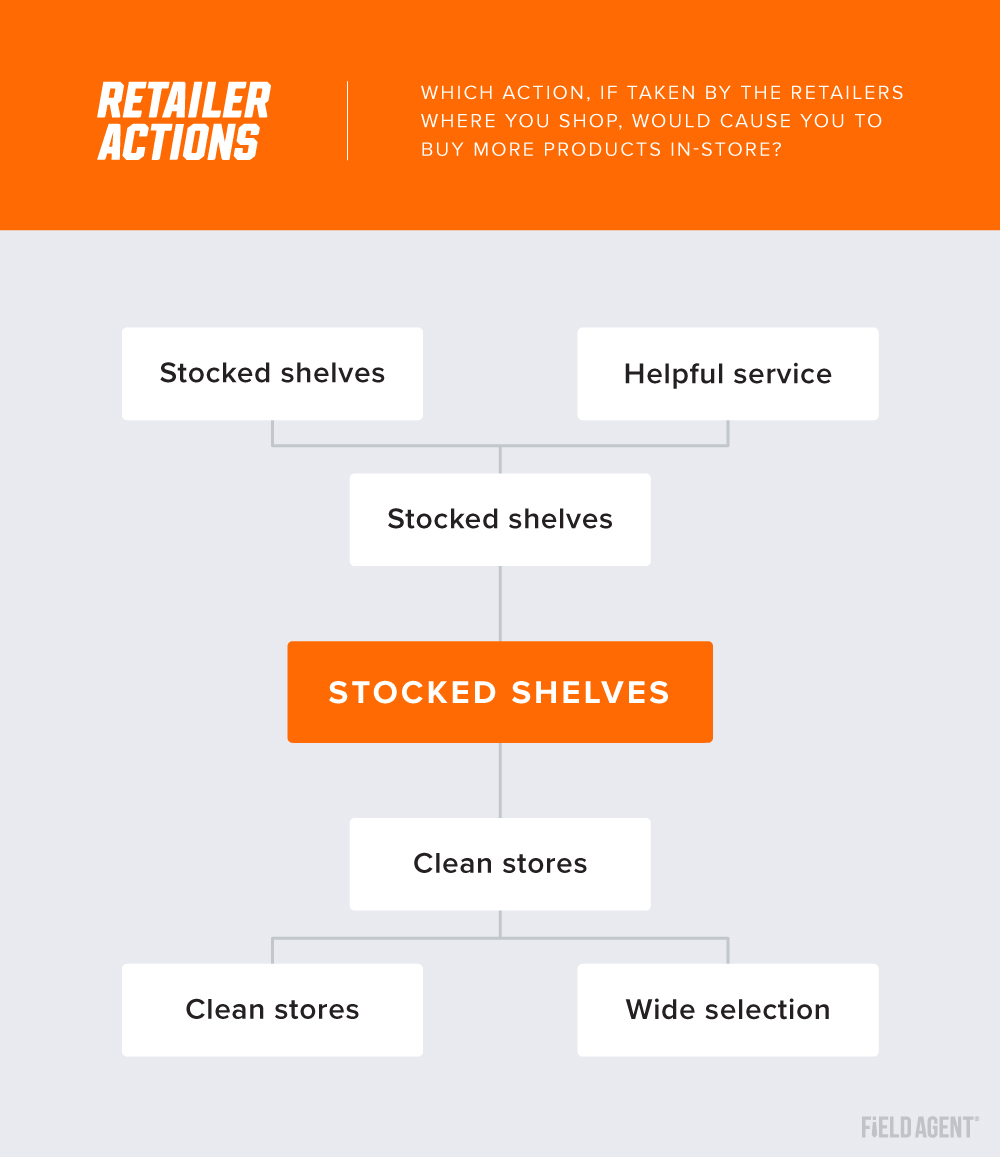 For us at Field Agent, the outcome here was probably the least surprising of the four tournaments. Our research over time has found time and time again how important in-stocks are to retail shoppers—and how maddeningly frustrating out-of-stocks are. Which is why we run a lot of on-shelf availability audits for brands and retailers trying to limit OOSs.
Solutions for Your Retail Madness
Oh, we get it. At times, retail is madness. So many challenges; so much unpredictability.
With a full suite of simple, fast, affordable tools, the Field Agent Marketplace exists to help companies of all kinds cut through the madness and win at retail.
Our marketplace contains the tools you need—audits, reviews, insights, merchandising photography, on-demand sales—to go on a real winning streak. Check it out below.
Retail Audit, Digital Demo, Ratings & Reviews, Retail practices