SPECIAL REPORT: Shoppers Rate 4 Leading Online Retailers
In the heated contest for digital shoppers and their online dollars, retailers and media alike often focus on "the numbers"—on basic metrics like revenue and year-over-year sales growth.
Such measures, however, are limited in what they tell us about online retailers and their overall performance.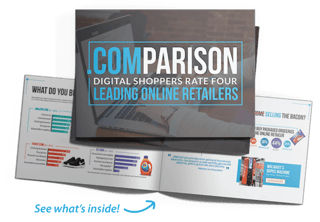 To get the whole story—to understand which retailers are REALLY winning the battle of the .coms—we should go directly to the source: the shoppers themselves.
Shoppers Rate Amazon, Walmart, Target, & Jet
As reported by Progressive Grocer, Field Agent asked 1,039 shoppers to rate one of four major online retailers: Amazon, Walmart, Target, and Jet. Our purpose was to understand how shoppers perceive some of today's most powerful digital retailers and, ultimately, to gauge which of these is winning the battle for the shopper's mind.
To facilitate comparison between retailers, Field Agent asked a variety of questions, including:
Which products do you buy at the [specified] online retailer?
What does this retailer do better than its competitors?
Where does it need to most improve?
Do you intend to buy more or less from this online retailer in the coming year?
The results from this study are now available for free download!
This special report, .Comparison: Digital Shoppers Rate 4 Leading Online Retailers, offers a wealth of insight into shoppers' perceptions of Amazon, Walmart.com, Target.com, & Jet.
For instance:
25% of Walmart.com customers purchase fresh groceries at Walmart.com, compared to only 10% for Target.com and 5% at Amazon (among Target.com and Amazon.com customers, respectively)
73% of Amazon customers buy electronics from Amazon.com while, by contrast, 47% of Walmart.com shoppers buy electronics on the Walmart website
Amazon distinguishes itself on delivery speed and cost but, comparatively, Walmart.com excels on store tie-ins
Download the full report—it's free—for all the results!