Food for Thought: Americans Share Attitudes toward MEAL KITS [Survey]
Written by Hannah Holloway and Sofia Escalante
For many consumers today, convenience is a top priority.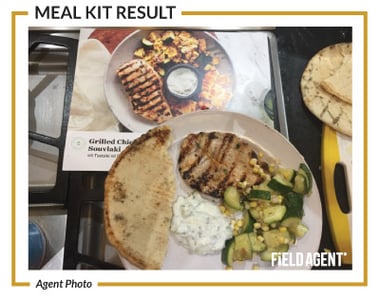 And that's where meal kits step in.
This young yet thriving industry delivers all the ingredients to make easy and healthy meals, without a trip to the grocery store.
Is this dinner-to-your-door service just a passing trend...or is it here to stay?
To better digest the growing prevalence of meal kits, Field Agent went right to the source: the consumers themselves!
Download Field Agent's special report: "Food for Thought - Americans Share Attitudes toward Meal Kits"
VIDEO INSIGHTS: Below, Field Agent offers a video glimpse inside the kitchens of three meal kit users, as they prepare meals purchased from Plated, Blue Apron, and Hello Fresh.
What's Cooking with Meal Kits? 1,369 Surveyed
This week, Field Agent, a retail-auditing and insights firm, surveyed 1,369 Americans who prepare at least three meals inside their homes on a weekly basis. We sought to understand the attitudes of both meal kit users and non-users.
Field Agent posed a variety of questions, including: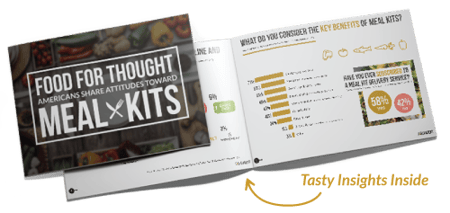 How many Americans are actually using meal kits?
What do users see as their primary benefits and drawbacks?
Why aren't more Americans buying meal kits?
How have meal kits influenced traditional grocery shopping?
Would consumers prefer private brands or name brands in meal kits?
The results are now available for free download!
Meal Kit Usage, Attitudes: A Buffet of Insights
Field Agent's latest report delves deeply into Americans' behaviors and attitudes toward meal kits. Insights include:
64% of those who have tried meal kits have ordered from Blue Apron
63% of those who have not tried meal kits say they're simply "too expensive" to purchase
78% agree they want grocery stores to develop meal kits for purchase in stores
Download the full report for all the tasty insights!!