7 Retail Questions All Brands Have…But Are Too Afraid to Ask
Some questions can make us wince.
They're certainly important enough to ask, but we're not entirely sure we want to know their answers. Questions like:
How much are the auto repairs?
Am I financially prepared for retirement?
How much time—gulp—do I spend watching Netflix?
Scary questions…with potentially painful answers.
But, they need asking.
CPG companies deal with scary questions of their own. Brands may be hesitant to ask them; they may be tempted to take the old "ignorance is bliss" position.
But for professionals of the packaged-goods industry, ignorance is not bliss.
Ignorance is missed sales goals.
7 Retail Questions All Brands Have…But Are Too Afraid to Ask
For over seven years, Field Agent, a retail-auditing and insights firm, has helped brands of all shapes and sizes answer their most pressing retail questions.
Based on our conversations with clients, and our own experiences in CPG and retail professions, below we present 7 retail questions all brands have…but are sometimes too afraid to ask.
1. Are my products in-stock and available for purchase?
Sometimes products are retail no-shows. Maybe they didn't arrive at stores…or perhaps they're collecting dust in the backroom. Whatever the cause, they're not available for purchase.
Because brands often lack visibility at the store level, questions about on-shelf availability haunt many CPG companies.
Yet, we need to ask them.
2. Are my products where they're supposed to be inside stores?
Other times, brands may question whether their products are properly positioned on store shelves, on endcaps, in displays, etc.
In other words, brands may wonder: Are shoppers even seeing our products inside stores. Good question.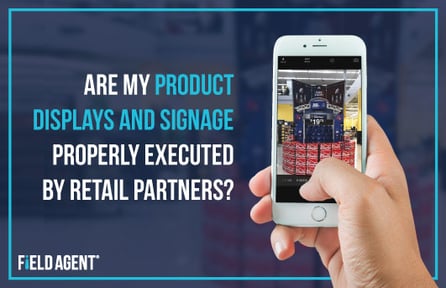 3. Are my product displays and signage properly executed by retail partners?
CPG companies spend billions every year on displays, signage, and other forms of shopper marketing. But are those products and point-of-purchase materials being properly executed by retail partners?
When it comes to expensive merchandising initiatives, ignorance is certainly not bliss.
Want to Learn More About the Mobile Audit Advantage? Click Here to Learn More
4. Are my products correctly priced in stores?
Many suppliers naturally wonder: Are shoppers seeing the prices they're supposed to see inside stores?
Incorrect prices can be a double whammy for brands. Wrong prices can deter sales in the present ("That's too much") and forfeit future sales ("That brand was too expensive last time I checked").
5. Are employees, retail partners, third-party merchandisers, and marketing event staff on top of things?
Brands rely on a host of third parties to keep their retail operations on-track. But there's always that gnawing question: Are my partners/employees holding up their end of the deal?
From seasonal displays to in-store demos, vigilant companies take steps to ensure their partners and employees are following through on their commitments.
6. How are my competitors marketing their products at-retail?

This could actually be several questions in one:
Where are my competitors' products sold?
Where are competitors' brands positioned on store shelves?
How much are my rivals' products?
How are competitors promoting their in-store offerings?
To win the game of retail, you have to know the score. And to know the score, you have to ask the hard questions.
7. What do shoppers think about my product, retail execution?
Of course, for CPG companies, retail strategies and operations are only as good as their ability to woo shoppers.
Consequently, brands should regularly ask: What do shoppers think?
What do they think about in-store products, prices, planograms, and promotions?
After all, the customer is always right. Right?
Easy Answers to Hard Retail Questions
It's true. Brands have to contend with a lot of unsettling retail questions these days. Fortunately, more than ever, CPG companies enjoy fast, affordable access to the answers.
[Hey, if you've got to ask hard questions…it helps to have easy answers, right?]
Mobile Audits have revolutionized how CPG companies obtain answers to their pressing retail questions—including all 7 questions above.
From price checks to competitive intelligence, planogram compliance to shopper insights, Mobile Audits offer instant visibility inside stores throughout the country—so you have ready access to store-level information when and where it matters most.
Learn more about Mobile Audits. Contact one of our experts.