Shopping with Alexa? Survey Reveals Purchase Behavior of Echo Owners
Hey, Alexa.
Hey, Siri.
Hey, Google.
"Intelligent personal assistants" are revolutionizing how we obtain information, manage our households, and entertain ourselves.
But, will IPAs—and the devices they live in: Amazon Echo, Apple iPhone, Google Home—ever become a go-to method for shopping and transacting purchases?
Do Echo Owners Make Purchases Through the "Smart Speaker"?
This weekend, mobile solutions firm Field Agent surveyed 318 certified Amazon Echo, Echo Dot, and Tap owners. Our ultimate purpose was to determine whether Alexa-users are utilizing the IPA to shop for and make purchases, and the full results are now available in our free, downloadable report: "Shopping with Alexa."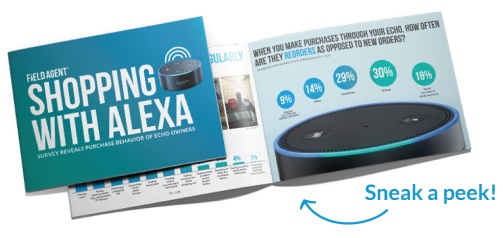 See Also: Will Drone Delivery Fly with Shoppers? Download the report, "Buy & Fly Retail"!
As the video below suggests, participating agents were required to capture video and photos of their Echo—meaning every participant in the survey was a bona fide Alexa-user, carefully verified through Field Agent's quality control process.
The video above offers just a quick glimpse into the study. But Field Agent's free, downloadable report, "Shopping with Alexa," includes several additional insights:
Attitudes toward shopping with Alexa
Top Alexa-based purchases
Most popular brand names—Domino's? Uber? Campbell's?—among Alexa "skills"
Reasons why some say they're apprehensive to shop with Alexa
The complete report is now available for free. Download it today!
And be sure to subscribe to the Field Agent Blog, recently ranked in the top 10 of Feedspot's best market research blogs on the planet.