Sizzling Insights: The Top Brands & Retailers of Outdoor Grilling
Warmer days are just ahead, which means Americans across the country will soon fire up their outdoor grills. Nothing says "America" like a backyard barbecue.
But before those grills start sizzling, households will first need to stock-up on everything from buns to beer, charcoal to Cheetos. Barbecue season is, after all, a red-letter event for many businesses.
But just which brands and retailers are poised for the hottest 2019 grilling season?
Glad you asked.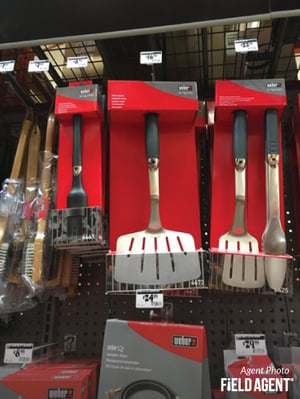 See Also – Special Report: 1,000 Homeowners Talk 2019 LAWN & GARDEN Shopping
Nationwide Survey of Over 1,000+ Grill-Owners
Earlier this week, retail-auditing and insights firm Field Agent surveyed 1,172 grill-owners across the country about their coming BBQ-related purchases and behaviors. The results from this nationwide mobile survey are available below.
But, first, enjoy this special video-look into the behaviors of America's grill-owners.
The report below showcases the results of a Field Agent mobile survey of 1,172 verified grill-owners. Scroll even further down for additional discussion about the results.
Discussion: Blowing Away the Smoke
Barbecues are big business. In Field Agent's survey of 1,172 grill-owners, fully 7-of-10 reported that their households grill-out at least once a week during the warmer months, with hamburger, chicken, steak, and hot dogs the most frequently grilled foods, alongside the most popular beverages of soda, bottled water, and beer.
For purchases of grilling supplies, Walmart is the undisputed champion. More than 70% of respondents said they buy items like grills, charcoal, and lighter fluid from Walmart, with Home Depot (39%) and Lowe's (36%) placing a distant second and third, respectively. Moreover, grill-owners still overwhelmingly buy their non-food, grill essentials in-store. Ninety-eight percent said they shop for grilling supplies inside stores, compared to 23% who buy such items online for package delivery and 17% online for store pickup.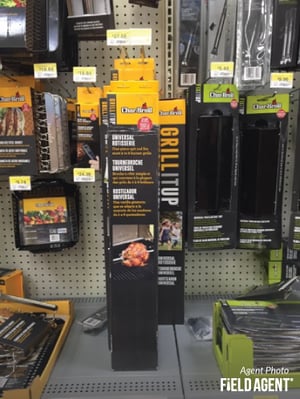 We also learned that there are some real heavyweights among backyard-barbecue brands.
When grill-owners were asked what brands really "make or break" a barbecue, names like Kingsford, Heinz, Johnsonville, Ball Park, Sweet Baby Ray's, McCormick, and Bush's all came out looking very good, each with more than 50 mentions.
So as the weather warms up this year, and grills along with them, this survey offers an indication of which retailers and brands will dominate the 2019 barbecue scene.
Free Report: 2019 Lawn & Garden Shopping
Field Agent surveyed over 1,000 lawn-and-garden homeowners to understand their 2019 L&G shopping and spending behavior. Our free L&G report explores questions like:
What lawn and garden activities do homeowners expect to engage in this spring?
How much do they anticipate spending on L&G supplies this year?
Where do they expect to purchase most of their supplies?
How likely are they to shop online?
Download your free copy of this report today…and get to know this year's lawn and garden shoppers.