Special Report 2017: 1,001 Moms Talk Back-to-School Shopping
Temperatures are rising, the days are growing longer, and communities across the country are hosting graduation ceremonies.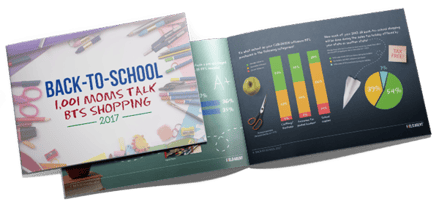 Which can only mean one thing: Back-to-School.
Wait, what?
That is, if you're a retailer or CPG company.
While students and teachers are enjoying a well-deserved break, retail and branded-goods professionals are already working feverishly to prepare for the annual blitz of back-to-school shoppers.
And for good reason, too. K-12 BTS spending topped $27 billion last year!
Special Report: 1,001 Moms Talk BTS Shopping
For the past four years, mobile solutions firm Field Agent has surveyed mothers of K-12 children to understand their expectations, attitudes, and behaviors toward back-to-school shopping.
We're now pleased to share our 2017 Back-to-School Report, based on a sweeping survey of 1,001 Moms of K-12 children. It's completely free to download.
The report is packed with insights, including answers to questions like:
What do K-12 households expect to purchase for the 2017-18 BTS season?
Where do moms expect to shop for BTS school supplies and clothes?
How much shopping do BTS families expect to complete online this year?
What do moms plan to buy for their kids' packed lunches?
What are moms' top frustrations with BTS shopping?
This year's BTS report also contains a special insert, "Back-to-School Study Guide: How Companies Make an A+ with Shoppers." This guide shares practical ways retailers and CPG companies can optimize their in-store BTS execution and sales.
Download the Free 2017 BTS Report Today
Based on a survey of 1,001 moms, Field Agent's 2017 BTS Report is now available for download.
Claim your copy of this free, 28-page report today!