Rapid Response: Users Rate Amazon's New Grocery Pickup Service
Another week, another pivotal development in the ongoing "fresh" war between Amazon and Walmart.
Just recently we wrote about Walmart's new JetFresh delivery service and its quest to win over New York City.
On Friday, however, the focus shifted clear across the country to Seattle, where Amazon has just unveiled its AmazonFresh grocery pickup service to Prime members.
It's the online retailer's first foray into the brick-and-mortar grocery business.
You think folks are paying attention?
What Do Shoppers Think about Amazon's New Grocery Pickup Service?
This week, retail-auditing firm Field Agent dispatched a total of 20 Seattle-based Prime members to mystery shop Amazon's two pickup sites: one in the SoDo neighborhood, the other in Ballard.
See Also: What users think about Walmart's new "Scan and Go" service
Prior to visiting the pickup site, agents were required to shop for and purchase at least $10 worth of groceries on the AmazonFresh website. One of these items, we stipulated, must be fresh produce.
As you can see from the footage below, our agents captured photos, video, and even audio commentary from their firsthand experiences with the grocery pickup service.
Scroll even further down for the full results from this important mystery shop.
Following both the online-shopping and pickup portions of the study, Field Agent asked a series of questions to understand participants' experiences with and attitudes toward AmazonFresh pickup.
See Also: Will Americans REALLY buy groceries online?
Click the image below to see the full results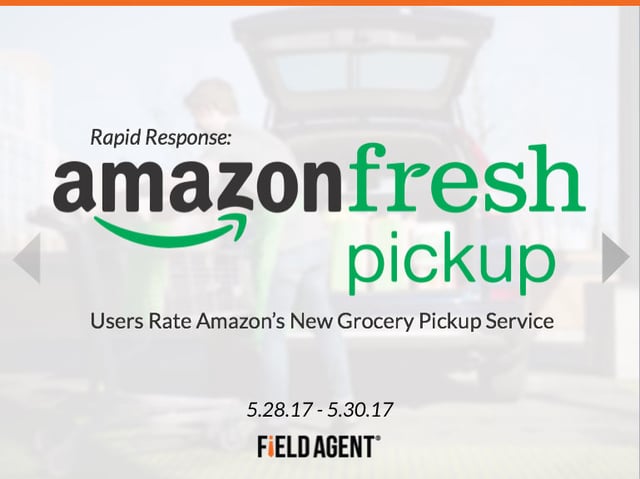 AmazonFresh Pickup: What We Learned
As a very early indication, AmazonFresh pickup looks like a winner. Prime members practically gushed about what they saw:
Amazon is known for its fantastic online user experience, but mystery shoppers also found their pickup experience to be fast and easy, with 95% calling "the pickup site and process overall" very good.

All but one

mystery shoppers said their produce was either extremely or very fresh
70% of AmazonFresh orders were delivered within 2 minutes from the moment mystery shoppers checked in at the pickup site
75% of mystery shoppers are completely or very likely to use the AmazonFresh pickup service again in the future
Don't Miss Out! Subscribe Today
The Field Agent Blog is your go-to resource for late-breaking insights and information. Subscribe to our blog today…and never miss a beat from the ever-changing world of retail.
Mobile Research, Omnichannel, Grocery, Retail News, Customer Experience