Instant Video: A Look at Walmart's New Grocery "ATM"
Just last week, retail-auditing firm Field Agent published footage of Amazon's snazzy, new grocery-pickup stations in Seattle.
Not to be outdone, Walmart followed the AmazonFresh unveiling with a revelation of its own: The nation's largest grocer is currently testing a 20-by-80-foot grocery-pickup kiosk outside Store #622 in Oklahoma City.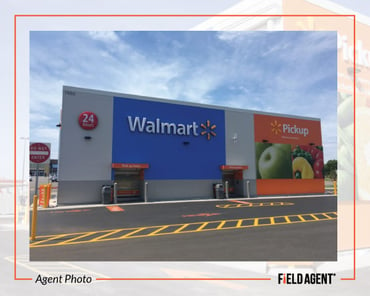 This grocery "ATM" reportedly holds up to 30,000 items and can deliver groceries within 60 seconds.
In addition to the cutting-edge pickup facility, Walmart is presently experimenting with several other sophisticated retail technologies, including a giant BOPUS machine and a new "scan-and-go" app.
Instant Video: Walmart's New Grocery Pickup Kiosk
Earlier this week, Field Agent sent five agents to capture video of Walmart's latest grocery tech.
Agents began by purchasing at least $30 of groceries at Walmart.com and designating the order for pickup at the new kiosk. Field Agent required agents to buy at least one fresh fruit or vegetable.
The video below offers an exclusive, up-close look at the new grocery-delivery system, complete with audio reviews from agents who used the kiosk. See for yourself...
Special Report:
Shopper Attitudes toward 3 Trailblazing Retail Technologies
What do shoppers think about drone-delivery, checkout-less stores, and shopping with "smart" speakers? They're all quickly becoming reality.
Field Agent surveyed thousands of shoppers to understand the potential of these three trailblazing, retail technologies. Download our special report, "Shopping on the Cutting-Edge," to view the results.