Holiday Toy Scene 2018: The Definitive, Shopper-Guided Video Tour
For the first time in 60 years, U.S. shoppers won't be buying gifts at Toys "R" Us this holiday season.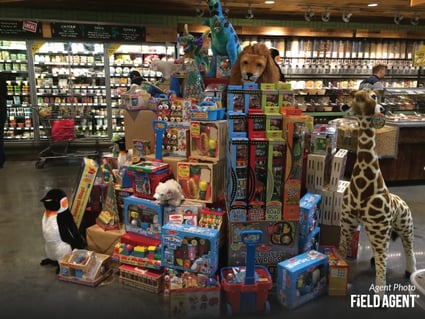 Which leaves other toy-retailers, and some retailers not exactly known for toys, licking their chops. From Walmart to Party City, major retailers are taking aggressive steps here in Q4 to claim a slice of TRU's market share.
Download Field Agent's newly updated and expanded toys report, "All Things Toys."
To offer an up-close look at their tactics, Field Agent has produced a fun, insightful movie from shopper video and feedback collected over the weekend. The video takes you inside efforts by Amazon, Kroger, Party City, Target, and Walmart to boost toy sales this year.
Field Agent now presents, "The Christmas Without a Toys 'R' Us," based on video, photo, and feedback from our agents.
Shopper Video: The Christmas Without a Toys "R" Us
2018 Holiday Insights Report!
Field Agent's 2018 holiday insights report, "An Old-Fashioned, Omnichannel Christmas," is still available for free download!
From surveys with thousands of shoppers, this popular report offers an in-depth look at the plans and expectations of this year's holiday shoppers, including what gifts they're buying, where they're buying them, and how they're buying them.
Download your free copy now!