Shopper Reaction to Walmart's 'Fresh Angle' Produce Sections [Survey]
Walmart's taking a fresh approach with its fresh produce.
And just in time, too: Lidl is about to make landfall, and Amazon is venturing deeper and deeper into the fresh grocery space.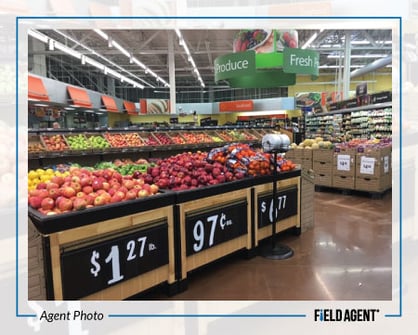 Walmart's "Fresh Angle" campaign seeks to transform how shoppers think about buying produce from the nation's largest grocer. The company is aiming to create a "farmer's market vibe" with the changes, which include:
Central, more prominent placement of fresh fruits and vegetables
Lower fixtures and a more continuous line-of-sight across the entire produce section
Easier navigation for shoppers
And, perhaps most important: shallower bins that contribute to fresher produce and less food waste
So far, approximately 70% of Walmart's U.S. stores have received the "Fresh Angle" treatment.
Shopper Perceptions of Walmart's Produce Sections
Recently, retail-auditing firm Field Agent sent 105 agents to 105 Walmart stores across the country. Our objective: To understand whether shoppers are actually noticing changes to the retailer's produce department and, if so, what they make of the changes.
Agents began by touring the entire grocery department inside a designated Walmart Supercenter. We first wanted to know whether they had spotted changes to the store's produce section...without deliberately drawing their attention to them. Later in the survey we specifically directed agents to the produce section, where we posed several additional questions.
Notes: To participate in the study, the agent must have recently shopped at the designated Walmart. It should also be noted that agents were not, most likely, sent only to stores with Fresh Angle produce departments—primarily because we did not know which stores had undergone these alterations.
Below we offer the full results from this study of Walmart's produce sections.
Clearly, some shoppers are noticing change to Walmart's produce sections.
Of those who spotted one or more changes to the store's overall grocery department, 54% said the produce section had changed more in the past two years than any other section. This, significantly, was without drawing their attention toward the produce department.
And agents generally liked what they saw. Field Agent's in-store survey showed:
80% of 105 shoppers said they noticed a "fresher, farmer's market vibe" in their assigned store
66% described the store's produce section as "extremely" or "very appealing" (N = 105)
Of those who noticed specific changes to the produce section (n = 66), 90% said the change was for the better
Naturally, with the new Fresh Angle approach, out-of-stocks are likely to become a greater challenge for Walmart. Indeed, several agents in this study submitted photos of out-of-stock produce bins, while others made comments about a shortage of inventory.
Yet this survey suggests Fresh Angle is getting shoppers' attention. And then some.
In-Store Surveys: See How They Work
Field Agent specializes in shopper-level, in-store surveys and audits. We combine crowdsourcing and smartphone technology to capture fast, affordable, in-the-moment insights.
Download our infographic to see how our in-store surveys give retailers, brands, and agencies access to shopper attitudes and behaviors when and where it matters most: as they're inside stores, making purchase decisions.