Special CPG Report: Explore the Challenges Facing Today's Brands
It's a new world for CPG companies and the brands they sell:
Private-label, store brands have really upped their game in recent years, becoming more competitive than ever
Retailers like Aldi and Lidl, that sell predominantly their own private labels, are growing aggressively
Increasingly, private labels are available online, which means shoppers can buy them for in-store pickup or delivery to practically anywhere in the world
At any time, a new hotshot brand—think Chobani, Halo Top, La Croix—can disrupt an established product category
A new world indeed.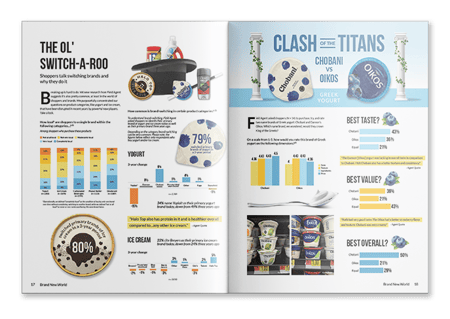 Of course, new worlds are meant to be explored. They invite discovery.
And while new worlds are certainly fraught with challenge, they also abound in opportunity.
Special Report:
A Brand New World
To help CPG companies and retailers come to grips with the new branding landscape, retail-auditing and insights firm Field Agent has prepared a free report, "Brand New World," based on surveys with thousands of shoppers. This authoritative and entertaining resource explores some of the most critical issues facing today's brands:
Private labels versus name brands

Online private labels

"Off-brander" retail operations like Aldi

Brand loyalty and brand-switching
The report also contains special auditing and "buy and try" features:
Audit of over 200 shopping carts, inventoried for % of private labels versus name brands
Audit of over 200 in-home refrigerators, snack cabinets, and breakfast cabinets
Head-to-head comparisons of competing brands:

Smucker's fruit spread vs. Great Value fruit spread

Kellogg's Pop-Tarts vs. Millville (Aldi) Toaster Tarts

Edge Shaving Gel vs. Up & Up (Target) Shaving Gel

Chobani Greek Yogurt vs. Oikos Greek Yogurt
Download this free report today…and start exploring the "brand new world" around us!