Special Research Report: Football Fans as Customers 2016
It won't be long now. When those dog days of summer roll around, you know football—sweet, wonderful, glorious football—can't be too far behind.
And for retailers and brands, where there's football, there's football-related spending: potato chips, soda, wings, pizza, plasticware, coolers, charcoal, fan gear, and the like. Americans spent over $15 billion last year for the Super Bowl alone (source). Alone.
So, to paraphrase that longstanding herald of Monday Night Football, Hank Williams Jr.:
Are you ready for some football sales?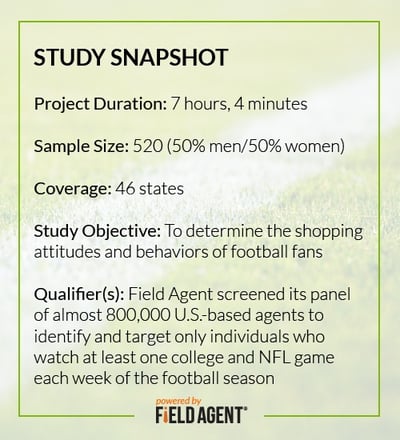 What are the Shopping Attitudes, Behaviors of American Football Fans?
Field Agent's latest report, "Football Fans as Customers 2016," profiles American football fans and, more specifically, their shopping attitudes and behaviors. Based on a survey of 520 fans, the report offers insight into a variety of timely questions:
Which retailers are most popular with football fans for purchasing groceries, fast food, and fan gear to enhance their game-viewing experiences?

What foods, beverages, and other products (e.g., grills, plasticware, team gear) do fans use/consume when enjoying gameday at home?

Which specific brands of salty snacks, soda, beer, and liquor are most prevalent among football fans?

How will retailers' omnichannel services (e.g., curbside and in-store pickup) fare with fans?
The report, "Football Fans as Customers 2016," addresses these questions and many others.
Below we offer just 10 quick insights from this survey of over 500 football fans:
Walmart (76%) proved the go-to destination among football fans in our survey for gameday foods and beverages, while Amazon (54%) was most popular for buying fan gear.
77% of those surveyed agreed they drink more alcohol on gameday compared to a regular day.
The top beer brand among gameday football fans? Bud Light, at 52%. Followed by Corona (36%) and Blue Moon (35%).
Among packaged salty snacks, Doritos (79%) was the real fan favorite in our survey, with Lay's (67%) and Tostitos (67%) also making strong showings.
68% of football fans indicated they're at least moderately likely to purchase fast food to enhance their football-watching experiences.
A whopping 83% of households in our survey said they participate in outdoor grilling at their homes on a typical football gameday.
67% of survey respondents said they're completely or very likely to host a gameday viewing party (i.e., inviting one or more individuals not of their household) this football season.
Bacardi Rum (42%) and Absolut Vodka (40%) topped the list for most popular liquor brands among gameday football fans.
58% of fans expect to pick up takeout, and 51% order food for delivery, when gearing up for big games this fall.
More than half of respondents, 58%, said they'll wear team-emblazoned fan gear this season when watching games at their homes.
See also: 10 Reasons Your In-Store Displays Aren't Converting Shoppers
The full report, "Football Fans as Customers," offer the complete results from these questions and several others.
Prepare for the Retail Blitz
The blitz is coming. Football fans will soon rush into stores to buy snacks, beverages, and all the other goods that make gameday…gameday.
Field Agent's newest report, "Football Fans as Customers 2016," will help you make ready for the coming blitz. Download it now.