Field Agent 360: Finally, Local Market Knowledge Comes TO You
All retail is local. Even the largest companies must win customers one community at a time.
Regardless of the size and scope of your business, your retail success ultimately hinges on knowledge of local market conditions, including the product assortments, prices, and promotions that, when combined, constitute the retail landscape of any single point on the map.
"There are distinct differences in communities across the country that determine retail sales and shopper preferences," said Henry Ho, the co-founder and head of strategy development at Field Agent. "You can't assume what's happening in Harrisburg, PA is happening in Sacramento, CA. You must have local knowledge to compete."
Traditionally, however, market information—the kind necessary to compete and win local markets—was both time-consuming and expensive to come by.
But, according to Ho, Field Agent 360 is poised to change the game.
Field Agent 360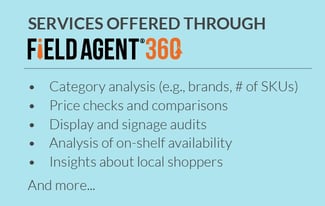 Field Agent, the leader in location-specific audits and research, offers companies a fresh, agile approach to collecting local market information and competitive intelligence—easily, quickly, and affordably.
Through its mobile workforce of nearly 700,000 Agents nationwide, Field Agent targets specific markets anywhere in the country to offer CPG companies a comprehensive snapshot of local retail scenes, including product assortments by category and the prices, in-store marketing of rival brands.
It's called Field Agent 360: A panorama view of store shelves, price tags, product displays, and, basically, the information you need to win at retail…one location at a time.
"We have Agents who live and shop in practically every market," Ho explained, "to help companies get a handle on the local markets they're competing in."
How It Works
Each Field Agent 360 starts by pinpointing a single store on the map, in essentially any market across the country. Working with Field Agent, a brand may choose to audit all or several stores within a designated circumference (e.g., a two-mile radius).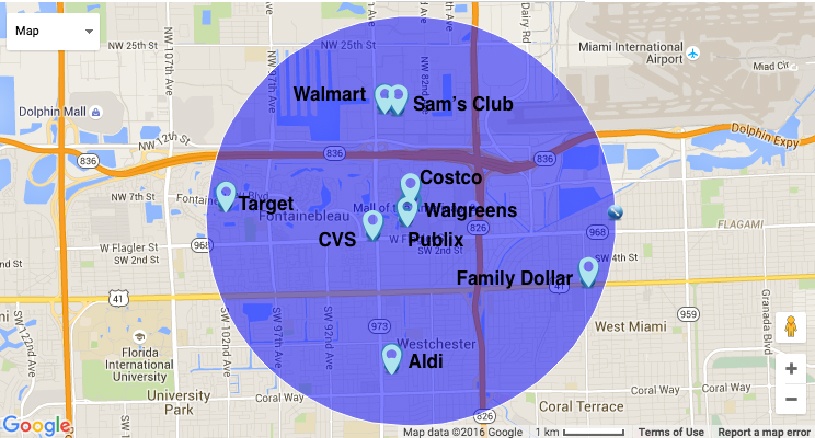 Field Agent will then dispatch Agents to each of these stores, to collect competitive information on rival brands, including private labels.
In a matter of days, sometimes hours, the brand now has affordable, local information on product assortments, prices, and in-store promotions, which can then serve as the basis for effective local retail strategies.
Allow us to demonstrate…
On Location: Sunny Miami, Florida
To demonstrate these capabilities, this weekend Field Agent conducted a 360-degree audit of the sunscreen category in Miami, Florida. As the map above displays, we identified a Walgreen's at the center of an important shopping district. Within a two-mile radius of the store, we located eight well-known, national retailers.
Field Agent then sent one Agent into each of these stores to take pictures, shoot video, and collect information on sunscreen products, prices, and promotions.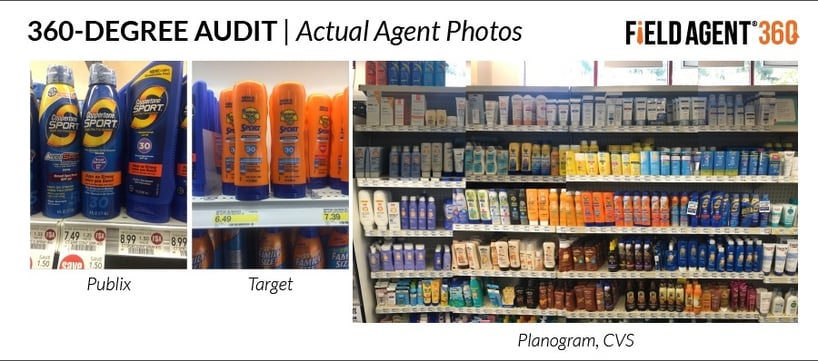 Here's a sampling of what we learned from these Miami-based stores (one per retailer):
In a price comparison of several sunscreen products across eight Miami retailers, Walmart, on average, had the lowest per ounce price ($0.92) followed closely by Target ($0.93)
Based on planogram pictures submitted by our Agents, CVS is carrying approximately 230 different sunscreen SKUs, compared to about 80 SKUs at the closest Walgreen's
For Coppertone SPF 30 Spray, Sam's Club registered a per ounce price considerably lower—a full $0.30 lower, in fact—than second place finisher Target
Aldi was found to carry no sunscreen products, while Family Dollar was carrying only 2 SKUs (both Banana Boat brand)
For a full demonstration of the Field Agent 360, and to access the complete results from our Miami-based sunscreen audit, download the free report: "Field Agent 360: Don't Get Burned by Insufficient Market Knowledge."
Because our Agents are also shoppers, each Field Agent 360 is also an opportunity to collect information about the shopper's subjective experiences, as demonstrated in this Field Agent Eye-Movie® below.
Market Knowledge that Comes to You
With Field Agent 360, local market knowledge comes to you, quickly and affordably. Think of the 360 as your "eyes and ears" in local markets throughout the country, wherever your products are—or aren't—sold.
Explore these capabilities more fully in our free report, "Field Agent 360: Don't Get Burned by Insufficient Market Knowledge."