In-Store Product Demos: 3 Easy Steps to Higher Sales
Nobody likes a showoff.
Unless you're marketing consumer products by offering free samples or demonstrations.
Few marketing tools show off a product under more favorable conditions than an in-store product demo. Shoppers are already in stores, ready to try and primed to buy.
In some cases, in-store product samples have been credited with boosting wine sales over 300 percent, lipstick and mascara sales over 500 percent, and frozen pizza sales by 600 percent.
Surprisingly, however, some CPG companies overlook three simple steps—precautions, if you will—to make the most of their costly demo investments:
1. Verify Demo Presence, Placement & Condition
In the world of shopper marketing, assumptions are dangerous.
Sometimes brands wrongly assume, for instance, that their product demos are in stores—when, in some cases, they're not—and that these demos are in the right place at the right time in the right condition.
Mobile Audits crowdsource smartphones across the country to offer CPG companies a direct line of sight into stores. The photo and video capabilities of smartphones make it easy to verify the presence, placement, and condition of in-store product demos.
Learn more about these capabilities in this resource: "How It Works: Mobile Audits."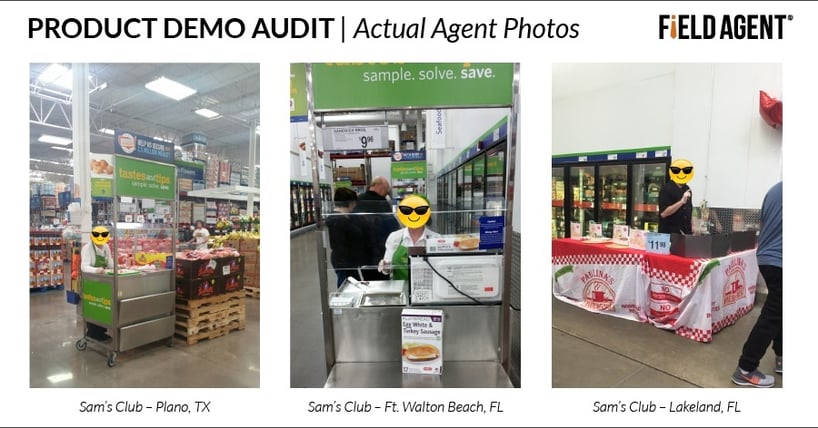 2. Gauge Demo & Staff Performance
In the product demo game, however, it's not enough to just show up.
You have to bring your A-game.
Mobile Audits ensure your demos and demo staff are at their best by administering simple quality control questionnaires to auditors.
To demonstrate, Field Agent recently audited 15 product demos in different parts of the country. In addition to verifying demo presence and placement, we also asked auditors to gauge demo and staff performance.
Here's some of what we learned:
The demonstrator mentioned the product by name in 80% of demo audits
The price of the product was displayed at the demo in 87% of cases
In 87% of audits, the demonstrator thanked the shopper for sampling the product
3. Explore the Shopper's Experience
Even beyond demo and staff performance, the shopper's experience—that is, the collection of meanings they attach to your demos and products—is also crucially important.
Brands should therefore take steps to understand the qualitative, subjective performance of in-store product demos and demo staff.
As the examples below suggest, Mobile Audits simplify this undertaking as well. Because Mobile Audits are executed by real shoppers, every audit offers a prime opportunity to gauge the shopper experience—not after shoppers leave the store, but while they're in front of your demos, actually sampling the goods.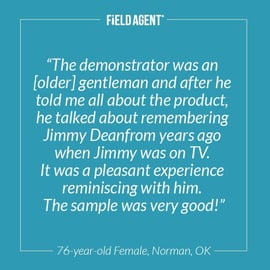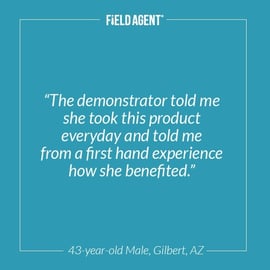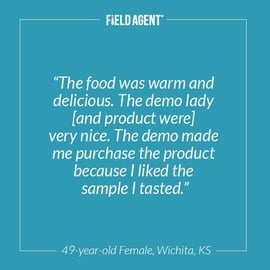 Take Control, Get Results
In-store product demonstrations are costly, yet they can also be highly effective. With so much at stake, brands should leave nothing to chance.
Mobile Audits provide a direct, on the ground link to stores throughout the country, so brands can stay connected to their demos anywhere, anytime.