It's the Preseason! 5 Stats to Prepare for Holiday Shoppers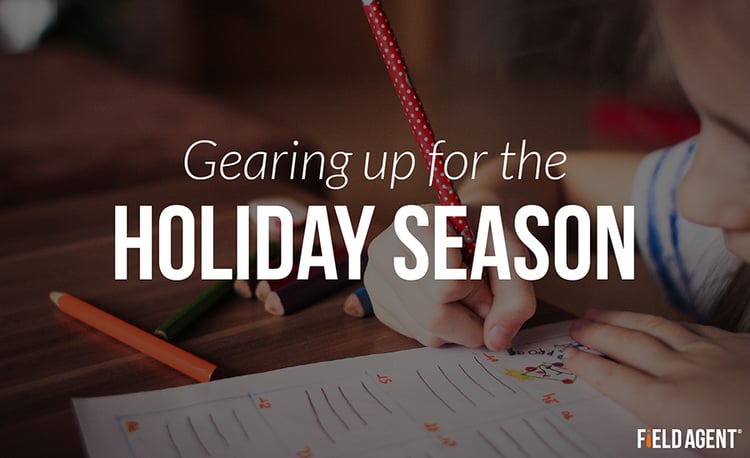 For many retailers and vendors, preparation for the 2015 holiday shopping season is already underway. And for good reason: With so much at stake toward the end of the year, it makes sense to start gearing up for Christmas shoppers well in advance.
This whole early-worm-wins strategy may be particularly true this year. According to the National Retail Federation, holiday sales in 2015 are expected to increase roughly 4% over last year. That's the largest single jump since 2011.
For five years, we at Field Agent have been helping brands and retailers prepare for critical shopping events. Companies turn to us to help them refine their in-store executions—often months before crucial shopping seasons. Even a small investment in mobile audits can make a big difference for companies and their in-store executions.
So to help you prepare for the buying extravaganza to come, Field Agent recently surveyed 500 holiday shoppers to shed light on several important "preseason" questions. Below we present 5 statistics to help your company make the most of the pre-holiday period. Consider it our gift to you.
1. 34% of consumers said they have completed or will complete most of their holiday gift-buying prior to Thanksgiving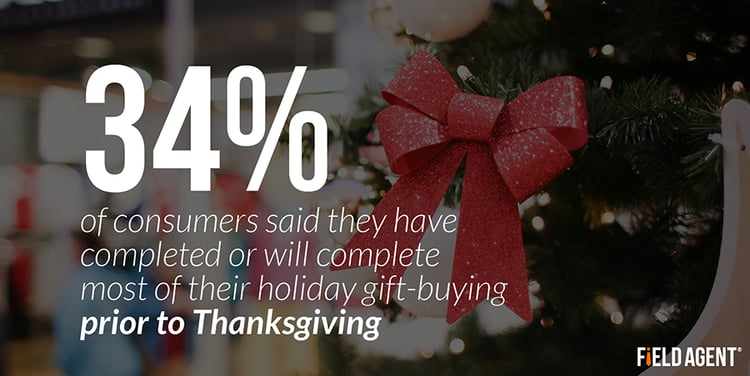 The Christmas shopping season has already begun—in a pretty big way.
Our survey found that Black Friday remains the single most popular period for buying presents, with 36% of respondents saying they'll complete most of their gift-shopping at that time. However, 34% indicated they have completed or will complete the majority of their gift-buying prior to Thanksgiving. In other words, come mid-to-late November, many of the shopper dollars budgeted for gifts are already gone. They're no longer in-play; they've been won by companies with the best pre-holiday strategies and executions.
2. 96% of consumers feel at least a little anxiety about buying Christmas gifts this year
The vast majority (96%) of consumers told us they are feeling, or expect to feel, at least a little anxiety when shopping for Christmas gifts this year. But what specifically are holiday shoppers anxious about?
Respondents were presented with nine anxiety-inducing features of the holiday shopping season. Two were identified by more than half of consumers as causing them at least a little anxiety: "Buying gifts people will actually like" (55%) and "not overpaying/finding the best value" (52%). The top five was rounded out by "saving/having enough money to buy gifts" (46%), "store crowds/full parking lots/long lines" (38%), and "spending too much money/going into debt" (34%).
With a few months still remaining before Thanksgiving, companies that find ways to reduce shopper angst now may reap dividends later.
3. 71% of consumers said they'll hold back spending on some items in the fall because the holidays are approaching
The calm before the holiday storm? 71% of consumers told us they decrease their spending in certain categories in the fall months, if only so they can increase their spending in those categories around the holidays. Consequently, these results suggest the pre-holiday months may be critical for yet another reason: Not only are these the months to prepare for a potential boom in sales later on, but, in certain product categories, the pre-holiday period may also be a time to protect against a drop in sales.
4. 33% of consumers feel pre-Thanksgiving selling events are inappropriate
Many have commented on how the holiday shopping season seems to be starting earlier with each passing year. But if this is true, as pre-Thanksgiving selling events and advertisements suggest, then consumers may be warming up to the idea, or at least growing accustomed to it.
We asked 500 holiday shoppers to what extent they feel pre-Thanksgiving selling events (e.g., holiday sales, door-busters) are either appropriate or inappropriate. To one degree or another, only 33% said they feel such events are inappropriate. We also asked a similar question about pre-Thanksgiving advertising. Just 29% said it is inappropriate for companies to advertise holiday gift ideas and sales prior to Thanksgiving.
5. 88% of holiday shoppers said they have purchased a different gift, or purchased a gift from another store, because a store was out of the gift they were seeking
As our survey shows, out-of-stocks can be a dangerous affair for retailers and vendors during the holiday rush. In fact, 88% in our sample said they have switched products or stores due to an untimely out-of-stock. With the shopping and buying frenzy that takes place in Q4, it's not necessarily surprising that some retailers and vendors would struggle with on-shelf availability.
The good news: With mobile audits from Field Agent, out-of-stocks can't hide. Both before and during critical shopping events, brands and retailers rely on us to improve their vision inside stores. We make sure out-of-stocks aren't out-of-sight, so companies can correct problems with on-shelf availability before they become a drag on sales.
Field Agent combines mobile technology with crowdsourcing to offer audit and research solutions in a fraction of the cost and time as traditional methods. From display audits to modular compliance, mystery shopping to consumer research, we have the tools to help companies refine their in-store execution, better serve their customers, and outperform their competitors.
Whether it's the holidays or another shopping season, Mobile Audits and Research from Field Agent stand ready to help your company thrive.
Free Download: 2017 Holiday Insights Report
Field Agent's 2017 holiday insights report, An Old-Fashioned, Omnichannel Christmas, combines more than 12,000 survey responses to offer business professionals a unique and authoritative glimpse into America's holiday shopping plans.
The report addresses shoppers' gift-buying intentions, spending plans, and preferred retail destinations, while also exploring many questions about the increasingly digital nature of holiday shopping:
What gifts do shoppers plan to buy online...and where?
What role will in-store pickup, showrooming, and webrooming play?
How do shoppers intend to use mobile apps this holiday season?
From Christmastime alcohol consumption to pet gifts, this free, professionally designed report has something for everyone. Download your copy today!