The REAL Housewives: Shopping Behavior, Top Retailers among Homemakers
At over 5 million strong, the number of female homemakers is on the rise in the United States, up from 4.5 million in 1994 and 4.8 million in 2000. (Source: U.S. Census Bureau)
Though she has elected to work inside the home, the stay-at-home mother is an economic force in her own right. Indeed, a recent Field Agent mobile survey found 95% of modern housewives are their family's primary grocery shopper and 94% their family's primary home-essentials shopper.
To understand stay-at-home moms, in other words, is to understand a customer segment responsible for a substantial amount of retail spending.
The Shopping Behavior & Retailer Preferences of Today's Stay-at-Home Moms
This week mobile solutions firm Field Agent surveyed 317 bona fide stay-at-home moms to explore their shopping habits and retailer preferences. All respondents are women with a household income of less than $50,000 and with children presently at-home. 84% are currently married.
Below we tell the "graphic story" of the modern homemaker.
The Graphic Story: Modern Homemakers
1.

Building out a job description

Field Agent asked stay-at-home moms what household duties are their sole or primary responsibility, that they do more of than any member of the family.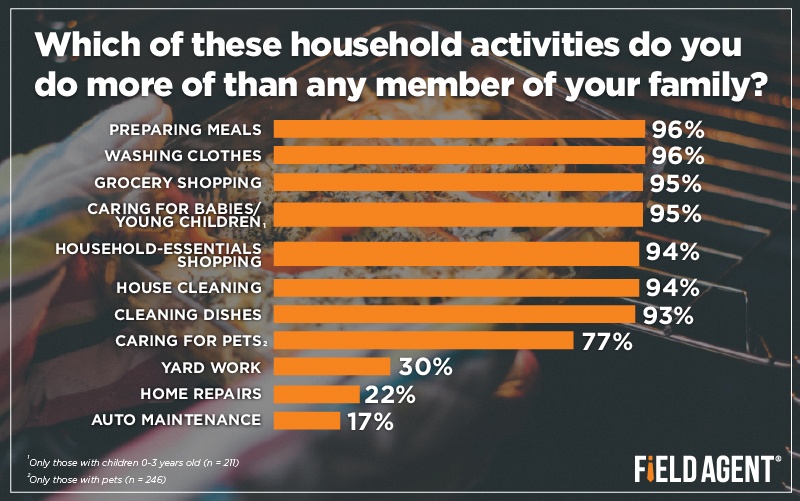 2. The go-to retailers for homemakers
If homemakers do so much shopping on their families' behalf, where exactly do they do it? Field Agent asked.
See also: The Guide to Holiday Shoppers 2016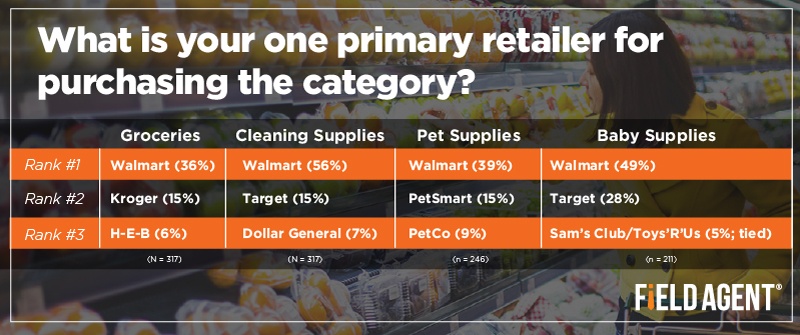 3. Getting their timing down
We also asked homemakers how often they purchase at least one item in each of these categories.
Not surprisingly, some categories have longer sales cycles than others. For instance, only 14% of respondents said they purchase cleaning supplies every 1-7 days (i.e., weekly or more often), whereas 93% of stay-at-home moms buy at least one grocery product on a weekly basis or more often.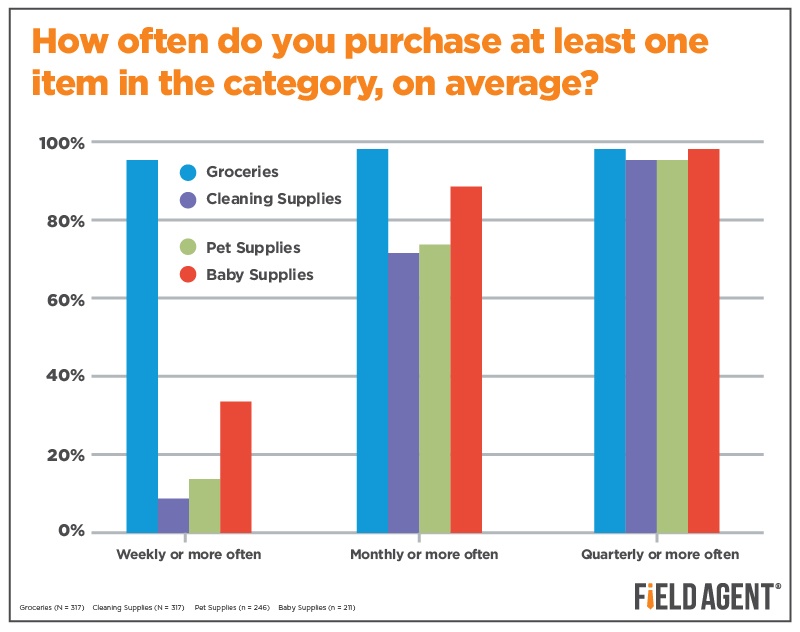 4. Stocking-up or filling-in?
Does the homemaker typically purchase goods in these four categories as part of a stock-up (i.e., loading up on supplies to last many days) or fill-in (i.e., picking up just one or a few items to tide over the household) store trip?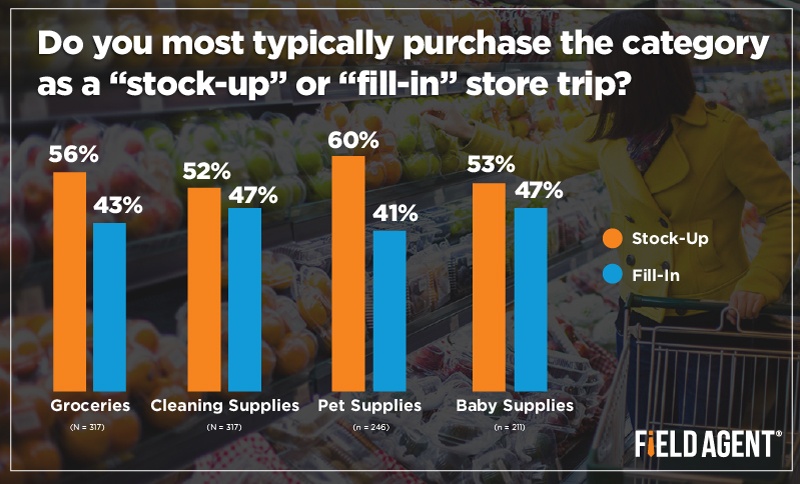 5. Homem@king in the digital age
Of course, much shopping now takes place online—whether for home delivery or in-store pickup. The chart below displays homemakers' online engagement levels across all four product categories.
See also: The Guide to Holiday Shoppers 2016
High means they "always" or "often" purchase the category online, moderate that they "sometimes" buy online, and low that they "rarely" or "never" buy online.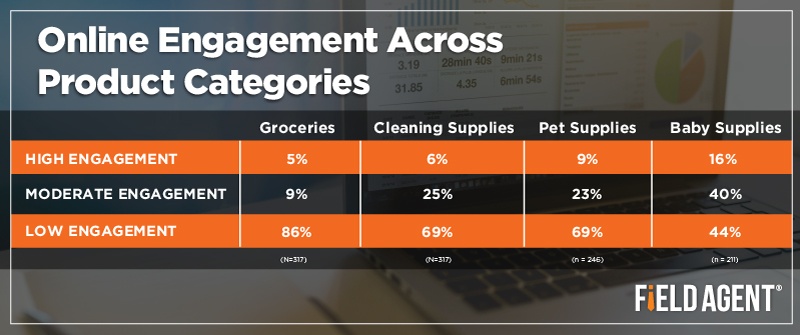 6. Stay-at-home moms and the battle of the brands
Do homemakers go in for store brands? The graphic shows the proportion of stay-at-home moms who "always" or "often" purchase store brands when shopping for the category.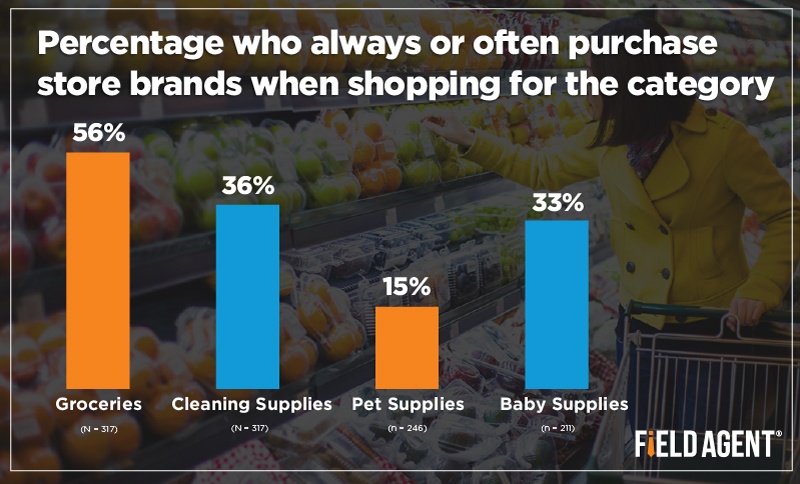 Free Report: The Digital Shopper
Based on studies with thousands of shoppers, Field Agent's special report, "The Digital Shopper: Insights into Today's Most 'Connected' Customers," offers companies an inside, shopper-centered look at online retail. Special features include:
The digital shopper's journey: before, during, and after shopping for groceries online
Shoppers try and rate Instacart delivery
The product detail page: a shopper-guided tour
Shoppers compare PDPs on Walmart.com VS Amazon.com
Shoppers try and rate Amazon Lockers at Whole Foods Market
Best of all, the report is free.