This Christmas, Where Will Toys "R" Us Shoppers Buy Their Toys?
It's shaping up to be a market-share land grab this holiday season.
With Toys "R" Us now only a memory in shoppers' minds, retailers big and small will be vying to capture a chunk of the defunct toy-seller's billions in Q4 sales.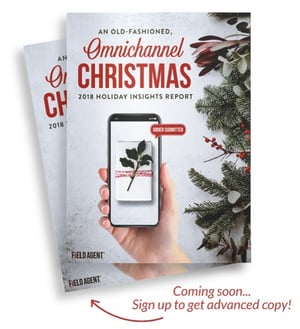 Retail giants Walmart, Target, and Amazon are of course planning to capitalize on the Toys "R" Us vacuum, but the feeding frenzy is also attracting some less obvious contestants. Best Buy, Kohl's, J.C. Penney, Five Below, and even Party City, planning 50 "Toy City" pop-up stores, are all looking to boost their toy sales this holiday-shopping season.
But which retailers will gain the most from Toys "R" Us' demise? More specifically, to which retailers will former TRU customers move their spending?
Survey: Former TRU Shoppers & 2018 Holiday Toy-Spending
Last week, retail-auditing and insights firm Field Agent surveyed 755 shoppers* who purchased at least one toy from Toys "R" Us last Christmas to give someone as a gift. Our goal was to understand which toy retailers are most likely to capture respondents' holiday toy-spending in 2018, now that TRU's out of the picture.
*All respondents were U.S. adults at least 18 years of age who purchased one or more toys from Toys "R" Us during the 2017 Christmas-shopping season to give to someone as a gift. The survey was administered completely through the Field Agent mobile app, and all respondents were smartphone owners. Demos – Gender: female (73%), male (27%); Age: 18-24 (2%), 25-34 (29%), 35-44 (43%), 45-54 (17%), 55-64 (7%), 65+ (1%); Household income: <$35,000 (19%), $35-49 (17%), $50-74 (27%), $75-99 (14%); $100-124 (10%); $125-149 (4%), $150+ (6%); Ethnicity: Caucasian or combo of (77%), African-American or combo of (10%), Hispanic or combo of (7%), other (7%).
Below we offer a five-question QuickFire Q&A, highlighting several takeaways from the survey.
QuickFire Q&A: The Year Without a Toys "R" Us
1. Just how much toy-spending did these shoppers actually do with Toys "R" Us last Christmas?
Of 755 shoppers who purchased at least one toy from TRU last Christmas to give to someone as a holiday gift, the vast majority (88%) bought less than half of their toy-gifts from Geoffrey the Giraffe, and only 2% say they bought all or virtually all of their toy-gifts from the specialty chain.
There were of course good reasons Toys "R" Us didn't make it. For one, they were hemorrhaging Q4 sales to big box stores and online retailers, something the results below only seem to corroborate.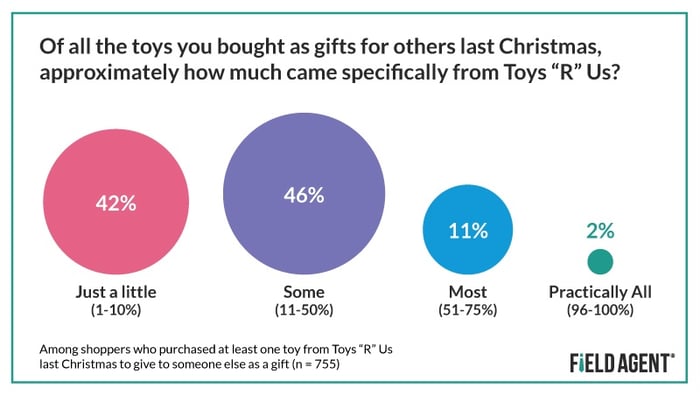 2. Do shoppers expect the loss of Toys "R" Us to dampen their overall toy-related holiday spending this year?
Of former Toys "R" Us holiday-shoppers, 67% said they don't expect TRU's absence to influence how much they spend on toys this Christmas. However, with the toy retailer gone, more former TRU shoppers imagine spending less on toys overall (23%) than more on toys (10%).
As one TRU shopper in our survey said,
"It's kinda funny, but I feel like 'where do I even go for toys' now that Toys 'R' Us is gone. I felt like that was the place to go for toys that would be different from what every other retailer is selling. Safe to say, I'll miss that store."
Of course, we know shoppers aren't clairvoyant and able to predict with perfect accuracy how they'll behave in the future. This question does at least offer an indication of how shoppers are leaning with the holidays a few months away.
3. Where did shoppers spend their toy dollars last Christmas? Where will they spend their dollars this year?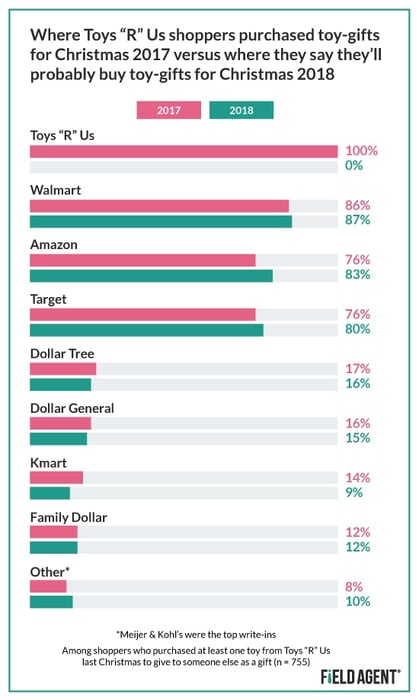 The graph combines two survey questions posed to former Toys "R" Us shoppers: Where did you buy your toy-gifts last Christmas, and where will you "probably" buy toy-gifts this Christmas?
Although 100% of respondents purchased toy-gifts from TRU last Christmas, the category killer's absence doesn't exactly throw the whole 2018 picture into chaos.
Last year, shoppers purchased toy-gifts from Walmart, Target, and Amazon along with Toys "R" Us. In 2018, with TRU gone, many shoppers will simply increase their spending with the retailers they were already patronizing—namely, Walmart, Target, and Amazon.
4. Who do shoppers say will benefit most from the absence of TRU?
We also asked TRU shoppers point-blank, "With Toys 'R' Us gone this Christmas, which one toy retailer will probably receive most of the spending you would have done with Toys 'R' Us?"
Here, 40% of former TRU shoppers expect to give their would-have-been-TRU-dollars to Walmart this Christmas—more than any other retailer.
In the words of one TRU shopper, "I plan on comparing prices from Amazon and Walmart to see [who] is cheaper."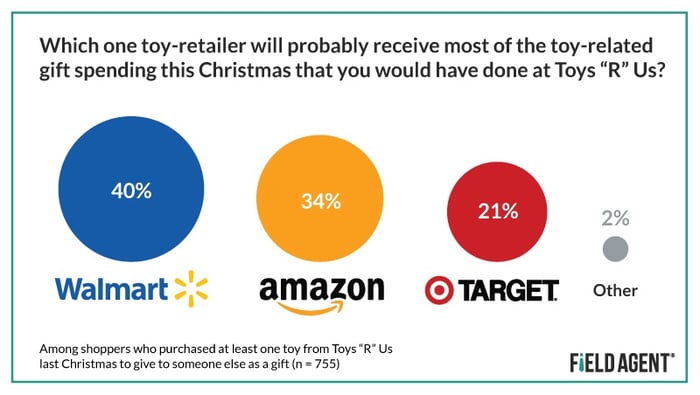 5. Will Toys "R" Us' demise send more toy-gift purchases online?
Of the 755 former TRU shoppers in our survey, 85% said they purchased at least one toy-gift online/in-app from a retailer last Christmas.
To these (n = 642) we posed the following question: "With Toys "R" Us gone, do you expect to spend more, less, or about the same online/in-app buying toys this upcoming Christmas?"
Although 55% predicted they'll spend neither more nor less online on toy gifts, a larger number said they can envision themselves buying more toy-gifts online this year than fewer. Specifically, 33% said they expect to spend more online compared to 12% who expect to spend less. However, it's uncertain how much of this is directly attributable to the shuttering of Toys "R" Us.
Now Available! 2018 Holiday Insights Report!
Field Agent's 2018 holiday insights report, "An Old-Fashioned, Omnichannel Christmas," is now available for free download!
From surveys with thousands of shoppers, this fun yet authoritative report offers an in-depth look at the plans and expectations of this year's holiday shoppers, including what gifts they're buying, where they're buying them, and how they're buying them.
Click below to download your free copy today!