Special Report: Alcoholic Beverages in the Omnichannel Age
Break out the bubbly! It's here.
"Alcoholic Beverages in the Omnichannel Age," the third installment in Field Agent's popular Categorically Speaking series, is now available for free download.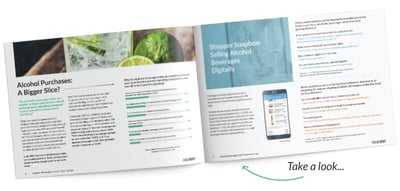 Based on studies with over 4,000 shoppers, Field Agent's latest report offers a shopper-centered look at beer, wine, and liquor in a world that's increasingly purchasing its groceries online. With grocery retailers investing more heavily in their pickup and "fresh" delivery capabilities, "Alcoholic Beverages in the Omnichannel Age" explores timely questions like:
Are consumers purchasing off-premise alcoholic beverages for grocery pickup and local delivery?
What's keeping some shoppers from making the "digital leap" to purchase alcohol online?
What beverages do digital grocery-shoppers buy for local pickup or delivery?
Do shoppers remain loyal to their established in-store alcohol brands when shopping online?
What suggestions do shoppers have for retailers and brands selling alcohol for local pickup or delivery?
Categorically Speaking, a new series by Field Agent, examines the impact of digital grocery-retail on five broadly-defined product categories. The first two reports investigated how traditional impulse goods and "center store" goods, respectively, are faring with today's digital grocery-shoppers.
The full Categorically Speaking series encompasses reports on:
Impulse goods: e.g., batteries, lip balm, single-serve beverages and snacks
"Center Store" goods: condiments, canned soup, peanut butter, breakfast cereal
Alcohol: beer, wine, liquor
Health products: vitamins and supplements, nutrition bars, OTC medications
Beauty products: cosmetics, personal hygiene
Subscribe to the Field Agent blog, and we'll notify you as soon as future reports are available.
Now available: Alcoholic Beverages in the Omnichannel Age. Download it below for free!