Special Report: "Center Store" Goods in the Omnichannel Age
The second installment in Field Agent's newest series, Categorically Speaking, is now available for free download!
"Center Store Goods in the Omnichannel Age" explores the attitudes and behaviors of online grocery-shoppers toward traditional "center store" (CS) products—think breakfast cereal, canned vegetables, laundry detergent, and other packaged groceries and household essentials—in today's increasingly digital, omnichannel marketplace.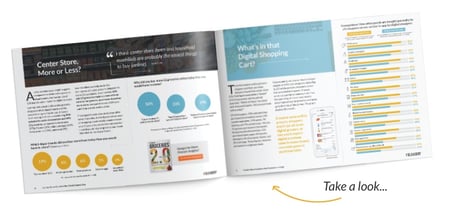 Based on studies with over 3,000 consumers, Field Agent's latest report seeks to help brands and retailers better serve today's digital CS-shoppers, exploring questions like:
Compared to other departments, how does the center store fare for purchases and spending among today's online grocery-shoppers?
Do digital shoppers buy more or fewer CS goods online than they do in-store?
What specific CS goods do online grocery-shoppers buy?
Do shoppers deviate from their usual in-store purchases and brands when shopping online?
What role do private-label brands play in the digital, grocery marketplace?
What suggestions do digital shoppers have for companies selling CS goods online?
Categorically Speaking, the latest series by Field Agent, examines the impact of digital grocery-retail on five broadly-defined product categories. The first report, "Impulse Goods in the Omnichannel Age," investigated how traditional "impulse" goods like batteries, lip balm, and single-serve beverages and snacks are faring among today's digital grocery-shoppers.
The full Categorically Speaking series encompasses reports on:
Impulse goods: e.g., batteries, lip balm, single-serve beverages and snacks
"Center Store" goods: condiments, canned soup, peanut butter, breakfast cereal
Alcohol: beer, wine, mixers
Health products: vitamins and supplements, nutrition bars, OTC medications
Beauty products: cosmetics, personal hygiene
Subscribe to the Field Agent blog, and we'll notify you as soon as future reports are available.
Now available: Center Goods in the Omnichannel Age. Download it below for free!