Behind the Mirror: Top CPG Brands Found in America's Medicine Cabinets
There's no denying it: Cold and flu season is upon us, and homes everywhere are filled with sore throats, runny noses, and incessant coughing.
At such a time, there's only one place to turn for relief...
The medicine cabinet.
In many homes, the medicine cabinet is a virtual cornucopia of remedies, from cough drops to bandages to, well, a multitude of other CPG products.
But which CPG brands, it's worth asking, are most commonly found in medicine cabinets?
Let's swing open those doors, and take a look behind the mirror.
Top Brands Inside 500 Medicine Cabinets
We asked nearly 500 Americans (N = 491) to crack open their medicine cabinets and show us all the name brand, packaged goods inside. As you can see below, we asked for photos of the outside, inside, and contents of each cabinet.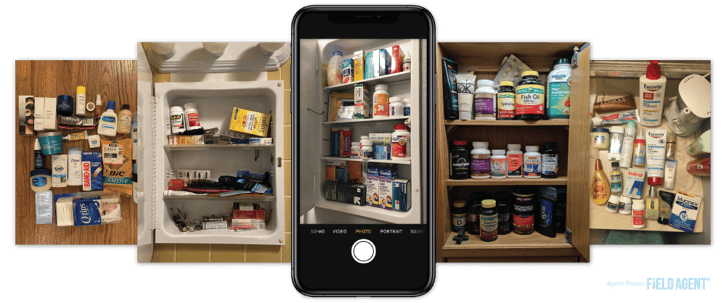 Participants audited their medicine cabinets and counted the number of name-brand CPGs inside. Forty-two percent found 1-5 brands inside, 36% found 6-10 brands, and 21% found more than 10 brands. Only four of 491 participating households couldn't find any name brands in their medicine cabinets.
Below we detail the top CPG brands found inside these medicine cabinets, along with the number of times they were spotted in the inventory. As you can see, toothpaste was a common find.
See Also: The Top CPG brands inside women's PURSES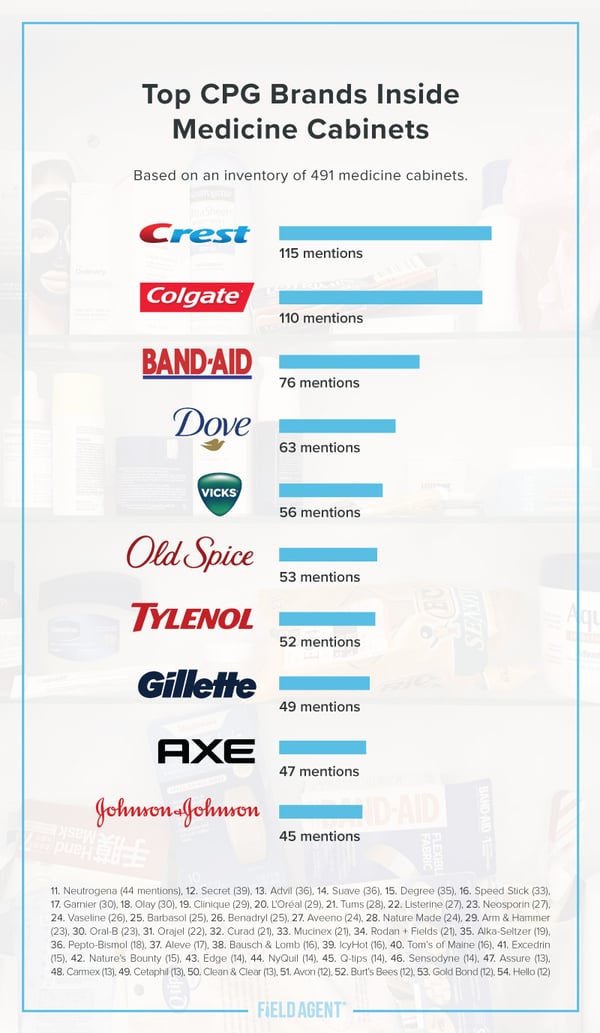 The Product Categories Inside Medicine Cabinets
So what's in that medicine cabinet? Below are the most frequently mentioned categories across the top brands above. We excluded store brands for the purposes of this inventory.
1. Skin for the win.
Of all the name brand CPGs in participants' medicine cabinets, skincare products had the most mentions, with 444 skincare items represented in the list above. The skincare category also had the most brands (16) in our list.
2. Mouthing off.
Making moms and dentists everywhere proud. Among our top brands, households reported 346 name brand items that keep mouths and teeth clean and healthy. Crest and Colgate dominated the category, with 115 and 110 mentions, respectively.
3. Medicine in medicine cabinets?
Who woulda thunk it? Agents found 284 name brand medications in their medicine cabinets, including category leaders Tylenol (52 mentions) and Advil (36 mentions).
4. Good scents.
Fortunately for us all, deodorants, fragrances, and other good-smellin' stuff combined for 207 mentions.
Leading the pack were Old Spice (53 mentions), Axe (47), and Secret (39).
And while this article offers a peek inside medicine cabinets everywhere, there's so much more where this came from. Subscribe to Endcaps & Insights (below) to stay in-the-know with retail, brand, and shopper insights.
Subscribe to Endcaps & Insights

At Endcaps & Insights, we take our mission seriously: bringing business headlines to life through photos, video, data, and more. We regularly publish fun, relevant, data-driven content about brands, shoppers, and the retail industry.

Make your inbox happy. Follow Endcaps & Insights by subscribing below.