Case Study: How a Cold-Brew Brand Skipped the Winter Sales Dip [Video]
It's the holy grail for all brands.
How do you boost sales during your slow season?
That was the challenge facing Kelly Reilly, CEO of Red Thread Coffee Co. As a producer of high-end, bottled cold-brew coffee, she sees a downturn in sales when the weather gets cold.
In addition to a sales boost, Reilly needed authentic feedback from her customers, and visibility into the store shelves where her products live - research that normally costs tens of thousands of dollars.
Spoiler alert: she solved her problems at a fraction of the usual cost - with one solution.
"I will never execute a traditional sampling program again. My sampling from this point forward will always be done through Field Agent." -Kelly Reilly, CEO, Red Thread Coffee
Buy & Try by Field Agent transformed the way that Reilly launches products and engages her customers. Download the case study to find out how.
Reilly had a lot to say about her experience with Field Agent. So much, in fact, that we literally couldn't fit it all in one case study. In this article (and video interview), we're going to dive deeper into three ways that Buy & Try helped Red Thread.
Video: Red Thread Coffee Finds Success with Buy & Try
Kelly Reilly sat down with us to share how Field Agent changed the way she launches new products.
Challenge #1: Skipping the Winter Dip
Reilly was searching for a way to continue strong sales during the slow season. "We wanted to continue our sales momentum during the winter months," she said. "The winter is typically slow for cold-brew, and we were out of a promotional cycle." Though she would normally turn to in-store sampling to drive trial, traditional sampling programs are not available during a global pandemic.
That's where Buy & Try came in. In just a few short minutes, Reilly set up a campaign that got serious results.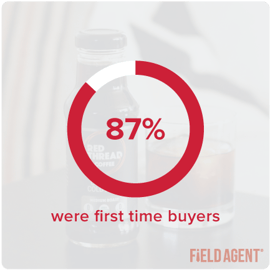 "We were able to maintain our strong sales momentum during a time that we typically see our velocity cut in half," she said. "Field Agent helped ensure that we stayed at our usual sales rate of 6 units per store, per week, and avoid the typical drop down to 3 units."
How? Well, we don't want to give away too many details. To find out how Buy & Try helped Red Thread skip the winter sales dip, download the case study! Then, read on for how the program addressed two other challenges for Reilly.
Challenge #2: Fine-Tuning Brand Positioning
The cold wasn't the only challenge facing Red Thread. Reilly was taking the company in a new direction, and needed to make decisions informed by real shoppers.
"We were embarking on a new, more focused positioning for the brand ahead of a capital raise or potential sale," said Reilly. "We needed consumer feedback ASAP to help inform our sales pitch and our consumer communications."
With rapid and specific shopper feedback from the Buy & Try campaign, Reilly was able to quickly confirm that the company's product and positioning was appealing to shoppers. They were even able to target discerning shoppers who enjoy cold-brews similar to Red Thread's products.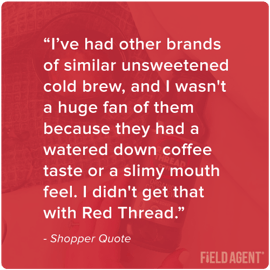 "Real time consumer feedback allows brands to quickly readjust where necessary, specifically around out-of-stocks, pricing issues, labeling issues and positioning," says Reilly. "Traditional consumer research, like focus groups, typically cost between $300-$500 per respondent. Field Agent helps you gather consumer feedback for around $10/per person."
That kind of value counts no matter what size your brand is. And for a smaller company like Red Thread, it's a game-changer.
Challenge #3: Effective In-Store Execution
Reilly faced a final challenge. As a small brand, Red Thread didn't have the means to check up on their products in-store.
"We needed to validate that we had flawless in-store execution at all The Fresh Market locations," said Reilly, "including zero out-of-stocks, pricing, correct assortment and shelf placement. We are a tiny start-up and don't have the manpower (sales force) to hit every store."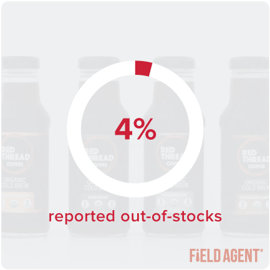 With Buy & Try, in-store visibility was a cinch. Reilly had the ability to target the specific stores she needed to see, and get photographic evidence that her products were being stocked and displayed exactly as she wished.
And it's a good thing, too: "Field Agent alerted us to an out-of-stock situation in 2 stores, and we were able to rectify in 24 hours!" Buy & Try gave Reilly instant visibility that most brands only dream of.
Conclusion: Buy & Try
Usually, this is where we would summarize how Buy & Try benefitted our happy client. But this time, Reilly can speak for herself.
"The data we gathered (for very little cost) has helped us position our brand for a second round of investor funding. I would recommend Field Agent to every brand."

"Ensuring flawless in-store execution is pricy and time consuming. Without Field Agent, Red Thread would have spent $80k+ on research, promotions and sales execution to impact 150 stores. Instead, we spent $4,700."

"Every single person I worked with at Field Agent was smart, kind, accessible, and highly responsive. Brands can use Field Agent's easy turn-key platform without much (if any) assistance... but if you need them, they're an email or phone call away."

"It doesn't matter if you are a billion-dollar brand or a $500K start-up, the tool is relevant to all brands. The benefits are HUGE!"
Download the Case Study
Want to learn more about how Buy & Try helped Red Thread avoid their annual sales dip? Download our free case study below!
Winter, fall, spring, or summer, brands want to boost sales and customer engagement all year round. Whether you're trying to take the edge off a sales dip in an annual slow season, or you simply need to hear from your shoppers, Buy & Try can help.