Stimulus Check-in: How Are Shoppers Spending Stimulus Cash?
Many Americans are getting a little bump in the bank account.
The third round of stimulus checks are being distributed across the country in an attempt to boost the economy as the pandemic continues. The question for every retailer and brand: how are shoppers spending that cash?
Using the Field Agent mobile platform, we asked 500 mobile shoppers (we call them agents) to tell us how they planned to spend their stimulus checks.
Let's see what they said.
Money in the Bank: How Much Are Agents Receiving?
Before we explored how agents are spending their stimulus cash, we needed to know if our shoppers expected to receive stimulus money in the first place, and if so, how much.
Of our 500 shoppers, 88% said they expected to receive a stimulus check (or had received one already). Not bad. But how much are those checks worth?
Our agents' cash estimates (based on income, number of kids, and other factors) ranged from less than $1,000 to nearly $10,000, but the majority of agents (59%) expected their households to receive one or two of the standard checks. That means most agents represented have $1,400 or $2,800 to spend.
And spend they will. Let's find out how.
Purchasing Plans: How Shoppers Plan to Cash Their Checks
The stimulus checks have a twofold purpose: get some cash flowing in the economy, and help individuals who have been hit in the wallet by the pandemic.
We asked a few of those individuals to tell us the primary way they plan get that cash moving. When the checks hit the mailbox, where is that money going?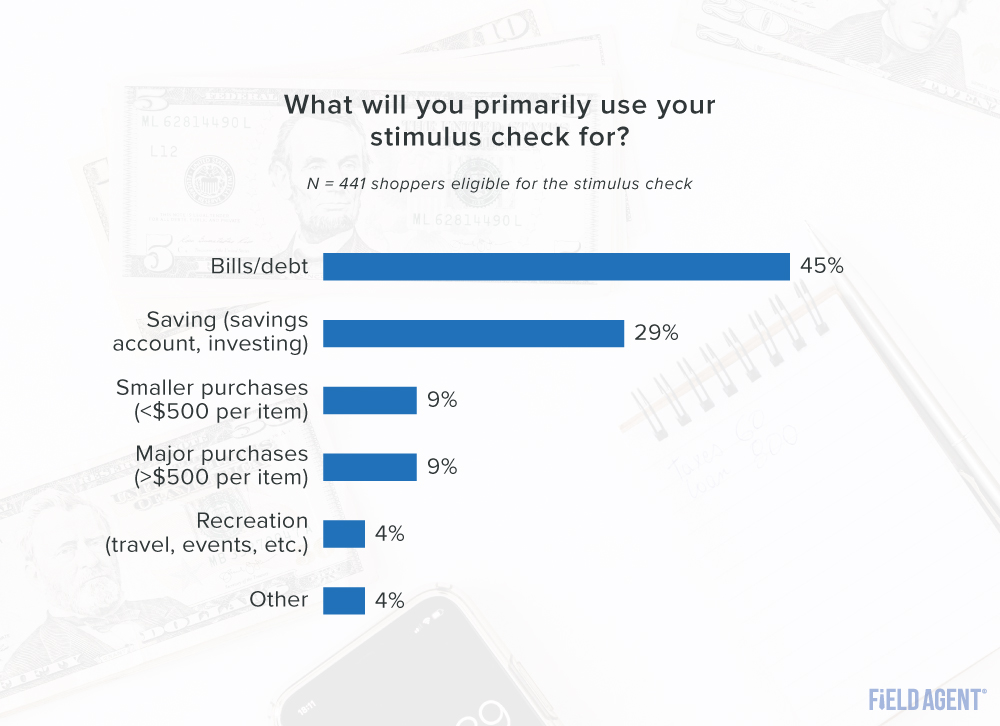 For most agents surveyed, these checks are going toward a practical end: the bills. From rent to student debt, from mortgages to utilities, 45% of agents surveyed plan to use their stimulus cash for the mundane recurring expenses and debts of life.
Another popular way to spend the stimulus cash is... not to spend it. Savings accounts (including stock portfolios and other investments) were the primary destinations for 29% of our agent's pandemic money.
It's the Little Things: Small Purchases
For many people, it's necessary to spend their much-needed checks on saving and paying the bills. But retailers and brands want to know: when shoppers hit the stores, just what products will those checks cover?
We asked the shoppers who plan to primarily make small, everyday purchases with their stimulus checks just that question. We presented them with a list of potential purchases, and asked them to select all of the items that they plan to use their checks for.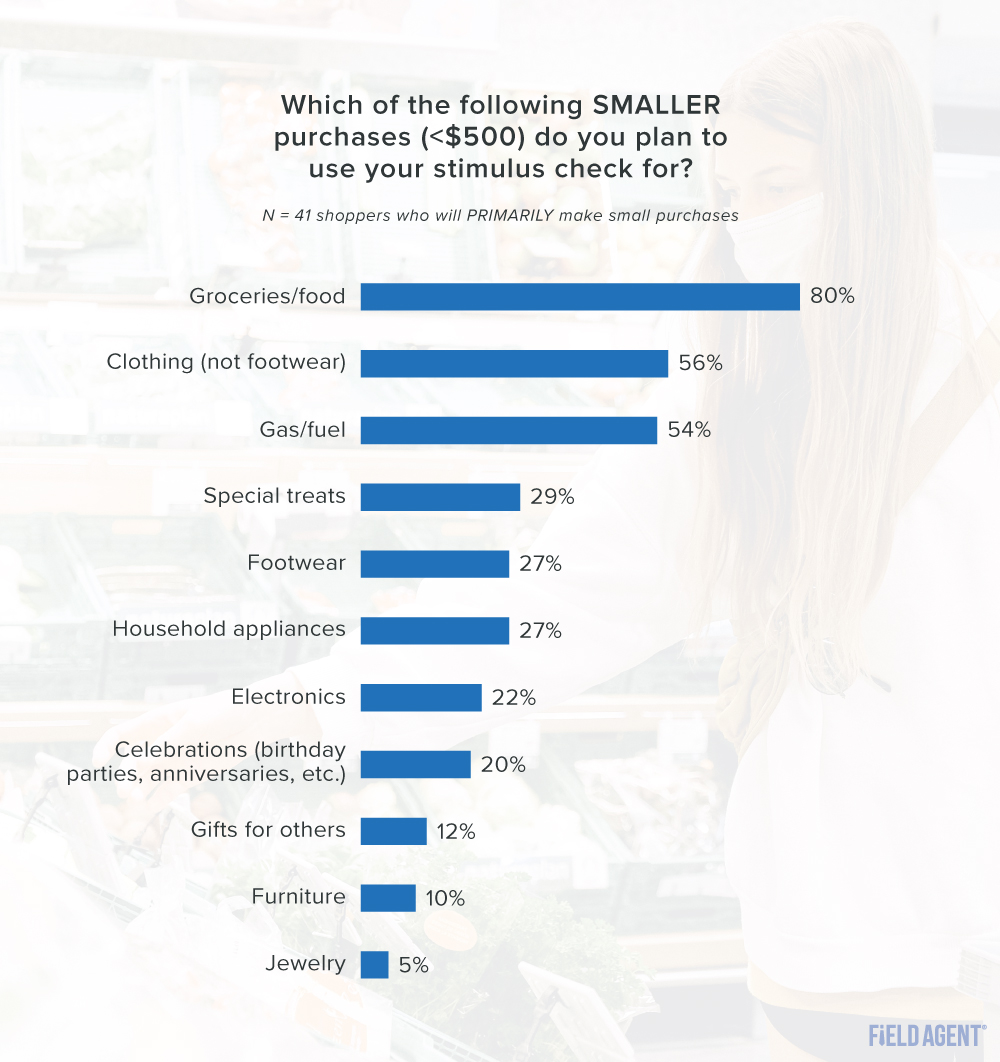 Once again, practicality is the watchword for our agents. It's the bare necessities, like groceries, clothing, and gas, that take center stage in their plans: those three categories were each chosen by over half of shoppers surveyed. Groceries are a particularly popular choice: 80% of our agents expect to drop some of their stimulus cash at the grocery store.
Our trusty shoppers told us not only what small purchases they'll buy, but also where.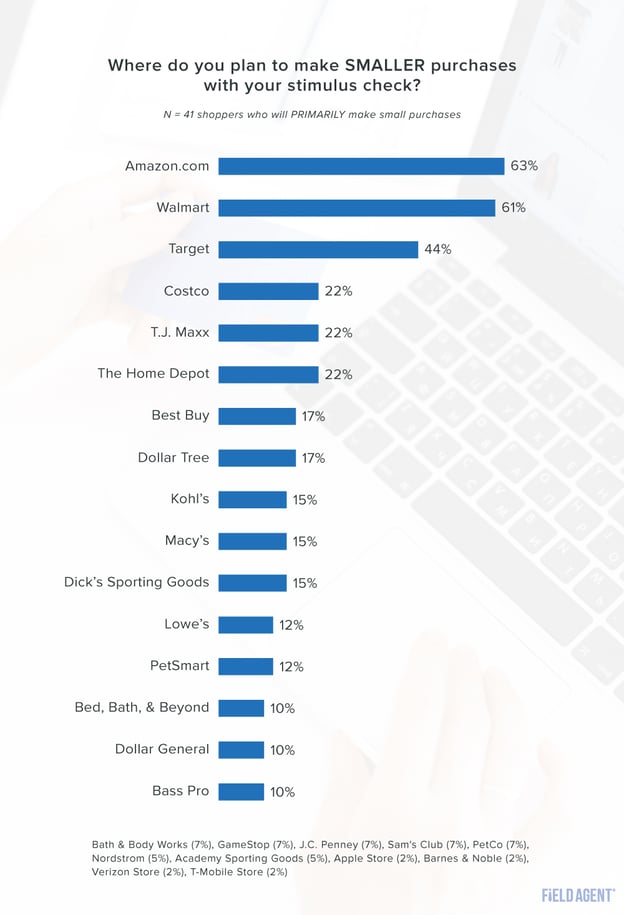 When it comes to small, everyday purchases, there are two clear winners. Say it with us: Amazon and Walmart. The two retail behemoths will see purchases from 63% and 61% of our shoppers, respectively.
Agent quote: "Mostly food, supplies, some clothes, gas. And one share of Gamestop."
Big Money Moves: Major Purchases
But it's not all about groceries and gas. With some households receiving thousands of dollars in their stimulus checks, many families and individuals plan to make significant purchases they may not have been able to make otherwise.
What are these big-ticket items? We asked the agents who signaled that they would spend most of their checks on major purchases to fill us in.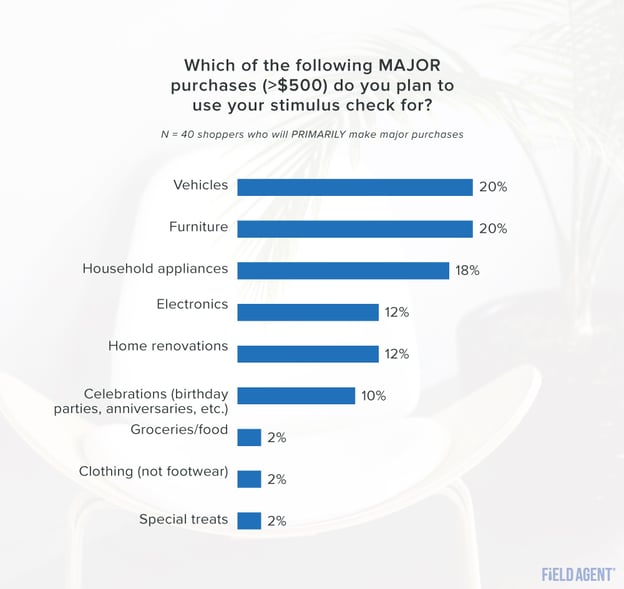 When it comes to bigger purchases, agents are thinking about vehicles and home renovations more than fancy clothes and special treats. Pragmatic purchases like furniture and appliances were popular choices over $500.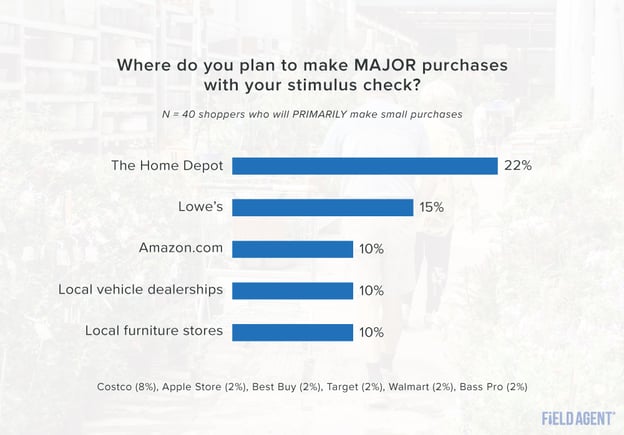 Speaking of renovations, it's home improvement stores like The Home Depot and Lowe's that are seeing the most high-budget purchases from our agents.
Agent quote: "I plan on putting the money toward a new refrigerator, ours is on its last legs, and the stimulus check helps immensely!"
Key Takeaways
As the checks continue to roll out across the country, a few facts stand out about stimulus spending.
Shoppers are getting practical with their cash. Groceries, gas, and furniture are in, while more frivolous purchases like jewelry and special treats are less popular.
The emphasis on paying bills and debt drives home the point that for many people, these checks are lifelines, and are not being squandered on toys and trinkets.
When it comes to bigger purchases, home improvement stores are cashing in on stimulus checks. Home renovations and DIY projects are in as many people remain at home due to the pandemic.
Hear From Your
Shoppers

What answers do you need from your shoppers? No matter your brand, you need to know what your customers are thinking.

Field Agent's Shopper Insights products allow you to be in the moment with your customers. Shop along with real people as they make purchasing decisions. Capture authentic perspectives about your products (and your competitor's). Or work with our helpful team to build a custom job to meet your specific challenge.
"I was blown away by the Field Agent platform! I found it to be incredibly effective turn-key way to get our product in the hands of key customers. This is an entirely new level!" -Kelly Reilly, CEO, Red Thread Coffee
If you need to hear from real shoppers, Field Agent wants to hear from you. Click below to find out more.