Photo Gallery: Top 10 Easter Grocery Displays
Bunnies are hopping and spring flowers are popping. Easter is nearly here.
For many retailers and brands, the holiday is a key time to move candy and other treats. That's why brands pull out all the stops, placing their chocolate bunnies and eggs in some of the most dynamic and interesting displays of the year.
We wanted to have a look at some of these displays. Using the Field Agent mobile platform, we dispatched a team of mobile shoppers (we call them agents) to photograph easter grocery displays across the country.
Let's hop to it!
Top 10: Favorite Easter Displays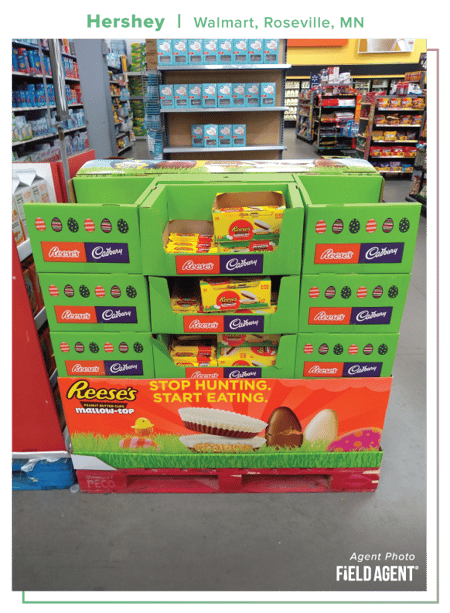 Jim J. spotted this Hershey display at his local Walmart in Roseville, MN. "This bright display caught my attention the most," he says. "I liked the colors and images!"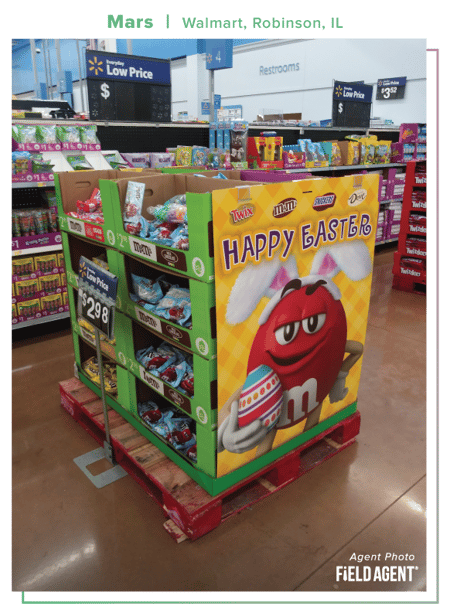 Who could miss this eye-catching M&Ms display? Not Kelsey S., who spotted it at a Walmart in Robinson, Illinois.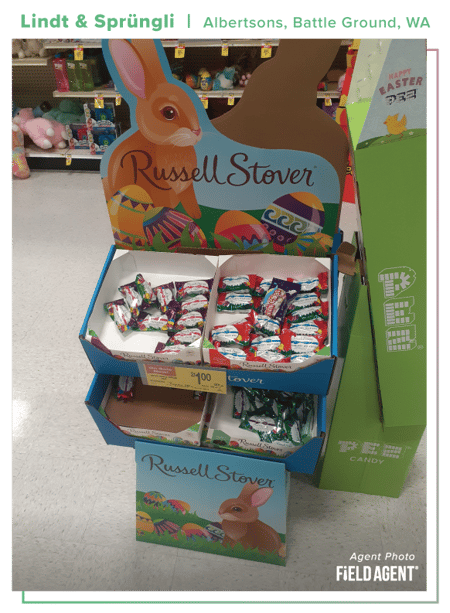 Barbara C. of Battle Ground, Washington, was impressed by the design of this display. "The display setup was creative and different!" she says.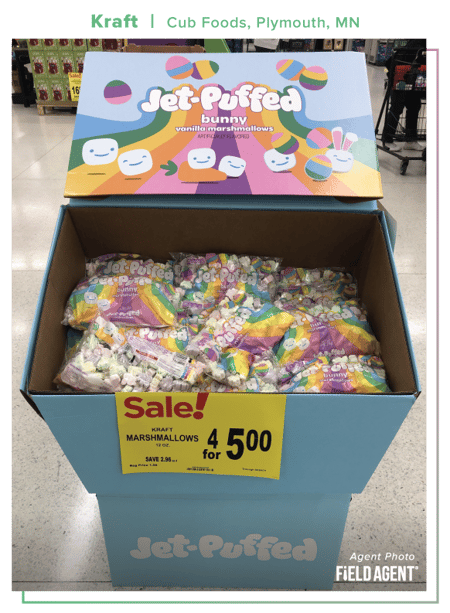 The pastel color palette and unique design makes this marshmallow display from Kraft's Jet-Puffed stand out from the crowd. AJ R. discovered it in Plymouth, MN.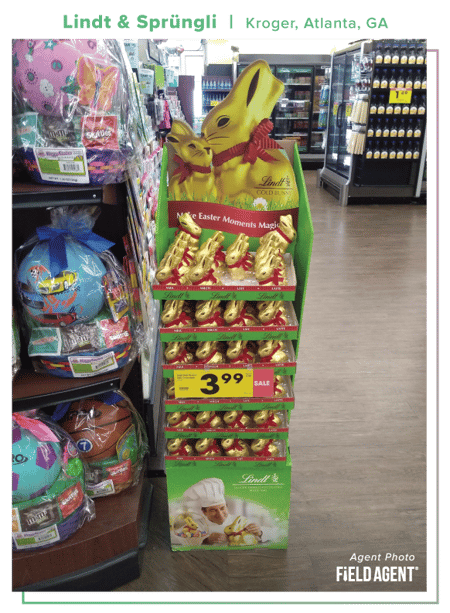 Who doesn't like chocolate bunnies? They caught Trevor P.'s eye on this Lindt display at an Atlanta Kroger.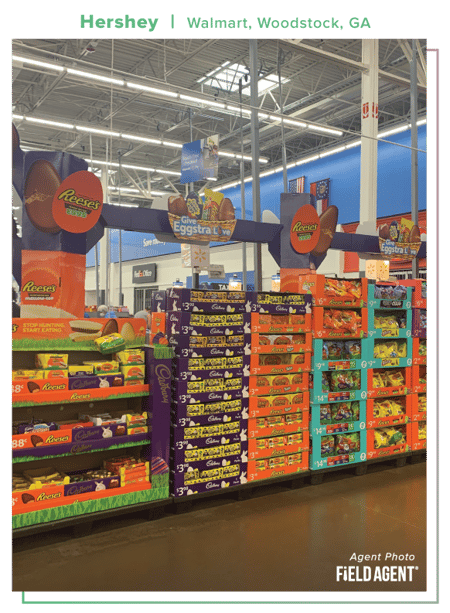 Faith D. only found one Easter display in her local Walmart, but as she says, "it was stocked well and very colorful!"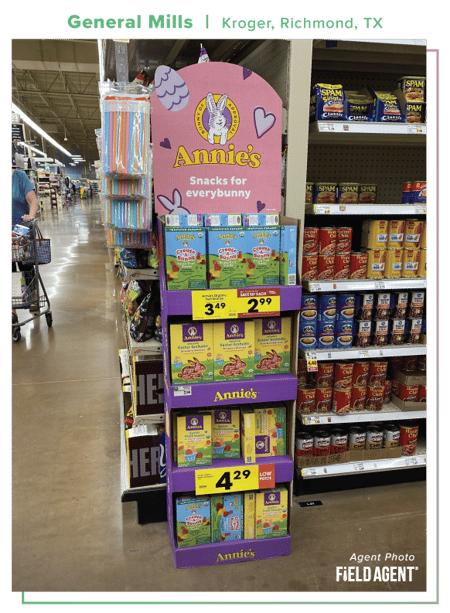 It's not just candy on display this Easter. Ana G. found this display of Easter snacks from Annie's in Richmond TX. "I liked the look of the overall display!" she says.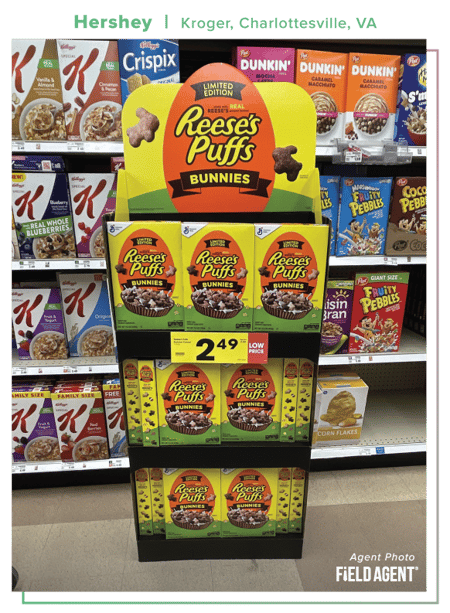 Jennifer T. found Easter in the cereal aisle at her local Kroger. The bright colors and fun shapes make it a seasonal standout!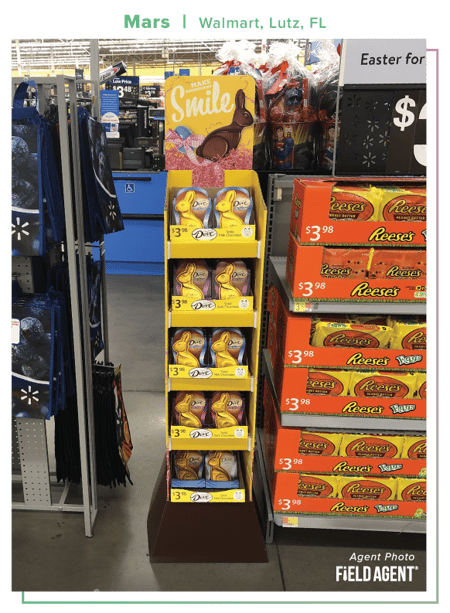 Jean A found this attractive Dove display, full of dark chocolate bunnies, at her local Walmart.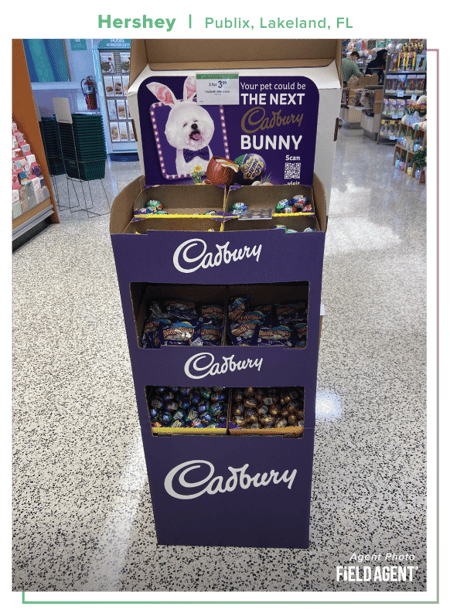 This funny Cadbury display caught Erin H.'s eye in Lakeland, Florida. "It had limited products," she says, "which made it less overwhelming and more interesting."
Need Display Audits This Spring?
Display compliance is crucial, especially for a make-or-break holiday like Easter. But for many brands, in-store visibility is expensive, and a logistical nightmare.
Your displays don't need to stay in the dark. Field Agent gives you direct visibility. With our display audits, you can quickly (and affordably) see positioning, pricing, shopper sentiment, and more, no matter where your products are sold.
And it's not just Easter. Field Agent helps brands keep an eye on their displays in-store, all year round.
"I'm blown away that I was able to go from a google search to having a plan in place in just a few hours." - satisfied client