Swish: The Highest-Scoring Grocery Brands of March Madness
March Madness.
It's one of America's favorite sporting events, with millions of fans tuning in from around the country.
But the teams competing in the Big Dance aren't the only major players in March Madness. When fans gather with friends and family to watch, party food is the MVP. And brands that supply basketball fans with snacks, sodas, and suds depend on March Madness sales.
This begs the question: which food and beverage brands walked away victorious during this year's March Madness?
To find the answer, we used the Field Agent platform to survey 1,000 shoppers (we call them agents) about their plans to celebrate the Final Four matchups, as well as the Championship game.
Let's hit the court!
Top-Scoring Retailers
Of our 1,000 agents, 47% plan to watch at least one of the games, so we used that sample to judge the top brands of the NCAA tournament.
Let's start with where fans pick up snacks. Which retailers are top of the heap this basketball season?
When it comes to grocery retail, Walmart is the #1 seed. 42% of our shoppers plan to purchase the majority of their party snacks at the retail behemoth. Nothing but net. In second and third place are Kroger and Costco, with 16% and 9% of shopper share respectively.
Slam-Dunk Brands
Now for the really tasty insights. Let's look at the most popular food and beverage brands at March Madness parties around the country. To start off, here are the top 5 soft drinks, as reported by our agents.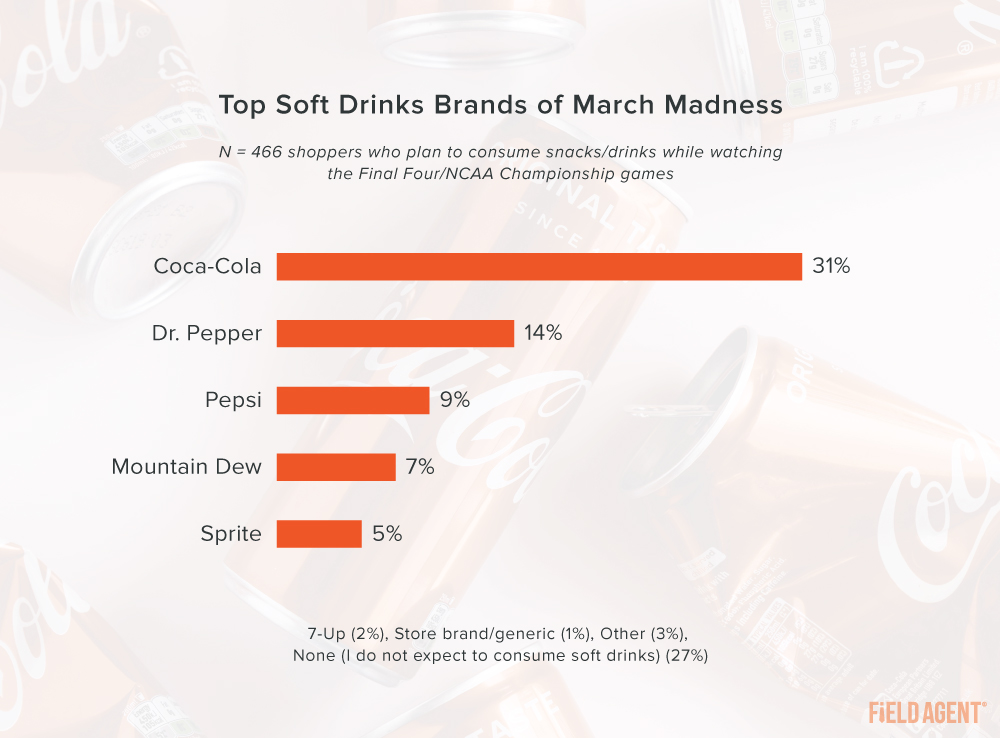 When it comes to soft drinks, Coca-Cola is consistently top dog. The cola giant was selected by 31% of our agents as their top choice for March Madness, more than doubling the runner-up's percentage (Dr. Pepper).
Speaking of bubbles, let's talk beer.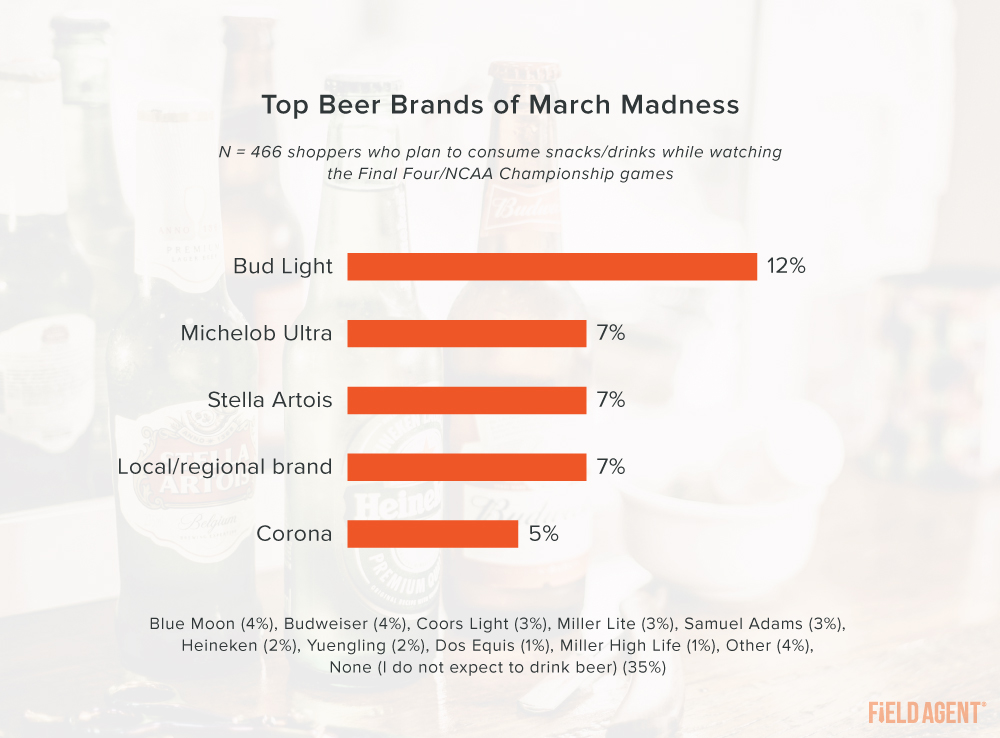 Bud Light took the crown as top beer for b-ball, leading a tight pack of Michelob Ultra, Stella Artois, and local brands, which each earned 7% of agent votes.
When it's crunch time on the court, it's crunch time in the living room - chips and salty snacks always make for popular party food.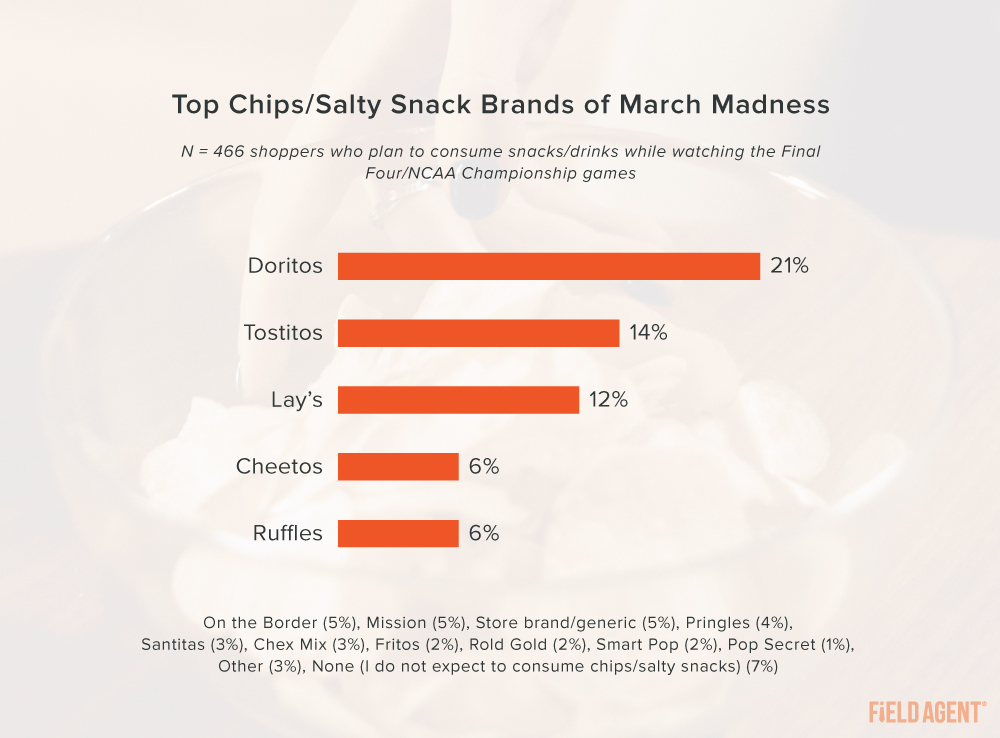 Game night means nachos, which means a score for Doritos and Tostitos (21% and 14%, respectively). Cheetos deserve a shoutout as the only non-chip snack who cracked the top 5.
It may be more than a meal than a snack, but pizza is always a winner as party food. Which brands of pie rise to the top?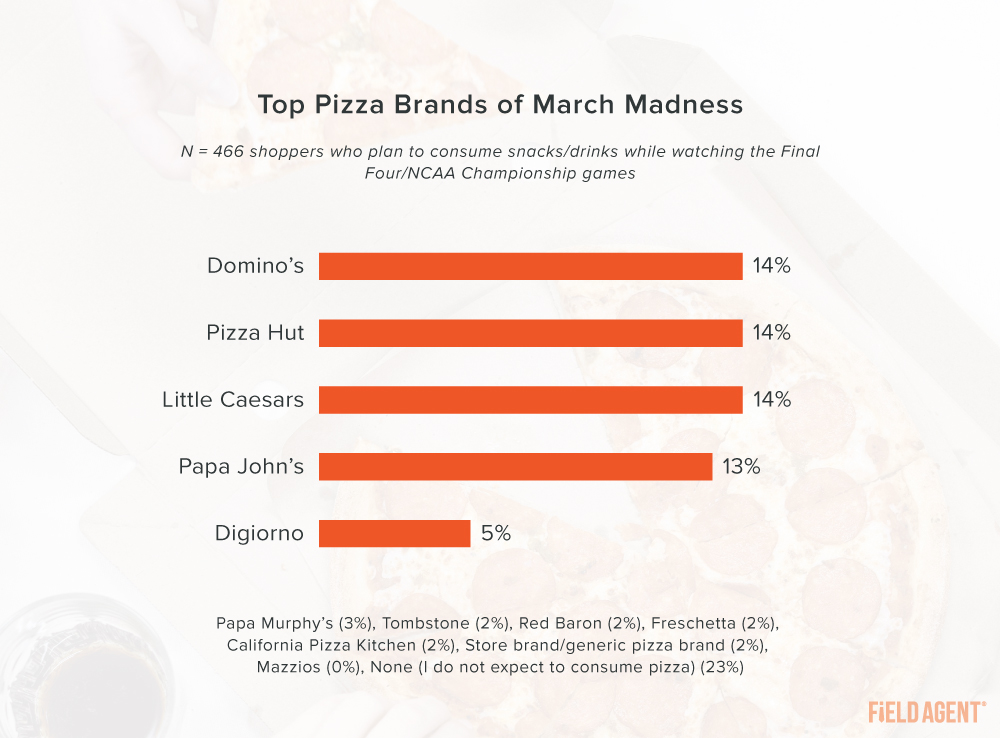 It's a close game: Domino's, Pizza Hut, and Little Caesars are neck-and-neck-and-neck, with 14% of our shoppers likely to eat each brand.
Retail Solutions for Any Challenge
Get visibility in-store, gather relevant insights, drive trial of your products, merchandise shelves, and more. You can even create
custom campaigns.
Explore the Field Agent Marketplace today.
Hear From Your
Shoppers

What answers do you need from your shoppers? No matter your brand, you need to know what your customers are thinking.

Field Agent's Shopper Insights products allow you to be in the moment with your customers. Shop along with real people as they make purchasing decisions. Capture authentic perspectives about your products (and your competitor's). Or work with our helpful team to build a custom job to meet your specific challenge.
"I was blown away by the Field Agent platform! I found it to be incredibly effective turn-key way to get our product in the hands of key customers. This is an entirely new level!" -Kelly Reilly, CEO, Red Thread Coffee
If you need to hear from real shoppers, Field Agent wants to hear from you. Click below to find out more.