Clients Find Success with Field Agent's Self-Service Platform [Video]
Game-changers don't come along every day.
Last week, Field Agent announced the arrival of a new self-service platform, designed to put clients in the driver's seat. Clients now have access to Field Agent's suite of industry-leading retail solutions 24/7. For the first time, anyone can launch a project in minutes, without a single phone call.
But we didn't do it alone. Since the platform's soft launch earlier this year, we have listened carefully to feedback from our beloved clients. And spoiler alert: they love it.
What has changed for clients, and how does the new platform make retail solutions easier than ever? Two of Field Agent's finest, Joe Futterer (Vice-President of Client Success) and Sarah Gillmer (Senior Director of Business Development), sat down to answer these questions, and discuss how clients are finding success with the new platform.
Watch the interview below, then scroll on to learn more about how Field Agent's platform helps brands of all sizes win at retail.
Interview Highlights
Joe Futterer: Field Agent just launched a new platform, the first of its kind. What does this mean for new clients and existing clients? What are you seeing first-hand?
Sarah Gillmer: We're really excited about this new platform launch because it puts the power back in the hands of our clients. When you log in, you're immediately taken to our new Field Agent Shop, where you can find all of the different products we have available. Clients tell us it takes as little as five minutes to launch a project. So the time-to-value is fast. Also, we have taken away all of the reporting fees and programming fees from our non-custom jobs to provide the best cost, and best value, for our clients. And if you have questions, we're right here to answer your questions through our chat feature. You can launch projects yourself, and have data coming in within a few hours. That is so exciting - and more is coming.
JF: What does the future look like for clients, and how do these things help them win at retail?
SG: One of the biggest benefits that we now offer clients is the ability to see our full suite of products and tools. Now, a client can come to the shop to drive trial, and also schedule a display audit alongside a buy-and-try, for example. Everything is visible, and very soon we'll have the option to bundle products together. We're excited to continue to add new features and add-ons, especially as we get more feedback from our clients. What's not going away is our world-class service and our custom solutions. So if you get in the shop, and you don't see a product that quite meets your needs, you can click the "request a custom project" button, and we'll be in contact with you quickly to set up whatever you need.
JF: Sounds amazing. Who do you think is a good fit for the new platform?
SG: We can now truly serve any client, at any level. If you are a new supplier and you have a product launching at Walmart, we can help you make sure your product is set up correctly and priced correctly, we can drive trial, etc. It's a great fit for small companies because most of our products don't have minimum rates, so you can literally just go in and do one audit, as an example. Or if you're driving trial, you can do just ten or twenty demos. It's so much more cost-efficient for the client, so it's great for small and middle-tier companies, as well as our Fortune 500 clients. We can serve anybody with almost any need.
JF: Let's talk to the folks who may not be set up yet. How easy is it to go online, set up an account, schedule a demo, or even start their own program?
SG:
It's as simple as going to fieldagent.net! You can log in and
create an account for free,
and you'll be taken directly to our shop, and go from there!
Meet a Client: Bronica Banks, Anheuser-Busch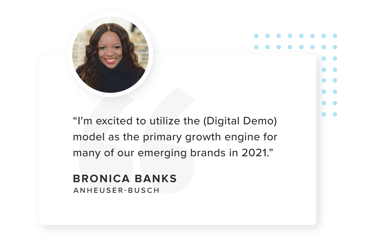 Bronica Banks, Director of Shopper Marketing at Anheuser-Busch, is a rising star in the beverage industry.
Path to Purchase IQ named Banks one of 2021's "People to Watch." In her bio, Path to Purchase praises Banks' response to a very real challenge: marketing during the pandemic. Her key to successful sampling? The Field Agent platform.
"The Home Gate program, a response to the disruption in field marketing plans at the beginning of the pandemic, is one of Banks' career highlights," says the Path to Purchase bio. "The program consisted of sweepstakes, digital and social activity as well as sampling (the last handled by Field Agent). The trial effort drove 15,000 samples of Bud Light Seltzer, the company's No. 1 priority brand in 2021. And Field Agent is now utilized as a primary tactic for sampling, especially in the non-traditional environment."
Banks used Field Agent's Digital Demo product to sample Anheuser-Busch's new seltzer with targeted shoppers, gather constructive feedback and positive reviews, and incentivize verified customers to share the product online.
And it paid off. As Path to Purchase reports in Banks' bio, "Initial program results showed 89% first-time buyers, 82% positive shopper sentiment and 83% repurchase intent."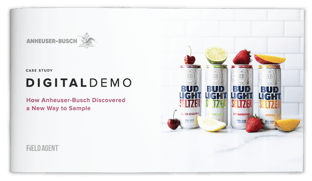 Those are major wins any time, but especially during a pandemic. And Banks was thrilled with her results. "I'm excited to utilize [Field Agent's platform] as the primary growth engine for many of our emerging brands!" she told us.
Read about Banks' Bud Light Seltzer campaign in our case study!
Our clients are raving about the new platform...
Some of our clients have had the opportunity to beta-test the new platform since its soft launch in January. Here's what they have to say.
"I will never execute a traditional sampling program again. My sampling from this point forward will always be done through the Field Agent platform."

"Super happy with the results... This is a better way to get really good, robust reviews... We'll definitely be doing more."

"It doesn't matter if you are a billion-dollar brand or a $500K start-up, the Field Agent platform is relevant to all brands... The benefits are HUGE!"

"We had a very positive experience, and will continue to use the platform moving forward... We are excited to use Field Agent for new campaigns and in new ways!"