Coronavirus Wipes Out Shelves: Out-of-Stocks Across All 50 States
"Apocalypse-like."
"Pillaged and ravaged."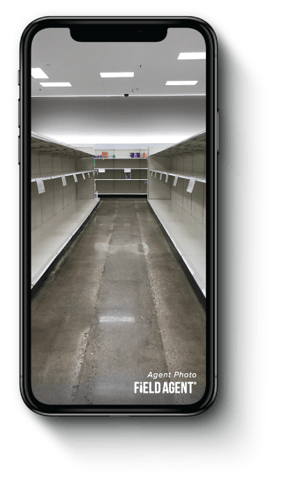 "Scary."
"Wiped out."
All comments made by real shoppers after seeing stock-levels in their local stores following the coronavirus outbreak.
There's no doubt about it: COVID-19 has worked a number on store shelves. This is especially true for essential items like disinfectant wipes and toilet paper.
But, really, just how bad is it out there?
Free Guidebook: 9 Coronavirus Challenges At-Retail...and How to Overcome Them
200 Stores, All 50 States: Out-of-Stocks & the Coronavirus
March 18-19, the Field Agent platform dispatched agents to 212 stores across all 50 states* and 11 major retailers**. Audits were distributed across states and retailers based roughly on population size and number of stores, respectively.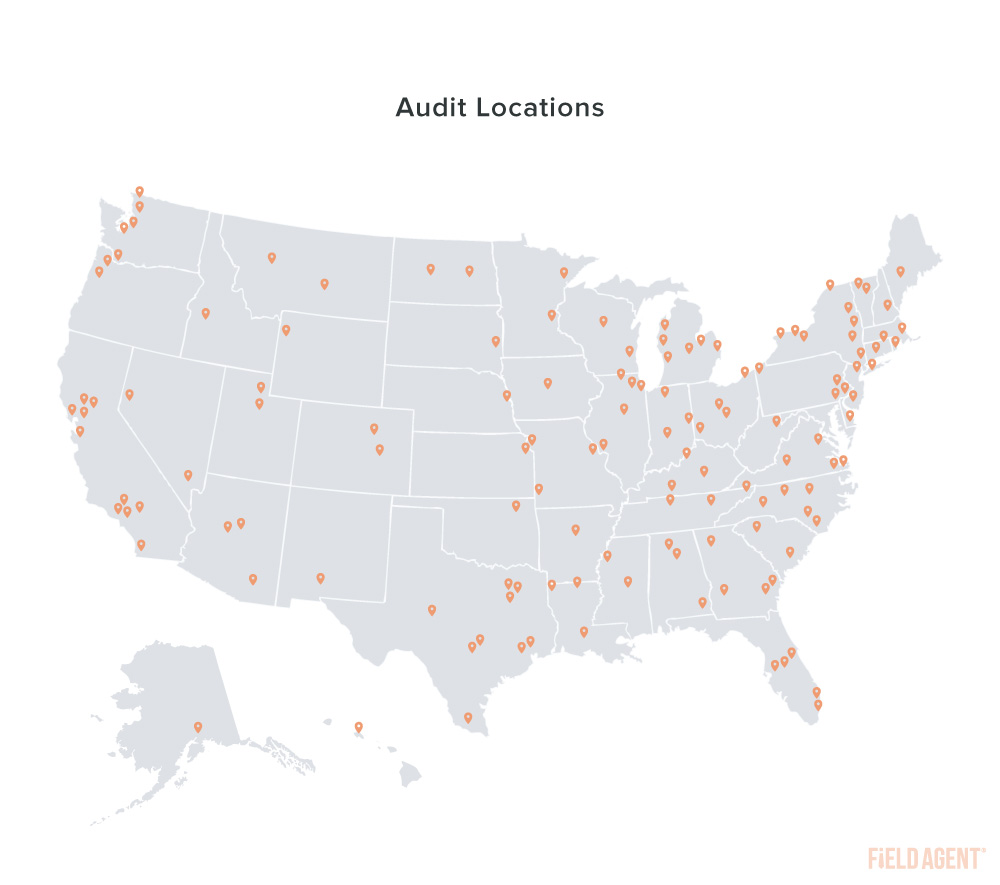 *Number of audits by state: AK 1, AL 3, AR 1, AZ 5, CA 24, CO 3, CT 3, DE 5, FL 12, GA 8, HI 2, IA 1, ID 1, IL 8, IN 2, KS 4, KY 3, LA 3, MA 2, MD 4, ME 1, MI 6, MN 3, MO 2, MS 2, MT 2, NC 7, ND 2, NE 1, NH 1, NJ 4, NM 1, NV 7, NY 12, OH 6, OK 2, OR 3, PA 6, RI 1, SC 4, SD 3, TN 4, TX 18, UT 2, VA 6, VT 2, WA 5, WI 2, WV 1, WY 1.
**Number of audits by retailer: Albertsons/Safeway 27, ALDI 24, Costco 5, Food Lion 13, Kroger 21, Publix 11, Sam's Club 9, Target 29, Trader Joe's 9, Walmart 56, Whole Foods 8.
While in-store, agents audited stock-levels on eight different categories that have, reportedly, proven essential and/or popular in the wake of the coronavirus outbreak:
Hand soap (in pumps)
Disinfectant wipes
Toilet paper
Bottled water
Canned soup
Unseasoned rice
Saltine crackers
Frozen pizza
As the photo gallery below suggests, agents were asked to take photos of each category. They also reported one of the following six conditions per category:
Completely/almost completely stocked (91-100% stocked)
Mostly stocked (61-90% stocked)
About half stocked/half out-of-stock (41-60% stocked)
Mostly out-of-stock (11-40% stocked)
Almost completely out-of-stock (1-10% stocked)
Completely out-of-stock (0% stocked)
We were particularly interested to understand out-of-stock rates across categories, retailers, and even states. Below we share just a little of what we learned.

Results: COVID-19 Out-of-Stock Audit
1. Just how prevalent are out-of-stocks right now on high-demand product categories?
Depending on the product category, out-of-stocks (OOS) are currently very common throughout the United States.
The Field Agent platform ultimately conducted OOS audits across eight product categories and 212 stores, for a total of 1,696 individual, category-level OOS audits. In all, 35% of shelves audited (N = 1,696) were "completely out-of-stock" (i.e., 0% stocked), and 22% were "almost completely out-of-stock" (i.e., 1-10% stocked).
This means more than half of shelves, 57%, in the Field Agent audit were found to be either out-of-stock or critically low (i.e., only one to a few units remaining).
But how does this break down category-by-category?
As the chart below shows, OOSs were extremely high for toilet paper and disinfectant wipes. Both were virtually nonexistent on shelves when agents arrived.
"For some items like toilet paper," one agent reported, "not one product from any brand was on the shelves. I wasn't expecting the shelves to look so barren."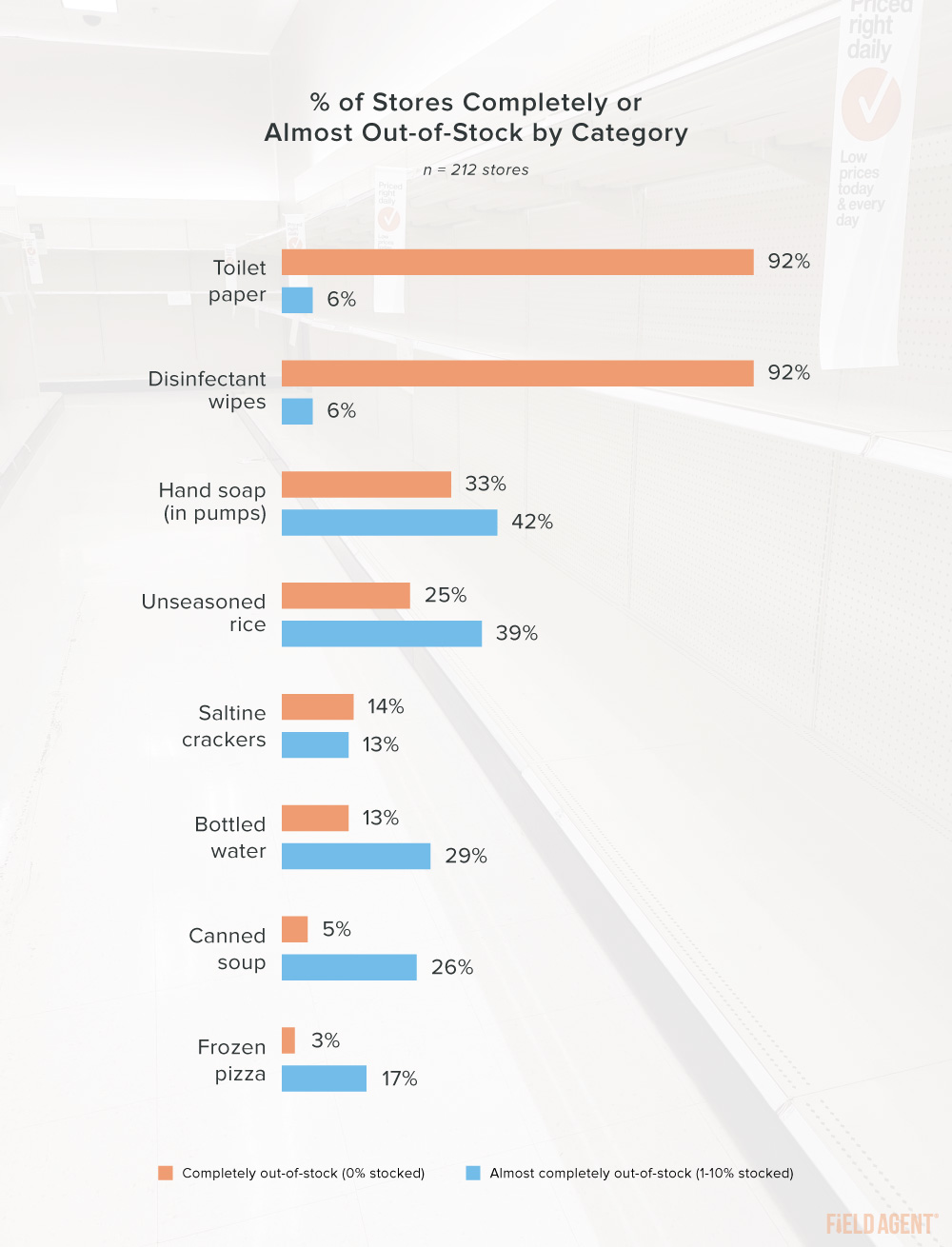 And while OOS rates for toilet paper and disinfectant wipes are alarmingly high, shoppers are currently more likely than not to find hand soap, rice, and other staples on their local store's shelves.
2. How do OOS rates look from one retailer to another?
The chart below shows combined OOS rates by retailer across all eight categories.
By way of illustration, the Field Agent platform audited eight categories inside 56 Walmart stores. Walmart's combined OOS rate below, 33%, was calculated by dividing the number of "completely out-of-stock" shelves by the total number of shelves audited at Walmart (n = 448).
Wholesale clubs, in particular, may be contending with particularly high OOS rates on essential goods right now. After all, retailers like Costco and Sam's Club are prime destinations for shoppers seeking to stock-up for long periods of time.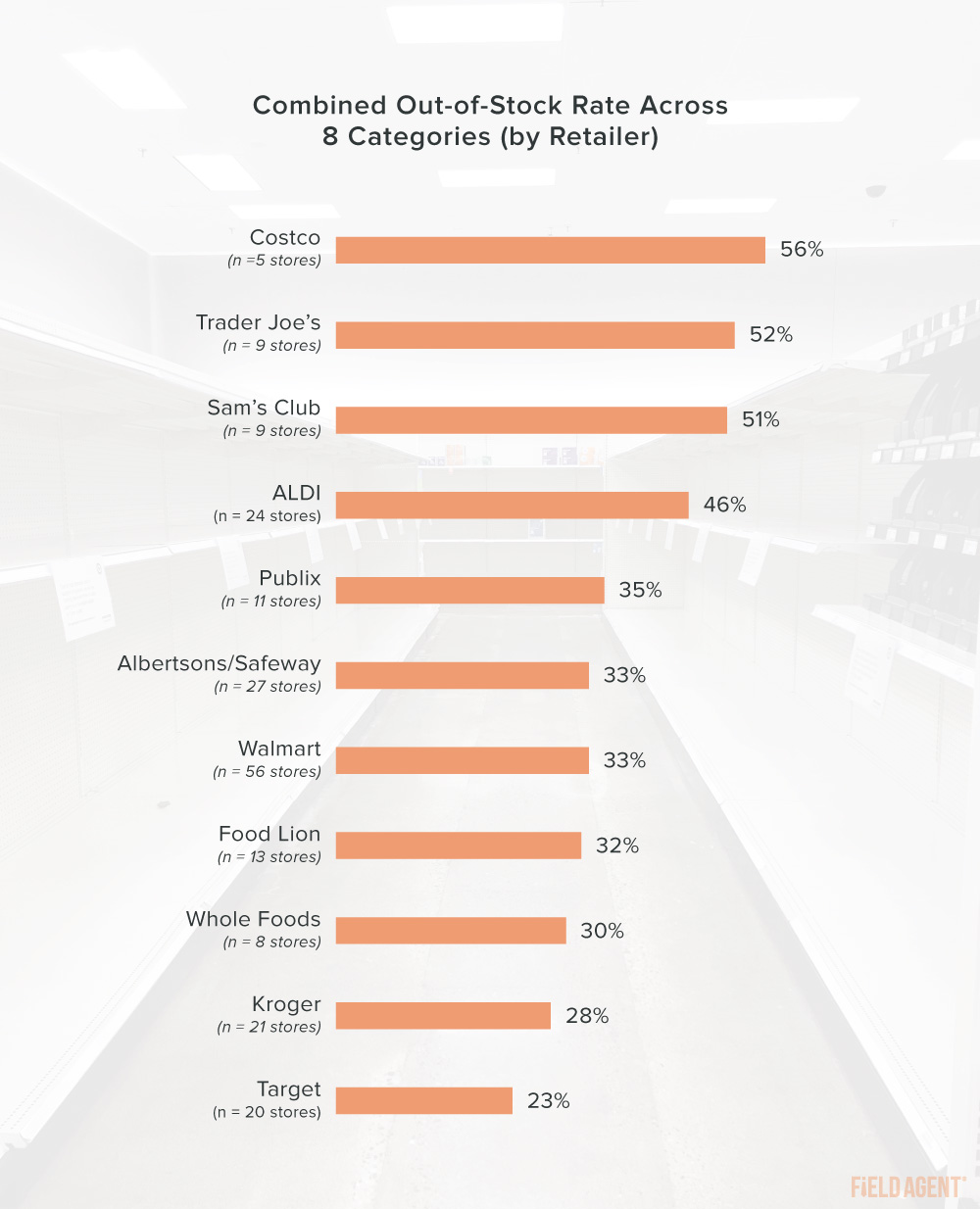 Clearly, toilet paper is critically low these days. In the Field Agent audit, Costco, Food Lion, Publix, Safeway, Sam's Club, Trader Joe's, and Whole Foods were all 100% OOS on toilet paper, with other retailers not far behind. At 79%, Target had the lowest "completely OOS" rate for toilet paper, although another 14% of audited Target stores were "almost completely OOS."
What about that other critically low category: disinfectant wipes?
Retailers with a 100% OOS rate on disinfectant wipes included ALDI, Costco, Food Lion, Publix, and Trader Joe's. Here, too, Target turned in the lowest completely OOS rate (62%).
3. Do OOS rates differ drastically from one state to another?
Let's first consider this question for the three categories above with the highest OOS rates: toilet paper, disinfectant wipes, and hand soap. And although the Field Agent platform audited at least one store in all 50 states, for present purposes let's limit the discussion to states in which at least 5 stores were audited.
The map below displays OOS rates on toilet paper, disinfectant wipes, and hand soap for 15 qualifying states.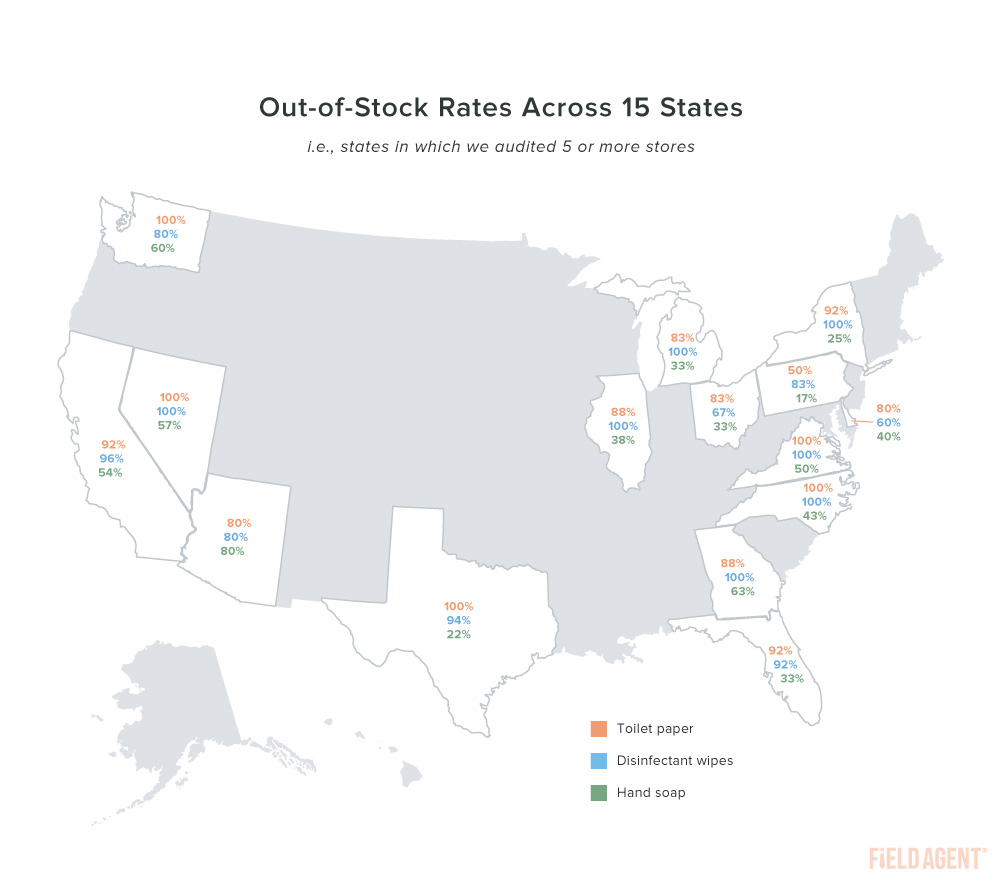 For toilet paper and disinfectant wipes, there was relatively little variation in stock-levels from one state to another, as might naturally be expected for two product categories with critically high OOS rates.
And although more data would need to be collected before drawing hard conclusions, hand soap showed more variation in OOS rates, from a high of 80% in Arizona to a low of 17% in Pennsylvania.
Among the 15 qualifying states, those with the highest combined OOS rates (i.e., OOS rates across all eight categories) were Nevada (57%), Texas (43%), California (40%), Ohio (40%), and New York (39%).
OOS audits and other retail audits through the Field Agent platform offer a simple, fast, and affordable means for seeing inside stores across the country.
See below to learn more about Mobile Audits by Field Agent.
8 Steps to Instant On-Site Visibility
The Field Agent on-demand platform offers instant on-site visibility across the retail and omnichannel landscape, so brands can always keep a watchful eye on stock-levels, prices, displays, planograms, competitors, and more.
Our free one-pager, "8 Steps to Instant On-Site Visibility," offers a glimpse at how Mobile Audits work. Download it today.