First Defense: Auditing Disinfectant/Sanitizer Dispensers in Stores
Rampant concerns about coronavirus are changing how Americans work, play, and, yes, shop.
For years, many stores have had a front-line defense against concerns about the spread of infectious diseases: disinfectant (for disinfecting carts/baskets) and/or sanitizer (for sanitizing hands) stations. These dispensers, generally stationed at the main entrance to stores, give shoppers an early opportunity to disinfect carts and/or sanitize hands.
They also give shoppers a little peace of mind.
And with the spread of COVID-19, shoppers are, predictably, using these dispensers more frequently.
According to a March 10, 2020 survey of 1,500 respondents by the Field Agent platform, over half, or 53%, said they're using disinfectant/sanitizer stations at the entrance to stores more often since the coronavirus outbreak. Only 1% said less.
See Also: Taking Stock of Coronavirus – On-Shelf Availability & Out-of-Stocks
But this raises at least two important questions:
How common are disinfectant/sanitizer dispensers at the entranceway to stores?
Are these dispensers in-stock (i.e., do they contain wipes, gel) these days for germ-conscious shoppers?
Let's get answers.
Wiping Away the Mystery: Disinfectant/Sanitizer Dispensers Inside Stores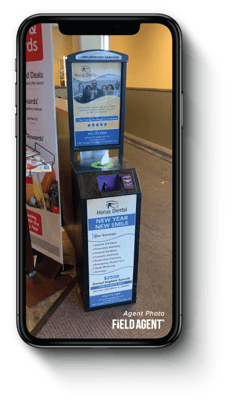 Over the weekend the Field Agent platform dispatched agents to 100 stores across several different retailers* to audit disinfectant and sanitizer dispensers. The store selection was weighted more heavily to the West Coast (n = 46 stores in CA, OR, WA), where COVID-19 made the strongest initial landfall in the United States.
*Here are the retailers audited by the Field Agent platform alongside the number of stores audited for each retailer: Walmart (14 stores), Albertsons/Safeway (14 stores), Kroger/Kroger banners (11 stores), Walgreens (11 stores), Target (10 stores), Costco (10 stores), CVS (10 stores), Sam's Club (8 stores), Ahold Delhaize banners (6 stores), Publix (6 stores).
At the front entrance to their assigned store, the Field Agent platform instructed agents to locate and, where applicable, take photos of disinfectant/sanitizer stations. Agents also reported whether dispensers contained stock at the time.
Below is a QuickFire Q&A from the results.
QuickFire Q&A: Disinfectant/Sanitizer Dispensers
1. What do disinfectant and sanitizer dispensers currently look like inside stores?
With more than half of shoppers using disinfectant/sanitizer stations more often, what do dispensers actually look like right now? Are they well-maintained, for instance?
See for yourself.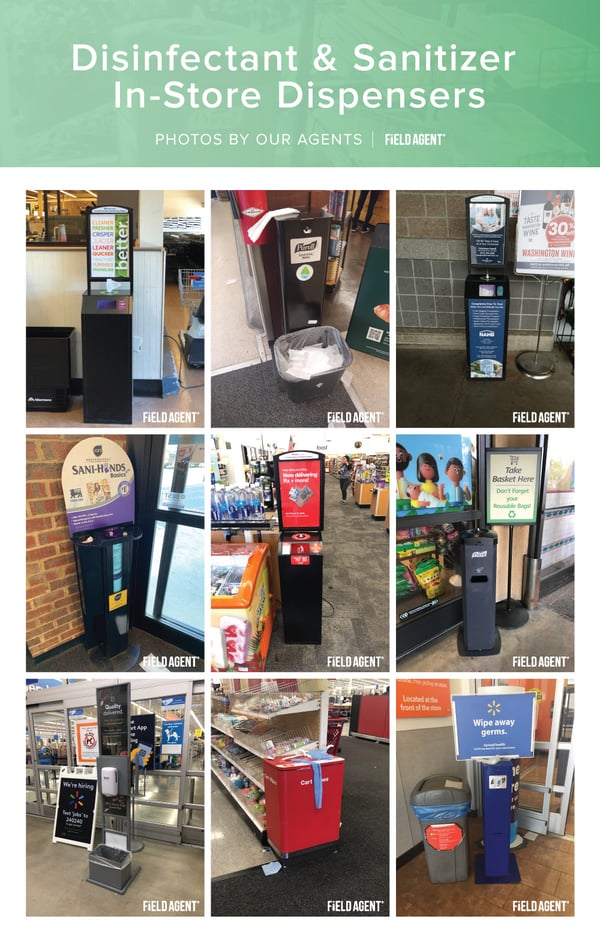 2. How prevalent are disinfectant/sanitizer stations in stores?
The Field Agent platform asked agents to report if their designated store contained a disinfectant wipe and/or hand sanitizer station at the front entrance.
As you can see in the graphic, agents reported that 75% of stores had disinfectant stations (for carts/baskets) at the main entranceway while 23% had hand sanitizer stations.
In the event a store contained one dispenser designed to both disinfect carts and sanitize hands, agents were instructed to report the presence of both a disinfectant station and sanitizer station. Agents checked any and all "main, front entrances" to the store before answering "no."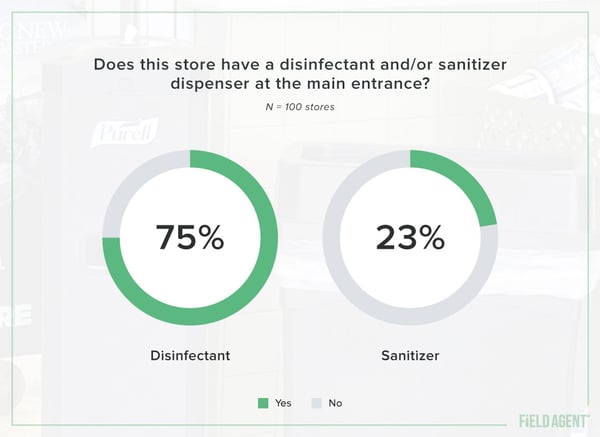 3. Are dispensers generally in-stock these days?
With the heightened popularity of disinfectant/sanitizer dispensers in stores, is the stock holding up? Or are shoppers finding dispensers empty?
Of 75 disinfectant stations located and audited by agents, 88% were found to contain wipes while 12% were out-of-stock. And of 23 hand sanitizer dispensers audited, 16, or 68%, contained wipes/gel compared to 32% that were out-of-stock.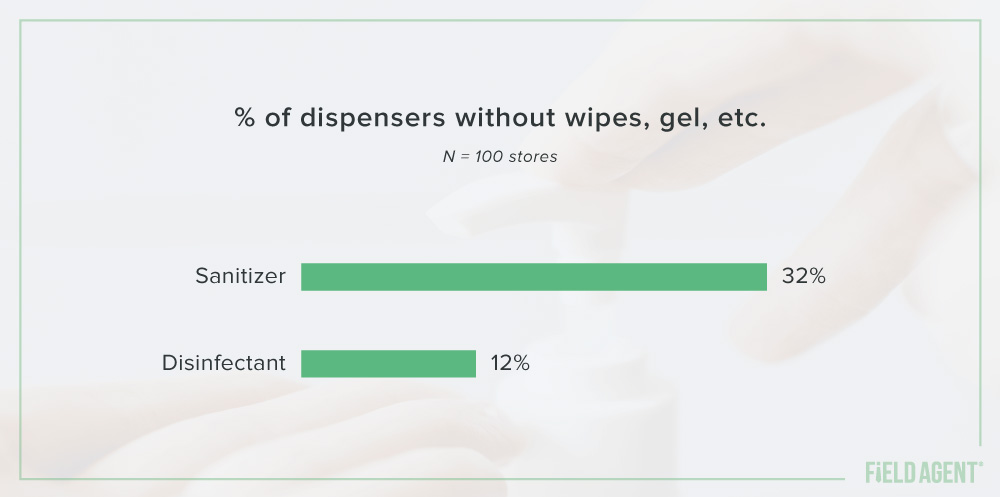 As this article suggests, the Field Agent platform is ready to be your "eyes and ears" across the retail landscape, from dispensers to out-of-stocks. See below.
Get In-Store Visibility!
What do you need to see inside stores?
Dispensers?
On-shelf availability/out-of-stocks?
Displays/signs?
Prices?
Competitors?
Conditions?
With over one million agents scattered across the country, the Field Agent platform can provide in-store visibility when and where you need it most.
Click below to get in touch.