Deep Dive: How is the Pandemic Changing Shopper Habits?
What a year.
In the spring of 2020, the COVID-19 pandemic shattered expectations for retailers and shoppers alike.
Since the early days of the pandemic, Endcaps & Insights has been following the same group of Field Agent mobile shoppers (we call them agents), through a series of identical surveys at three key points. The first survey was in March 2020, as the first spike swept the nation and panic transformed customers' behavior (not a toilet paper roll in sight). The second went out in May of that year, as people settled into the "new normal." Now, as the first COVID-19 spike nears its one-year anniversary, we sent out the survey for a third time. How have our agents' shopping habits changed throughout this unpredictable year?
The Times, They Are A-Changin'
How are Americans changing their shopping behavior as a result of the pandemic - and are these changes permanent?
To find out, we asked our agents two simple questions: have your shopping behaviors changed in one or more temporary ways since the beginning of the pandemic; and have any of those changes been permanent?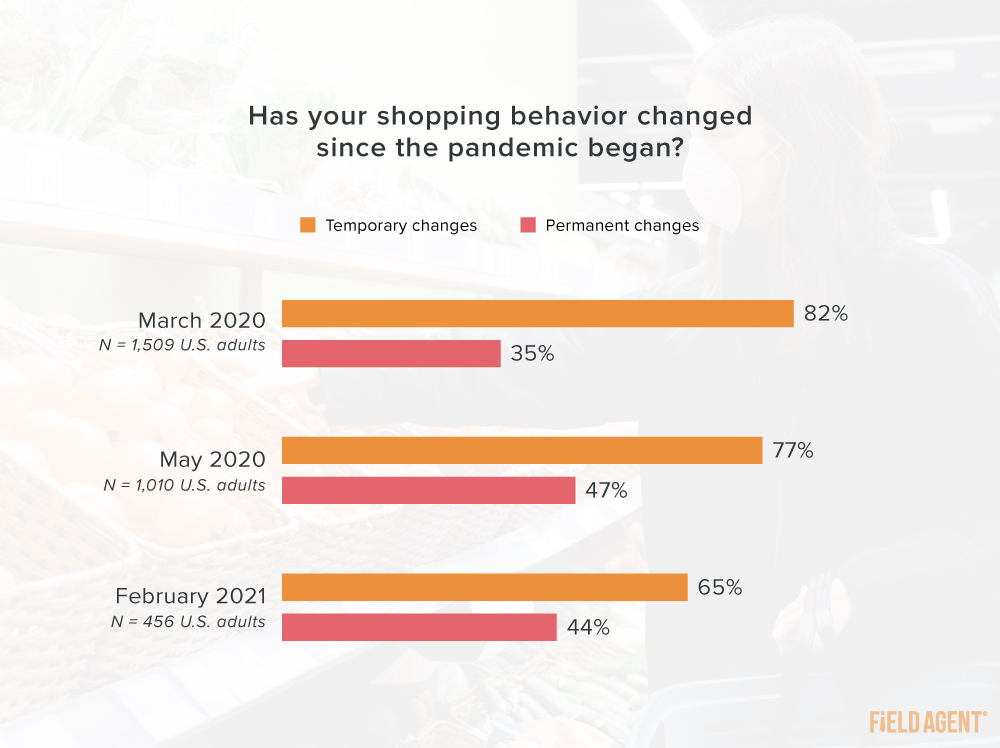 In March 2020, the pandemic was hitting hard for the first time. Most of our agents (82%) said their habits had definitely changed - but only temporarily. Only 35% predicted that the pandemic would have lasting effects on their behavior.
Fast forward to February of this year, the same group of agents. Now, only 65% report temporary behavior changes, indicating that many may have reverted to a pre-pandemic lifestyle. But conversely, in our second question, 44% report that the pandemic will permanently affect their shopping habits - nearly 10 percentage points higher than a year ago.
As time goes on, the habits that are sticking may stick for good.
Long-Term Changes
A growing number of shoppers are expecting the pandemic to have a permanent influence on their behavior behind the (physical and virtual) shopping cart. What specific behaviors do agents expect to continue after the pandemic eases?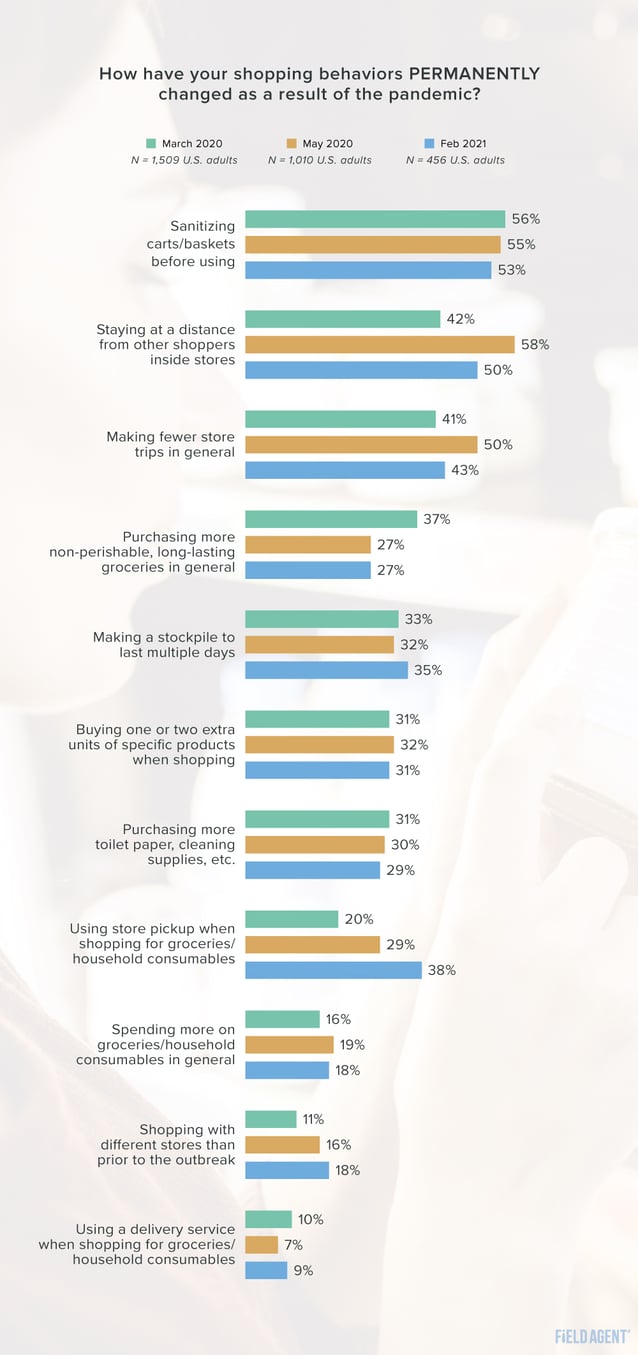 Online shopping saw a dramatic jump. Between March 2020 and February 2021, the number of agents expecting to use online grocery pickup on a permanent basis nearly doubled, rising from 20% to 38%.
The majority of shoppers (53%) expect to be sanitizing shopping carts at the store after the pandemic. Other habits likely to continue beyond the pandemic include stocking up on extra goods and making fewer trips to the store.
Which Pandemic Habits Have Decreased?
Let's be honest. Keeping safe during a pandemic is exhausting. Compared with the precautions taken at the start of the pandemic, it's easy to let things slip.
A year in, what behaviors are shoppers doing... less of?
In March, we gave shoppers a chance to tell us every way the pandemic was changing their habits. From their responses, we curated a list of 50 COVID-era shopping behaviors, and presented them to our agents. We asked them, "Since the pandemic started, which of these have changed?"
The same agents answered that question again in May, then this February. Below are the shopping behaviors that showed the sharpest declines from May 2020 to February 2021.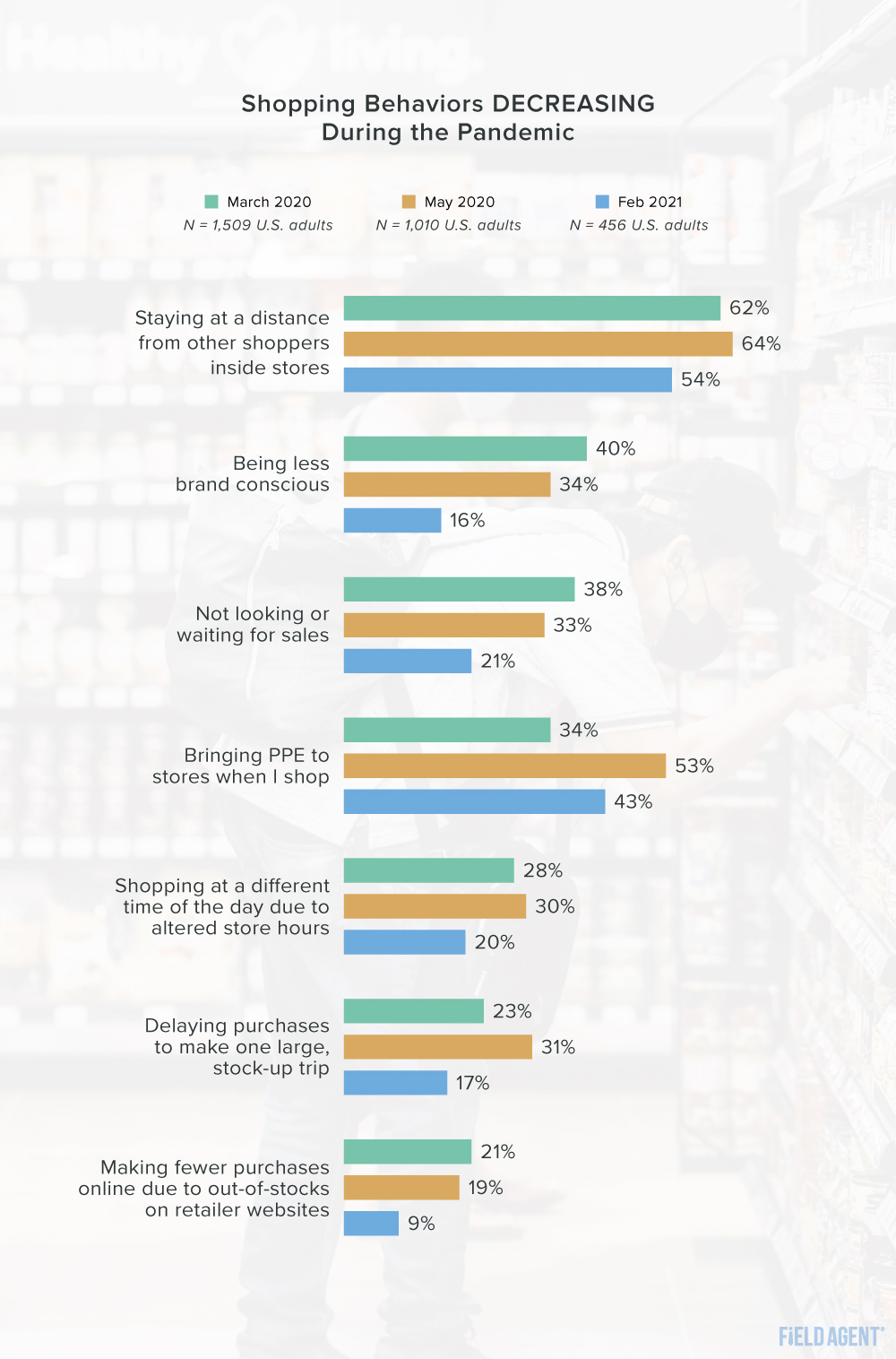 The biggest decline? After filling their stockpiles with generic brands, shoppers are fed up with "being less brand conscious." Also less common: shopping infrequently or at unusual times to avoid crowds, and keeping a distance from other shoppers.
Has COVID-19 thrown a wrench in your demo/sampling program? Read how Anheuser-Busch found a pandemic-proof alternative.
And Which Have Increased?
But our agents aren't slacking off on everything. Several of our 50 shopping behaviors actually increased between May and February.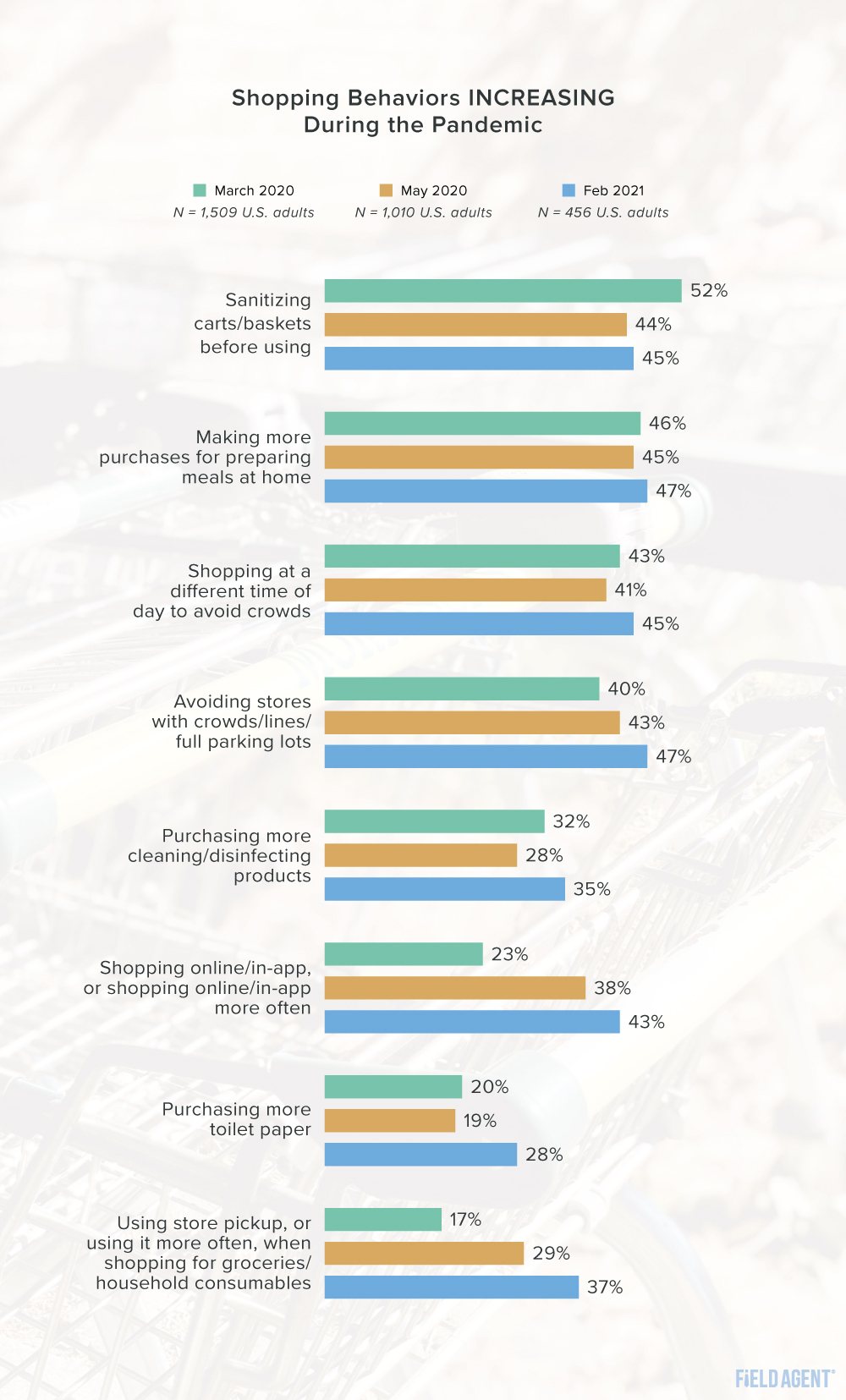 These behaviors largely line up with the habits agents expect to become permanent: sanitizing carts, and purchasing more household consumables.
But once again, over the course of the pandemic, the biggest increases belong to online shopping. Agents reported a 20% increase in both shopping online/in-app, and using store pickup for groceries.
And that brings us to online shopping.
Online Shopping Insights
Digital shopping was already on the rise before the pandemic. But as lockdowns and crowd concerns rose worldwide, home delivery services and grocery pickup skyrocketed.
We presented our agents with three categories: household consumables (think toilet paper and cleaning supplies), groceries, and clothing (including footwear and other wearable items). We asked, "which of these are you buying more of online since the pandemic began?"
And speaking of online shopping, see how Field Agent can help you boost your online ratings and reviews game.

In each of these categories, agents reported gradual increases in online purchases as the pandemic progressed. When it came to clothing, 42% reported increased shopping this February - more than double the numbers from last March. Is the pandemic influencing online shopping? You bet.
Be In-the-Moment with Your Customers
What answers do you need from your shoppers? No matter your brand, you need to know what your customers are thinking. Especially during a pandemic.
Field Agent's Shopper Insights products allow you to be in the moment with your customers. Shop along with real people as they make purchasing decisions. Capture authentic perspectives about your products (and your competitor's). Or work with our helpful team to build a custom job to meet your specific challenge.
"I was blown away by the Field Agent platform! I found it to be incredibly effective turn-key way to get our product in the hands of key customers. This is an entirely new level!" -Kelly Reilly, CEO, Red Thread Coffee
If you need to hear from real shoppers, Field Agent wants to hear from you. Click below to find out more.