Retail Goes Green: Shoppers Speak Out on Sustainability
Going green. Today, it's an important value proposition for retailers and brands.
Mars Inc. announced in October 2020 that they had eliminated deforestation in their supply of palm oil, a key ingredient in many of their chocolate and candy products.
And last September, Walmart committed to a range of eco-friendly structural changes, including powering its facilities with renewable energy by 2035, and zeroing out emissions for its sizable fleet of vehicles, including semi-trucks.
As major brands and retailers are taking more responsibility for their role in protecting the Earth, how concerned are their shoppers with environmental issues? And how do sustainability concerns influence their shopping habits, practically speaking?
Using the Field Agent on-demand platform, we surveyed 500 of our mobile shoppers (we call them agents), and asked them about their views on sustainability at retail.
Shoppers Care About Sustainability
Our first question for our agents was, quite simply, how concerned are you with the environmental impact of the products you purchase?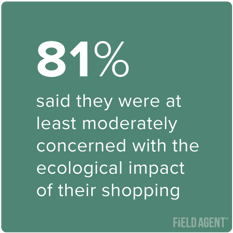 The results suggest that shoppers are at least aware of the impact of their purchases. 81% said that they were at least moderately concerned with the ecological impact of their shopping (36% said that they were "very" or "extremely" concerned). Only 20% said that they were not concerned.
But concern doesn't necessarily mean action. We next asked our agents how often a product's environmental impact serves as a deciding factor when comparing between brands.
The majority of our shoppers (69%) said that green issues served as a deciding factor at least "sometimes" (including 23% who answered "often," and 7% who chose "always.") The 31% remaining said that they are "rarely" or "never" influenced by sustainability at the store.
Let's dig a little deeper, and explore why shoppers are (or aren't) making green choices with their wallets.
When Buyers Understand Impact, They Make Responsible Decisions
Not all products are created equal. It's easy to think green while shopping for a bar of chocolate: options are labelled "fair-trade," and "organic" to appeal to the eco-conscious consumer. But what if they're shopping for, say, a blender or a sweater? The more responsible choice may be less clear.
We presented our agents with five product categories: clothing, packaged food and beverages, home appliances, electronics, and health and beauty products. We asked them to consider how important sustainability is to them as they make purchasing decisions in each category.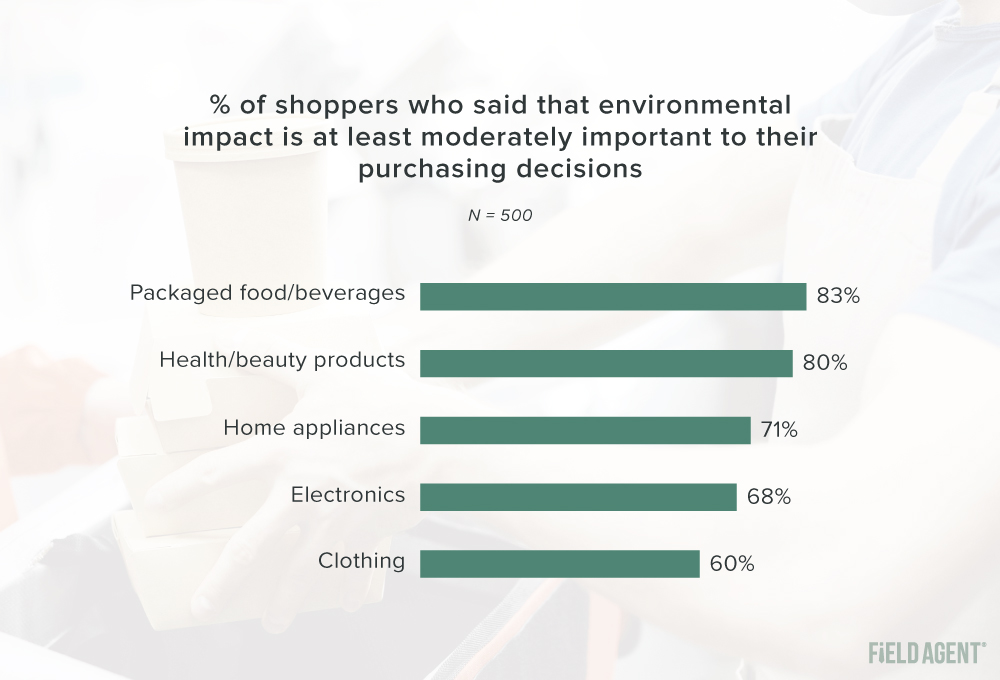 Our shoppers claim to consider sustainability the most when it comes to food and health products (which may be more likely to advertise eco-friendliness in the first place). Clothing took last place: only 60% of our shoppers consider environmental impact when they're picking out a new outfit.
Shoppers Rank Their Values
When shoppers do try to make ethical choices, which issues and causes are front-of-mind? Our agents ranked five issues by importance to their shopping choices. Here are the issues, ranked by weighted average: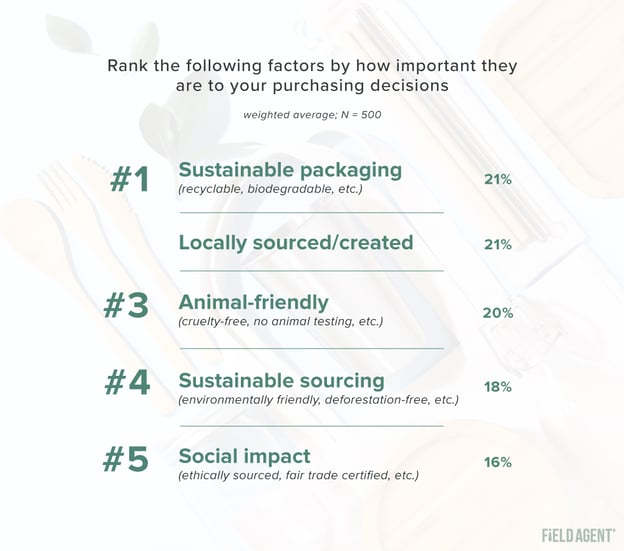 The five issues were pretty evenly spaced, with only five percentage points between first place (a tie between sustainable packaging and local sourcing), and last (social impact).
Product Labels: Searching for Certifications
Increasingly, brands are advertising their eco-friendliness by displaying certifications and partnerships on product labels and packaging. For shoppers who want to make green choices, these signals can make the difference when choosing between a product and its more eco-conscious competitor.
Which signals do people look for while shopping? We gave our agents a list of common certifications and information, and asked them which ones they look for or consider when making purchases.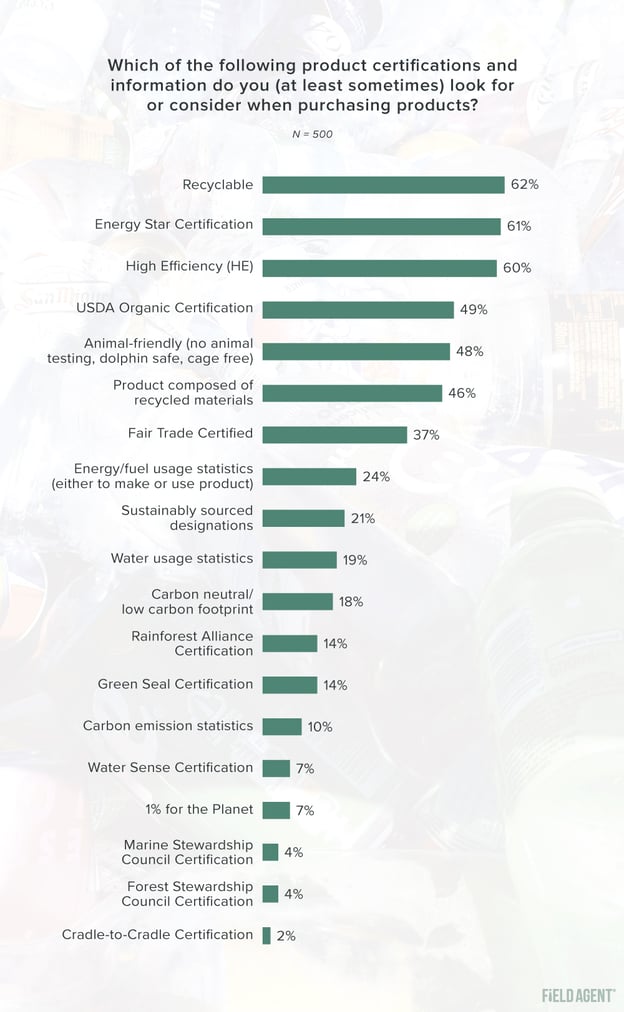 The most common piece of green information: recyclability. Not too surprising, given the widespread availability of recycling programs. Certifications that designated energy efficiency, organic methods, and animal welfare were also highly sought out by shoppers.
In-Store, Green Retail Initiatives Spark Interest
If brands signal their responsibility through packaging, how do retailers show shoppers they care about the environment?
Retailers have a unique opportunity to partner with their shoppers through green in-store programs. But are shoppers interested? We gave our agents a list of retailer-sponsored sustainability programs. They selected the options that they would be willing participating in (if they were offered where they shop).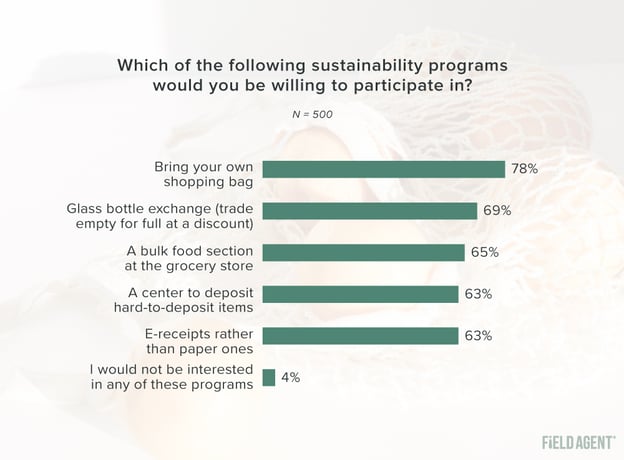 Every program on the list earned significant interest from shoppers (the least popular option, an in-store recycling program, was still selected by over half of our agents). Just four percent of shoppers said that they were completely uninterested in sustainable in-store programs.
The implication? If retailers build the programs, shoppers will participate.
Key Takeaways
What lessons do our agents have for brands and retailers?
Shoppers care about green issues.
Sustainability is often a deciding factor - when it's presented as an option.
Recyclability is key for many shoppers.
If retailers offer green partnerships, their customers will use them.
One thing is clear: when shoppers have sustainable options, they are likely to choose them. And an increasing number of retailers and brands are taking responsibility in presenting shoppers with those options.
Hear From Your Shoppers
What answers do you need from your shoppers? No matter your brand, you need to know what your customers are thinking.
Field Agent's Shopper Insights products allow you to be in the moment with your customers. Shop along with real people as they make purchasing decisions. Capture authentic perspectives about your products (and your competitor's). Or work with our helpful team to build a custom job to meet your specific challenge.
"I was blown away by the Field Agent platform! I found it to be incredibly effective turn-key way to get our product in the hands of key customers. This is an entirely new level!" -Kelly Reilly, CEO, Red Thread Coffee
If you need to hear from real shoppers, Field Agent wants to hear from you. Click below to find out more.