Inside Look: Is Kroger Rush Delivering on 30-Minute Delivery? [Video]
Kroger is rushin' to get the upper hand in the delivery arms-race.
Through its new Kroger Rush app, the retailer is daring to go where no grocery store has gone before: 30-minute delivery.
That's fast.
As Field Agent has reported, Kroger is making innovation a priority, from implementing digital shelves in select stores, to partnering with Walgreens to broaden pickup options for some of their shoppers.
Clearly, Kroger is working to establish itself as a pioneer in the industry.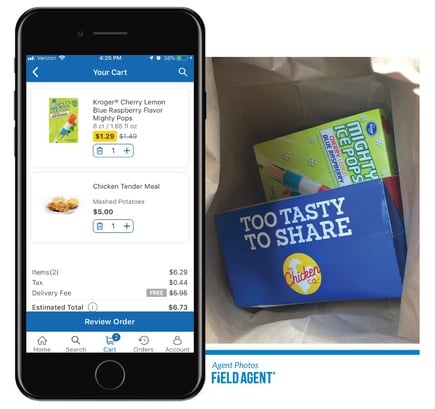 Still, 30-minute delivery is an extremely tall order for a grocery store.
Can Kroger make good on the goal? Let's find out.
Real Shoppers Try Kroger Rush
Retail-audit and insights firm Field Agent asked real shoppers to try Kroger's new service and to answer several questions about it. At the time of the study, all six participants were living or working within a 3-mile radius of the two participating Kroger stores, one in Newport, Kentucky and the other in Cincinnati, Ohio.
Each participant used the Kroger Rush app to shop for and purchase groceries, including one hot and one cold item. They were then instructed to time the delivery to see whether Kroger's performance stacked up to its ambitious 30-minute goal.
See this innovative service for yourself in the video below, then scroll down to see if Kroger actually delivered on its 30-minute delivery goal.
Insights on Kroger Rush Delivery
Did Kroger deliver on its 30-minute goal? For the most part, yes.
The six deliveries in our study were tightly grouped around the 30-minute mark, as follows:
One order was delivered in 16-20 minutes
One order was delivered in 21-25 minutes
Two orders were delivered in 26-30 minutes
Two orders were delivered in 31-35 minutes
Participants timed deliveries from the moment they placed their order in-app, to the moment the order arrived at their door.
Although two orders went at least one minute over the 30-minute goal, every participant rated delivery punctuality as "excellent." As one shopper said, "The food got here quickly, which I was impressed with...If I'm ever in a pinch and I need something right away, I would probably use [Kroger Rush] again."
Altogether, this early look at the service suggests 30-minute delivery is feasible for the retailer, at least during the pilot phase.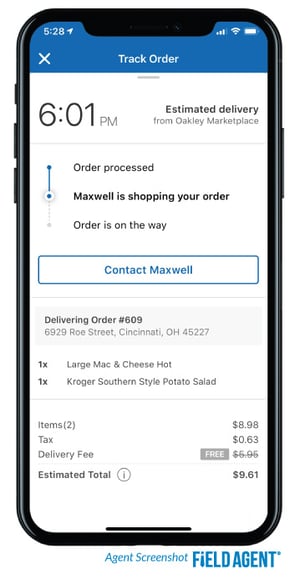 Here are some additional insights, based on responses from 5 Rush orders:
More than one participant specifically described Kroger Rush as "easy" and "fast."
Asked to rate the quality, temperature, and freshness of their orders, four of five chose "excellent" and the other chose "good."
Three agents rated the in-app shopping experience as "excellent," one as "very good," and one as "good."
The professionalism and friendliness of delivery personnel were rated as "excellent" by four agents, and "very good" by one.
All agents rated the overall Kroger Rush experience as "excellent," except for one who rated it "very good."
Agents praised the speed, convenience, and user-friendliness (of the app) as their favorite aspects of the experience.
Criticisms of the service focused on features absent from the app, including a lack of nutritional information, the inability to order some items (such as meat) by weight, and a limited selection of products available for delivery.
Ultimately, all agents in Field Agent's study said they were at least moderately likely to use Kroger's Rush service again in the future. Indeed, 3 of 5 said they'd be "completely likely."
And while much remains to be seen about Kroger's new service and how shoppers will respond to it, participants were overwhelmingly positive about Rush delivery. In fact, all agents said they were more likely to shop with Kroger overall now that they offer the Rush service.
Of course, Kroger's Rush delivery is just one manifestation of the growing trend toward digital grocery-retail. Field Agent's free report, Groceries 2.0, Vol. III (see below), will take you even deeper into the world of online grocery-shopping.
Free Report Looks at Digital Grocery-Retail
Based on surveys and studies with approximately 4,500 everyday shoppers, Groceries 2.0, Vol. III is a fun and informative look at "the rise of online grocery-shopping." Spanning almost 30 pages, the free report explores questions like:
How many U.S. households purchase groceries online for store pickup, package delivery, and "fresh" delivery?
Which retailers are leading the way in the digital-grocery era?
What are shoppers' top concerns about buying groceries online?
The free report also includes several "digital-grocery spotlights," with up-close looks at the Aldi-Instacart pickup partnership, pickup operations among regional grocers, and more.
Download Groceries 2.0, Vol. III today…and get up to speed on all things digital-grocery.