Instant Video: Is This the New Face of Walmart Beauty Departments?
At least one Walmart beauty department is enjoying a fancy makeover these days.
The Tillman's Corner Walmart in Mobile, Alabama is currently boasting some impressive new technology.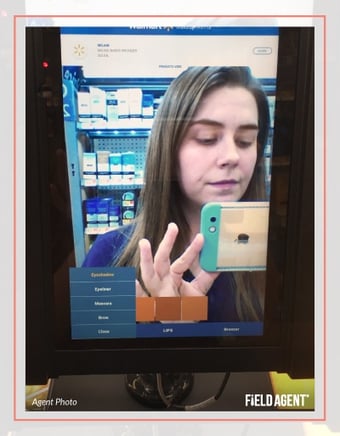 A virtual reality makeup mirror, ModiFace, that lets customers "try on" cosmetic shades prior to purchasing them
A "tester strip" nail polish station where shoppers can apply different colors to their nails—without the usual mess or inconvenience
Touchscreens and "help buttons" that blend the best of brick-and-mortar with the best of ecommerce
All this innovation, of course, begs the question: Is this the new face of Walmart's beauty departments?
Instant Video: Walmart's Beauty Innovations
This weekend, Field Agent asked agents near Mobile, Alabama to capture video and photos of the latest beauty department innovations inside the Tillman's Corner Walmart. The video below offers sights and sounds from this agent mission.
While you're at it, why not download our free 2017 style and beauty report below?
Thanks for reporting a problem. We'll attach technical data about this session to help us figure out the issue. Which of these best describes the problem?
Any other details or context?
message
Special Report: Women Talk Makeup Purchases
Download your free copy of Field Agent's 2017 style and beauty report, "The Model Shopper." Based on surveys with more than 5,000 shoppers, the special report explores women's:
Preferred makeup brands and retailers
Usage of beauty subscription services like Ipsy and Birchbox
Attitudes toward shopping for cosmetics online
You might say...insights never looked so good! Download it today!