Instant Video: Shoppers Try the New Aldi-Instacart Pickup
Except for the video below, this story originally ran in Field Agent's Groceries 2.0, Vol. III report, which you can download here.
Aldi is known for its efficient, "no-frills" operations—the kind that generate extremely loyal followings among price-conscious shoppers. It's been a simple but über-effective M.O. for the German retailer, which now operates more than 1,600 stores across the United States.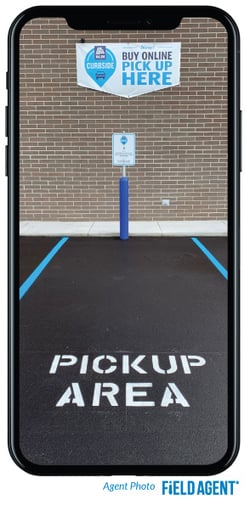 But, for Aldi and other retailers, the writing has been on the wall for some time...
Digital-grocery is here to stay.
Consequently, Aldi is now on the fast track to developing its own pickup and fresh delivery capabilities. It's potentially a big move for the otherwise bare-bones retailer.
In partnership with Instacart, Aldi recently started testing curbside grocery-pickup at four stores in the greater Milwaukee, Wisconsin area.
But we have a couple of questions: What do these pickup operations look like, and what do shoppers think about them?
Real Shoppers Try Aldi-Instacart Pickup
Field Agent enlisted nine Milwaukee-based agents to try the new Aldi-Instacart pickup service, and to show us what it looks like from the shopper's unique perspective.
All participants were instructed to visit the Instacart website, where they shopped for and purchased at least five items totaling $10 or more. These purchases included at least one fresh item and one cold/cool item.
The video immediately below shows the sights-and-sounds from the Aldi-Instacart pickup partnership. Scroll even further down to see how participants rated the new service.
Shoppers Rate Aldi-Instacart Pickup
Following their visit to one of four Aldi pickup sites, Field Agent asked all nine participants to rate the Aldi-Instacart pickup service along several dimensions. On a scale from 1-5, with 5 "excellent" and 1 "poor," here's how shoppers rated the online-shopping experience:
Website navigability/locating specific items: 4.4
Availability of specific items: 4.4
Setting up and opting into the pickup service: 4.4
The online-shopping experience overall: 4.6
These nine participants also rated the pickup portion of the experience, as follows:
Ease of checking-in at the pickup site: 4.9
Navigating/using the pickup site: 4.9
Visual appeal of the pickup site: 4.8
Speed of delivery (to the vehicle): 4.8
Service and competence of site personnel: 4.7
Quality and condition of groceries: 4.8
Freshness of all fresh items: 4.7
Temperature of all cool/cold items: 4.9
The pickup site and process overall: 4.9
All nine orders were correct when initially brought to participants' vehicles.
Aldi-Instacart in Photos.
From Start to Finish.

Checking Out: Off to a Good Start
As the video and ratings suggest, our nine participants were overwhelmingly positive about their inaugural experiences with Aldi-Instacart pickup.
As one said, "I always shop at Aldi in-store but found the ease of ordering on Instacart surprisingly easy. It saved time and hassle of shopping with kids."
Indeed, of nine shoppers who tried the service, six said they'd be completely or very likely to use the service again in the future.
All in all, this study suggests the Aldi-Instacart pickup partnership is off to a good start, making positive first impressions with shoppers.
Of course, like practically all online grocery-shopping services, Aldi-Instacart will be forced to contend with several shopper apprehensions about purchasing groceries online. Check out our Groceries 2.0, Vol. III report (below) for a look at the behaviors and attitudes of shoppers toward online grocery-shopping.
Free Report: Groceries 2.0, Volume III
Based on surveys and studies with approximately 4,500 everyday shoppers, Groceries 2.0, Vol. III is a fun and informative look at "the rise of online grocery-shopping." Spanning almost 30 pages, the free report explores questions like:

How many U.S. households purchase groceries online for store pickup, package delivery, and "fresh" delivery?
Which retailers are leading the way in the digital-grocery era?
What are shoppers' top concerns about buying groceries online?
The free report also includes several "digital-grocery spotlights," with up-close looks at pickup operations among regional grocers, grocery-shopping with smart speakers, and more.

Download Groceries 2.0, Vol. III today…and get up to speed on all things digital-grocery.