Meet Our New 3rd-Party Products: Photography, Merchandising, & More
It's hard to fathom, but the largest Swiss Army knife ever manufactured, the Wenger Giant, boasted a whopping 141 functions across 87 tools, including a magnifying glass, a flashlight, a tire tread gauge, a corkscrew, and even a fully-functioning set of nail clippers.
Good luck fitting that "pocket knife" in your pocket.
Of course it's easy to see the appeal of multi-tools like the Wenger Giant: numerous tools, all in a single place. When faced with a variety of challenges, why not save time, money, energy, and frustration with a versatile, all-in-one tool?
And what's true of life in general is emphatically true of the retail industry. Brands, retailers, and agencies face a multitude of challenges every. single. day…
Ensuring effective in-store execution
Driving product trial
Understanding shopper attitudes and behaviors
Amassing online reviews and digital content
As you know, the Field Agent platform already provides solutions to challenges like these.
But...these aren't the only challenges retail professionals face, are they?
Consequently, we've invited some friends—call them third-party products—to the platform. All to help our users grow their businesses even faster, even easier, and even more affordably.
Time for introductions.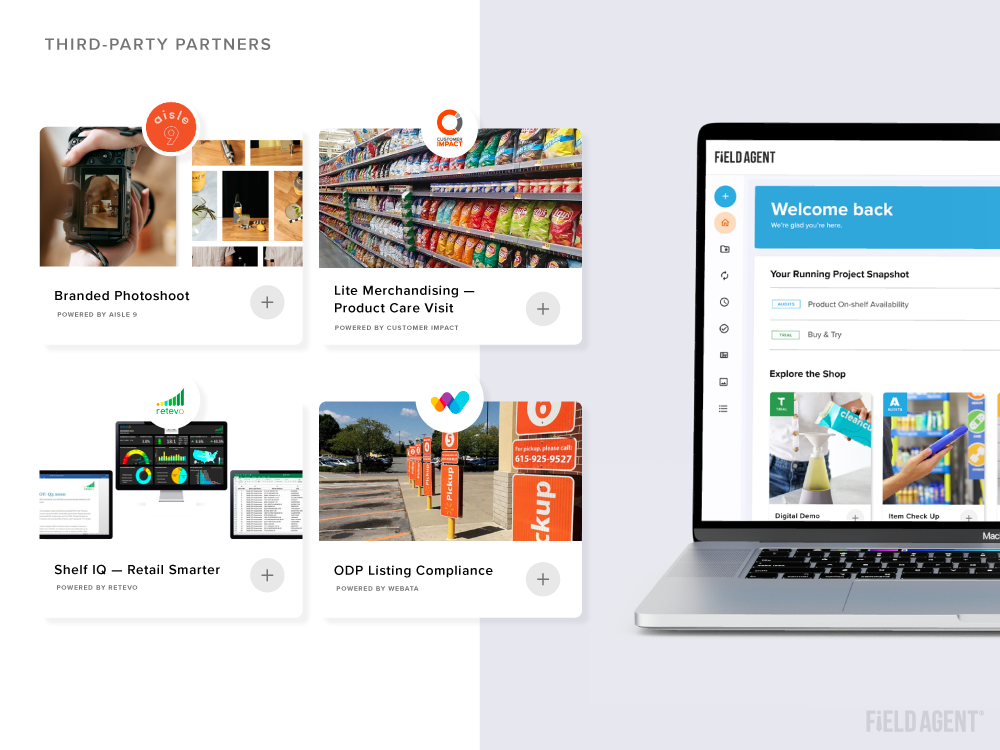 Meet Our New Third-Party Products
In the platform, right this minute, you'll find several new products fulfilled entirely by third-party solution providers.
They're right there alongside the Field Agent audit, trial, and insights tools you already know.
Like the Field Agent suite of retail products, these third-party products (3PPs) are specifically designed with the busy, time-crunched, budget-strapped retail professional in mind. And each 3PP satisfies an important need for retail companies, from professional brand-photography to on-shelf merchandising.
Without further delay, meet the first wave of 3PPs in the Field Agent platform…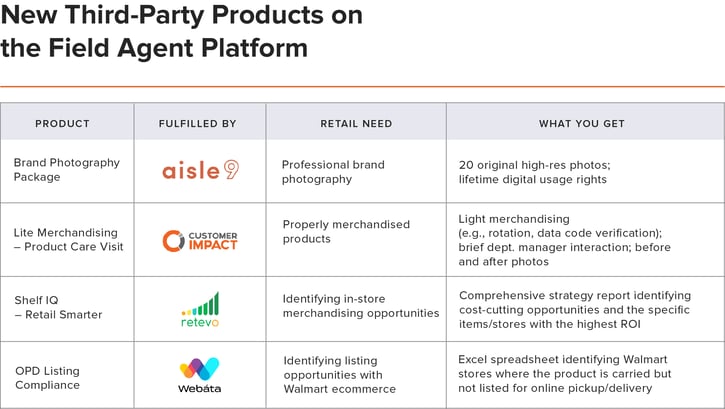 In each case, we worked with the third-party solution provider to develop a fast, expedient, and affordable version of their services exclusively for the Field Agent platform—so you spend less time communicating with providers and more time growing your brand.

It's trusted retail solutions + the ease and affordability of the Field Agent platform.

And...we intend to do more of it. Much more. Streamlined versions of trusted retail services—launched with just a few clicks, in just a few minutes.

All the tools to help you "win at retail," in one place. Like a retail success multi-tool.
Click below to explore the full suite of products in the Field Agent Shop.