Is Target Hitting the Mark with Its REDcard Holders? [517 Surveyed]
Target is a real newsmaker.
From omnichannel services to bathroom policies, small-format stores to Harry's razors, the retailer keeps the business media—and its competitors—on their toes with one newsworthy development after another.
But what impact, we wondered, do such developments have on Target's best guests: its REDcard holders?
This week Field Agent located and surveyed over 500 REDcard holders about their shopping attitudes and behaviors toward Target. As you can see from the images, our dedicated QC Team verified the qualifications of each respondent, specifically, that each possesses a REDcard.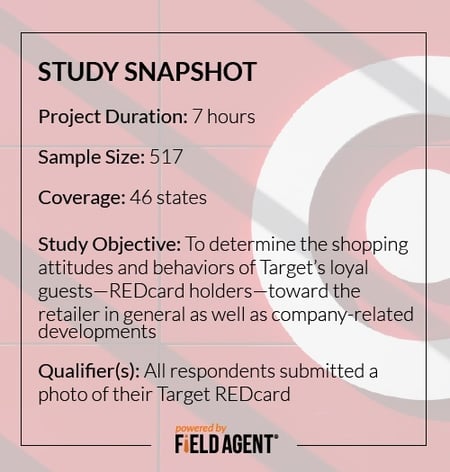 Below we offer 7 insights from this study, but what you see is only half the story. For additional insights, including Amazon's claim on REDcard holders, be sure to download the companion report. This free report includes answers to the following questions:
Why are REDcard holders shopping more or less at Target these days?
What causes REDcard holders to choose Target over Amazon and Walmart?
For what product categories (health and beauty? home goods? grocery?) is Target the single "go-to retailer" among REDcard holders?
7 Insights into the Shopping Attitudes and Behaviors of Target REDcard Holders
1. How much are REDcard holders shopping with Target these days?
Given the steady stream of news on Target, we wondered whether, taken together, these developments had affected the propensity of REDcard holders to shop with the retailer.
A small majority (54%) said they're shopping at Target more than just one year ago. Indeed, 20% indicated much more.
30%, though, said they've been in a holding pattern with Target the last year (i.e., shopping neither more nor less), while 16% reported shopping with the retailer less and 1% not at all.
See exactly WHY REDcard holders are shopping more or less with Target in the companion report.
2. Which Target departments do REDcard holders want more of?
Field Agent presented REDcard holders a strictly hypothetical scenario in which Target was redesigning its stores and, thus, we wanted to know which departments they'd like expanded and which they'd like reduced.
In our survey, shoppers were highest on grocery, which 55% said they'd like to see expanded. Clothing and accessories (36%) and home goods (e.g., tableware, kitchen, bath; 30%) also fared well in the study.
3. And which departments were they willing to see reduced in size?
REDcard holders were most willing to accept a reduction in automotive (36%), lawn and garden (28%), and cards and party (25%).
Compare the numbers to those who'd like to see more of these departments: automotive (6% want expanded), lawn and garden (12%), and cards and party (3%).
4. How have REDcard holders responded to Target's transgender restroom policy and the subsequent boycott?
We asked the full sample of REDcard holders which of four descriptions best captured their reaction to Target's transgender restroom policy and the subsequent boycott by the American Family Association.
The overwhelming majority, 79%, said their shopping behavior had not changed. Altogether, 10% indicated they had cut back, and 2% completely stopped, shopping at Target in response to the bathroom policy, and 9% said they started shopping there more following the policy announcement.
See also: 4 Customer Reactions to Companies' Controversial, 'Hot Button' Views
5. What do REDcard holders think about Target's exclusive merchandise strategy?
Target is increasingly carrying popular brands that shoppers can't find in other stores. As with The Honest Company or Harry's razors, sometimes these brands are sold online-only before landing in Target stores.
But do REDcard holders find the strategy appealing? In our survey, 61% said they consider this exclusive merchandise strategy either extremely or very appealing. Another 22% consider it moderately appealing, and only 4% not at all appealing.
6. And what do they make of Target's growing small-format strategy?
We also asked REDcard holders (those in cities with a population of 100,000 or more; n =368) what they think of Target's small-format strategy, an attempt by the retailer to penetrate populous, urban areas with stores as small as 20,000 square feet.
Altogether, 36% find the small-format strategy either extremely or very appealing. However, close to the same number (33%) feel it's only slightly appealing or not at all appealing.
7. For what buying occasions is Target the go-to retailer among REDcard holders?
We presented REDcard holders a variety of shopping occasions and asked, "For which of these...is Target your main go-to retailer?" That is, for which events do you choose Target over all other retailers?
The top occasions were:
Holiday shopping in general (49% said Target is their main go-to retailer)
Back-to-school/college (49%)
Decorating a new home/living space (48%)
Black Friday (44%)
New baby (42%)
Halloween (37%)
The companion report offers insight into the products that draw REDcard holders primarily to Target.
Get MORE On-Target Insight
Want even more insights on Target?
We invite you to download the free companion report to this article, to access additional information on the attitudes and behaviors of REDcard holders, including:
The reasons some are shopping more or less at Target these days
The considerations that cause them to shop at Target over Amazon and Walmart
The product categories that draw them to Target over other retailers