4 Customer Reactions to Companies' Controversial, 'Hot Button' Views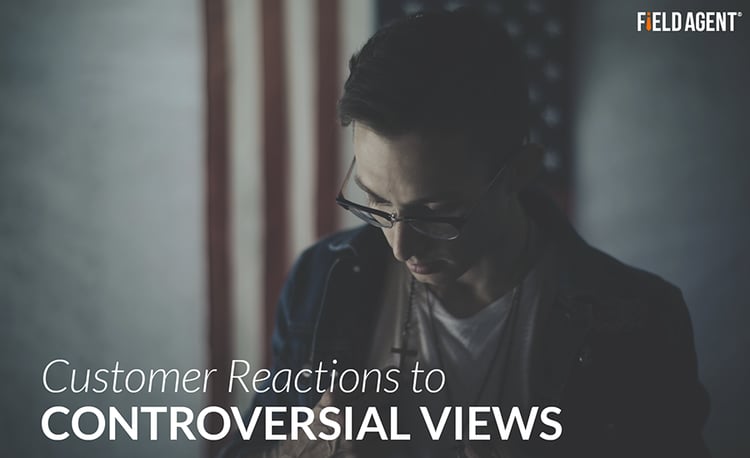 American society is divided, as several news outlets and research organizations have pointed out. And some companies have recently demonstrated—through advertisements, social media posts, corporate giving, and so on—that they, too, aren't afraid to "take sides" on controversial social, political issues. This begs a question: What are the implications, good and bad, of taking stances on hot button social and political issues? Field Agent recently surveyed 1,000 consumers to determine how a company's advocacy of or opposition to certain issues affects customers—their attitudes, their brand loyalties, and their spending. Here we present 4 relevant and timely insights into this matter.
What follows is a sneak preview of our report entitled "Taking Sides: How Companies' Public Stands on Controversial Political, Social Issues Affect Consumer Attitudes and Spending." Click here to receive the full informative report when it is released next week.
At no point in recent history has American society been so divided. This according to Pew Research Center, which drew this conclusion following a year-long study of over 10,000 U.S. adults. Political polarization, where moderate positions give way to more extreme and divisive views, has become "a defining feature of American politics today" (Pew).
Companies have traditionally shied away from bold, public stances on contentious issues. But, as evidenced in recent advertisements, social media messages, donations, and other corporate actions, some companies are no longer willing to stay on the sidelines. Instead, from gay marriage to gun control, corporate America is showing greater willingness to "take sides" on controversial social, political issues.
This trend, which may signal an even larger trend to come, naturally raises questions:
Do companies alienate customers by taking such stands? And even if they do, might these companies offset their losses by winning even more customers?

Will consumers punish companies that do not take stands on controversial matters, because they feel the company missed an opportunity to do something meaningful?

What social, political issues have the most sway over customers and their purchase behavior?

Are customers even aware of companies' positions on such matters?

What effect does advocacy advertising have on consumer spending?
These questions and many others are answered more fully in our complete report. See the Press Release about our Free Special Report here.
To answer such questions, Field Agent recently surveyed 1,000 agents throughout the country. The sample was designed to reflect the nation as a whole on three important variables: age, gender, and political ideology (i.e., conservative, moderate, or liberal). We ultimately assessed the attitudes and spending behaviors of 18 different customer segments, from FLMs (female/liberal/Millennial) to MCBs (male/conservative/Boomer).
For now, as a sneak preview of our full report to come, we're eager to share 4 customer reactions to companies' controversial social and political positions. Here we will only discuss the American public in general. The full report drills down much further to elucidate critical differences among customer segments.
1. To stop buying in disagreement is more prevalent than to start buying in agreement, when we consider actual behavior and not just behavioral intentions.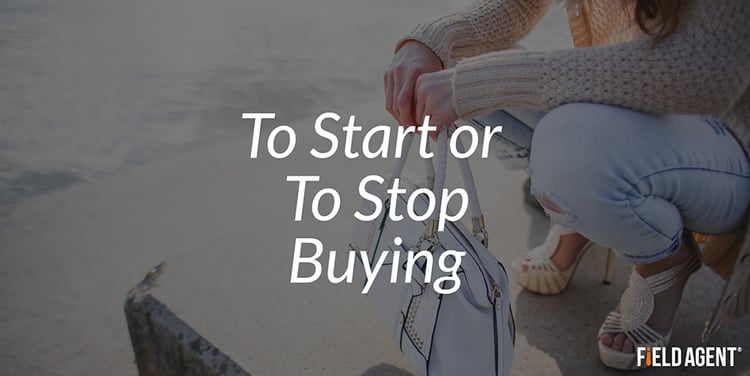 We asked consumers two different questions: whether they had ever started buying a certain brand (or shopping a certain retailer) because they agreed with the company's stance on a controversial issue, and whether they had ever stopped buying a brand/shopping a retailer because of disagreement with the company's position. For these two questions we were interested not so much in consumers' behavioral intentions but in their actual past behaviors.
While only 21% said they have ever started buying a brand or shopping at a retailer in agreement over a controversial matter, upwards of half (45%) indicated they had stopped buying from a company out of disagreement.
The full report specifically addresses which issues consumers mentioned most frequently as the primary reason(s) they started and/or stopped patronizing one or more companies. The report also categorizes responses to these two questions by generation and political affiliation, to help companies understand which customer segments are most likely to "vote with their dollars."
See Also: Does 'Made in U.S.A.' Win Customers? 4 Explosive Insights for July 4th
2. On five different "hot button" issues, gay marriage evoked the strongest start-stop reactions among consumers
.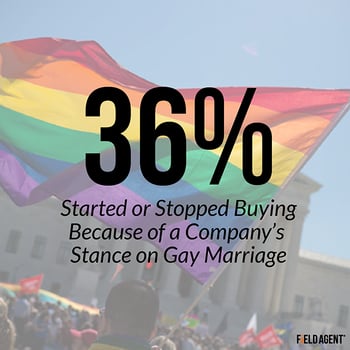 We presented survey respondents with five potentially divisive topics: abortion, climate change, gay marriage, gun control, and open religious affiliation (i.e., a company that openly identifies with a religion by the products it sells, programs it sponsors, etc.). The survey asked, "Have you ever started or stopped buying from a company because of the position it took on [this issue]?"
On the whole, 36% of respondents indicated they had either started or stopped buying from a company as a direct result of its position on gay marriage.
There was, however, a close second to gay marriage at 31%, which is discussed in the full report. For most issues we'll also demonstrate how likely consumers said they are to switch brands over disagreement with a company as well as how much more consumers said they'd be willing to spend on a brand whose views align with their own.
3. For some consumers, even a "non-position" justifies a reaction.
We wondered, will consumers punish companies for missing opportunities to take worthwhile stands? So the survey asked respondents, "Have you ever, or would you ever, stop buying from a company because it did not take a stand on a controversial social/political issue you considered important?"
Altogether, 41% responded "yes," they would stop buying from a company under such conditions. But there was fairly wide variance among the different consumer segments, which the full report describes in detail.
See Also: Lawn & Garden Survey: Insight into 500 Homeowners' Purchases and Preferences [FREE REPORT]
4. How consumers react to a company's controversial stand is at least partially a function of the issue itself.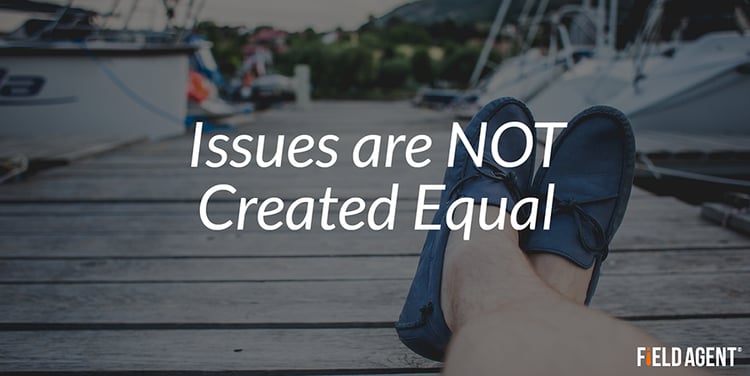 Not all issues are created equal. In the consumer mind, some issues justify a public stand—even among companies—more than others. You might say that while consumers consider certain matters largely "off limits," they'll allow companies greater leeway on other issues.
Of several potentially divisive issues, respondents declared climate change the issue on which companies are most justified taking an open, even controversial stance. We asked our sample, "Should a company take a public position/stand on [this issue]?" At 55%, climate change was the only issue in which more than half of respondents felt companies should take public positions.
The full report details results on four different issues, along generational and ideological lines.
Field Agent harnesses the combined power of mobile technology and crowdsourcing to supply companies with timely, accurate in-store information and consumer insights—more quickly, more affordably, and more broadly than traditional research and auditing methods. Through mobile research and mobile audits, we close the distance between companies and their customers, products, and in-store executions. Field Agent: We've changed the way the world collects business information and consumer insights.