The Next Indispensable Tool for Small Business
How did we ever get along without the Internet or smartphones? Although life did go on before such innovations, today many of us consider them practically indispensable "must-haves."
For small business, the next indispensable tool has arrived: the Field Agent Do-It-Yourself research and audit tool. Think of it as having your own in-house research department, without the burdensome costs and wait times. This article details the benefits of the next indispensable tool for small business.
Most occupations have tools of the trade. Family practice doctors have stethoscopes and thermometers, soccer players have cleats and shin guards, and chefs have their pots and pans. Each of these tools is considered an indispensable part of accomplishing the person's daily tasks.
In the same way small businesses have indispensable tools like: accounting software, computer equipment, and, at least around our office, a coffee maker.
However, one thing many small businesses don't have in their toolbox is a Research Department.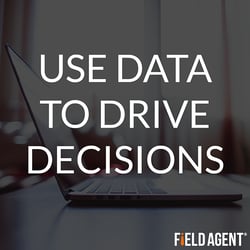 Even though many of the small businesses I talk to recognize the importance of research, they tell similar tales of cumbersome start-up processes, long wait times, and high costs. It's not surprising then that many of these same businesses settle for making decisions based on gut feeling or feedback from friends and family.
The good news is that mobile research and crowdsourcing are changing this dynamic.
Just like QuickBooks revolutionized small business accounting by empowering businesses to manage their own finances, Field Agent enables small businesses to access the same kind of research that Fortune 500 companies regularly use. Imagine being able to walk into a client meeting with data to support your favorite product concept, monitoring customer experience daily or weekly, or making a business decision with confidence based on thorough research.
These things are often out-of-reach for small businesses, but our Do-It-Yourself system can deliver quality data with unparalleled convenience, speed, and affordability.
Consider just 3 benefits of the next indispensable small business tool.
First, using our system is convenient.
Our online Dashboard is accessible from any internet-connected device, and it is available 24/7, so projects can be built and launched outside of normal business hours. Also, project results can be viewed while in-progress, to help get an early feel for the data. Additionally, project templates, how-to videos, FAQs, and access to Client Support are available to empower our clients.
Second, gathering data through mobile research is fast.
Regardless of the time of day or night, our platform is available on demand. This means audit and research results are never more than hours or, in many cases, just minutes away. And with over half a million agents ready at a moment's notice to answer your questions and respond to your requests, the Do-It-Yourself program unleashes the power of crowdsourcing and drastically reduces the wait times of traditional research.
Third, using mobile technology and crowdsourcing is economical.
The practical efficiency of collecting data through smartphones requires fewer resources than traditional methods. Additionally, our platform uses technology and design to create efficiencies in parts of the process that are typically quite labor intense. Consequently, our platform can be used much more affordably.
The next indispensable tool is here.
Now businesses of all sizes can have their very own Research Department.
See our Press Release on the next indispensalbe tool here.