Keen on Green? Shopper Attitudes toward Eco-Friendly Products [Survey]
As companies and shoppers become increasingly aware of their actions on the natural environment, Field Agent surveyed 500 shoppers about their attitudes toward eco-friendly products.
Above all we wanted to know: Do shoppers care about "green" products…and, if so, in what ways?
On this subject we also set out to understand potential generational differences between Boomers and Millennials. According to Nielsen, almost 75% of Millennials say they're willing to pay a premium for eco-friendly brands and products. What role, we wondered, does generational affiliation play in attitudes toward the environmental impact of goods?
How Important are "Green," Environmentally Friendly Products to Shoppers?
Field Agent administered an identical survey to 125 shoppers in four categories—male Millennials, female Millennials, male Boomers, and female Boomers—for a total sample size of 500.
Below are 5 insights into shoppers and their attitudes toward green, eco-friendly products.
Additionally, as you can see from the images on the right, we also dispatched several agents to stores where they were asked to capture photos of green signage, displays, and other features.
1. Shoppers are green with concern over eco-friendly products
The combined results suggest shoppers are concerned about the greenness of the products they shop for and buy. Overall, 85% said they're at least moderately concerned about the environmental impact of the goods they purchase—and, indeed, 37% said they're either extremely or very concerned. That leaves only 15% who are not very concerned or not at all concerned.
In our survey, female Boomers showed the greatest concern for buying green, with 46% saying they're extremely or very concerned and 93% reporting at least moderate concern. Notably, for this survey, Millennials did not demonstrate the highest level of green concern. Eighty-nine percent of Boomers expressed at least moderate concern over the environmental impact of products, compared to 81% of Millennials.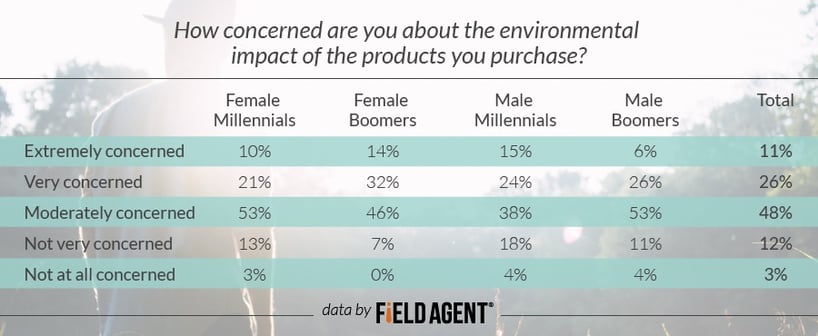 2. Dark green categories: packaged foods/drinks, health & beauty
It appears green shopping comes in different shades, depending on the product category.
We presented Agents 5 categories: clothing, packaged foods/beverages, home appliances (e.g., washer/dryer, blender), electronics (e.g., smartphones, televisions), and health and beauty (e.g., hair products, toothpaste, makeup).
For each we asked, "When you're shopping for products in the following categories, how important is a product's environmental impact on your purchase decisions?"
High volume items including packaged foods/beverages and health/beauty items towered above other product categories. Eighty-six percent said environmental impact is at least moderately important (49% extremely or very) when purchasing packaged foods/beverages, and 80% said eco-friendly is at least moderately important (45% extremely or very) to health and beauty purchases.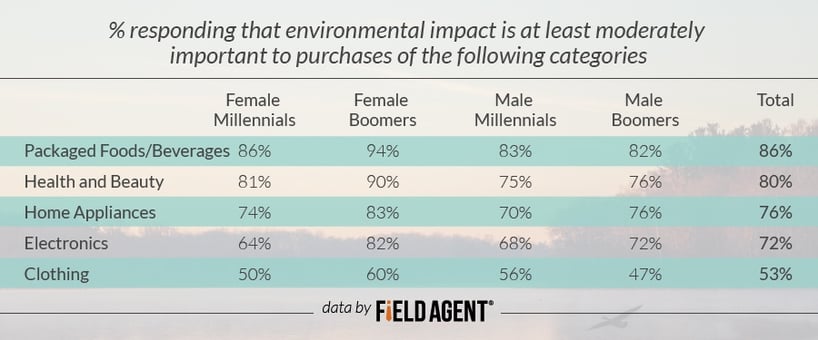 3. Ring it up? Environmental impact can be a deciding factor in purchases
The discussion above is largely academic until green sensitivity actually influences purchase behavior.
So Field Agent asked respondents how often environmental impact is the deciding factor in their purchase decisions. In other words, how often do shoppers choose one brand over another because one is more eco-friendly?
Only 5% said always, compared to 25% often and 41% sometimes. Almost 30%, on the other hand, said they rarely or never base purchase decisions on environmental impact.
For this survey, female Boomers (40%) were more likely to always or often make environmental impact a deciding factor in purchases, compared, in descending order, to female Millennials (30%), male Boomers (27%), and male Millennials (24%).
4. Energy Star and other label designations get a gold star with shoppers
As the chart below depicts, Field Agent also set out to understand what eco-friendly (and socially responsible) certifications and label information shoppers look for when making purchases.
We presented almost 20 types of label information, from carbon emission statistics to "Green Seal" certified. Respondents were then asked to identify all certifications and/or label information they search out at least sometimes when shopping.
At 74% and 70% respectively, two energy designations—"Energy Star" certified and "High Efficiency" (HE)—are most influential to shoppers' buying decisions. Moreover, 65% said they at least sometimes examine the recyclability of the goods they buy.
The top label designations are displayed in the chart below. For this question, there was much more similarity than disparity across generational and gender lines.
Learn more about sustainable intiatives in the retail industry here.
5. But shoppers also put eco-friendly in its place—below price and quality
Influential, yes, but environmental impact still doesn't hold a candle to price and quality, shoppers told us.
We asked shoppers to rank five shopping priorities—environmental impact, price, quality, customer service (backing the product), and in-store convenience—by how important they are to their in-store purchase decisions.
As the chart below suggests, while environmental impact has been shown to influence shopper decisions, it pales in comparison to other priorities, namely, price and quality.
Here, too, respondents were largely in agreement, regardless of gender or generational affiliation.
Get Closer to Distant Business Operations, Customers
Mobile Audits and Research work in tandem to put companies right where it matters most: with their products and customers...wherever they are. Download one or both of our eBooks to learn how Mobile Audits and Research provide fast, affordable answers to pressing business questions.