Meet Jicco! The First On-Demand, Retail Search Engine
Since 2010, mobile solutions firm Field Agent has been on a mission to "change the way the world collects business information and insights."
Today marks another milestone in revolutionizing how companies learn about their in-store products, operations, and competition.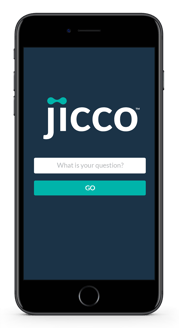 The Jicco Search Engine: Instant Answers to Pressing Retail Questions
Introducing Jicco, the first on-demand, retail search engine, designed to furnish business professionals with "instant answers to pressing retail questions." As reported by Supermarket News, the search engine will change how retailers, brands, and agencies obtain real-time answers about store-level promotions, pricing, on-shelf availability, competitive activity, and shopper sentiment.

"Professionals across the retail and branded goods industry are strapped for time and under considerable pressure to have all the answers," said Rick West, CEO and co-founder of Field Agent. "We've merged our efficient mobile crowdsourcing system with a simple search engine interface to create the world's fastest way to get real answers from the field."
Dan O'Shea, contributing editor at Retail Dive, agreed with West about the hurried nature of retail and the need for fast answers:
"West is right about the challenges facing many retail professionals, and as these folks jump between projects and try to keep all of their plates spinning, having fingertip access to some relevant data certainly will help them. Why shouldn't retailers get a curated portion of the internet all their own, right?"
Currently in beta testing with plans to roll out nationally in April, Jicco is already being used by hundreds of brands, retailers, and agencies to acquire on-demand answers from stores across the country.

How Jicco Works
As the video below shows, users will simply visit gojicco.com, type in a basic question about in-store conditions, and, within minutes, watch as photos, information, and shopper feedback begin streaming in from stores across the country. That easy.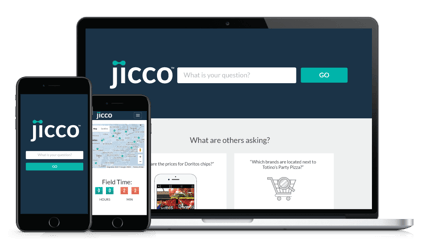 Sample questions could include:
What's the price of store-brand toothpaste at Kroger?
What does the special Tide detergent display look like at Walmart?
What signage stands out most in the baby products aisle at Target?
The Arkansas Democrat-Gazette newspaper tested the search engine and reported receiving an answer within 17 minutes: "That rapid response can be critical for companies, that are often in need of data quickly and may not be able to fan out fast enough to get it," the paper stated.
According to West, Jicco harnesses Field Agent's retail expertise, proven technology, and all-mobile "crowd" of more than one million shoppers to more quickly connect companies with their widespread products and operations.
"Jicco has been in the making for the last seven years," he said. "In that time we've built an extensive mobile crowdsourcing system, which Jicco will now leverage to answer store-level questions with unprecedented speed and ease."
Read the Official Press Release.
Want to Try It Yourself? Go Jicco
A limited number of beta testers are currently using the search engine. To try Jicco yourself, visit gojicco.com and join the waiting list.