Why Less is More: Mobile Mystery Shopping VS Traditional Methods
You don't always have time, money, or even the need to "go all out."
That's why we sometimes grab a protein bar rather than hit the diner for a plate of ham and eggs, or we jump in the car for a quick weekend getaway rather than board a plane for an exotic resort.
Nothing against hot breakfasts or all-inclusive vacations; they certainly have their place.
But under some circumstances, less is more.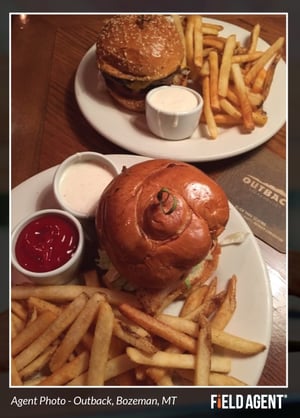 Mobile Mystery Shopping VS Traditional Methods
Many retailers, brands, and restaurants have traditionally relied on mystery shopping to monitor the quality and consistency of in-store offerings and customer service. For all their benefits, conventional mystery shops carry certain disadvantages for time-strapped, cost-conscious, simplicity-minded companies:
Mystery shops, as commonly understood, often encompass extensive surveys of 30-50 questions
Timelines for completing mystery shops are usually long, and companies must wait weeks or months for results
Sometimes there are considerable costs associated with training mystery shoppers and developing shopper personas
All this adds up to heavy investments of time and money, which, given the company's objectives, may be worth it.
Other times, however, a company simply needs a scaled-down alternative to traditional mystery shopping programs.
The Alternative: Mobile Mystery Shopping
Which is precisely why mobile solutions firm Field Agent developed mobile mystery shopping—a simpler, faster, more affordable take on traditional mystery shopping.
The mobile mystery shop, in contrast to conventional methods, entails fewer questions, shorter timelines, and virtually no shopper training or persona development.
"It's a lighter, expedited solution for companies that think they need a mystery shop but don't really need a mystery shop," said Matthew Costner, director of strategic opportunities at Field Agent. "They actually need a quicker, simpler version of it."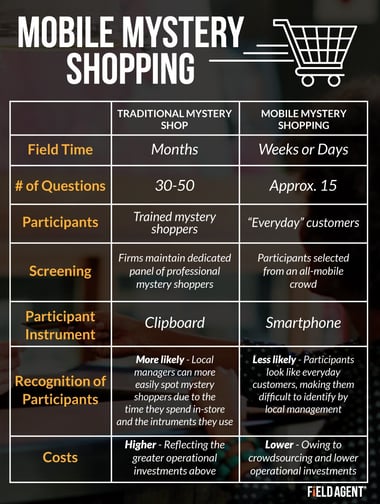 Unlike traditional methods, mobile mystery shopping utilizes "everyday" shoppers as opposed to trained mystery shoppers. In this way, companies enlist their own customers in the process of co-creating outstanding shopping and service experiences.
Moreover, while traditional mystery shops include lengthy surveys of 30-50 questions, the "sweet spot" for a mobile mystery shop, according to Costner, is about 15 questions. These questions, he said, usually assume two forms: operational questions (e.g., "Did employees try to upsell you?" or "How clean were the restrooms?") and experiential questions (e.g., "How likely are you to return in the future?" or "How satisfied were you with your meal?")
Powered by Field Agent's all-mobile crowd of over one million shoppers, mobile mystery shopping harnesses the efficiencies of crowdsourcing to generate fast, reliable insights in a fraction of the cost, time, and effort of standard mystery shops.
"We're making it quick and cost-effective to get instant visibility on customer experiences and store operations," said Costner. "We're already providing this unique in-store visibility to a broad range of companies."
A Mobile Mystery Shop of 180 Restaurants
To demonstrate the capabilities of mobile mystery shopping, Field Agent deployed agents to 180 casual dining restaurants across 6 popular chains. The culminating report shares photos and insights from the study, while further describing the capabilities of this innovative mystery shopping method.
Download this free report today!