What Do Customers Think about Dollar General's New DGX?
Dollar General operates a mind-blowing 13,320 stores across the United States.
But these days all eyes are on just two of them.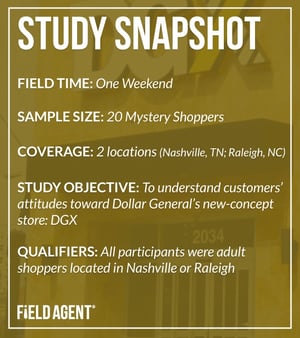 A fixture of rural and small town America, Dollar General is currently experimenting with two new, prototype stores targeting "busy, metropolitan shoppers." DGX, as the company is tentatively calling the store, caters to city-dwellers with a smaller, sleeker format and a larger assortment of quick, ready-to-consume foods and drinks. "Quick and easy," the company calls it—and all at Dollar General prices.
Mystery Shopping DGX
This weekend, mobile solutions firm Field Agent ran a 20-customer mystery shop of the two DGX locations—sending 11 shoppers to the Raleigh, North Carolina location and 9 shoppers to the DGX in Nashville, Tennessee.
See also: What do customers think about Walmart's new c-store format?
As shown in the video below, mystery shoppers toured their designated DGX, captured photos and video, and inspected the store's ins-and-outs. Mobile mystery shops differ from conventional methods in several important ways.
The video offers a glimpse into the study, but scroll further down to view the full results from the mystery shop...and to see what shoppers think about Dollar General's foray into the big city.
As the results below show, mystery shoppers were overwhelmingly positive in their assessment of DGX. Overall, customers rated the store an impressive 4.8 out of 5. DGX also received high marks on ease and speed of shopping—which plays right into the company's "quick and easy" mantra.
As a basic and early indication, the results from this mystery shop bode well for Dollar General as it seeks to extend its reach into high-volume, urban markets.
A Quick Look at Mobile Mystery Shops
Mobile mystery shops combine crowdsourcing and smartphone technology to offer companies a simpler, faster, more affordable alternative to traditional MS methods. With mobile mystery shopping, it's never been easier to experience your business operations as customers experience them.
Learn more about mobile mystery shopping. Download the report below, and get an inside look at a mystery shop of 180 popular casual-dining restaurants.