QuickShop Dishes on 180 Casual Dining Restaurants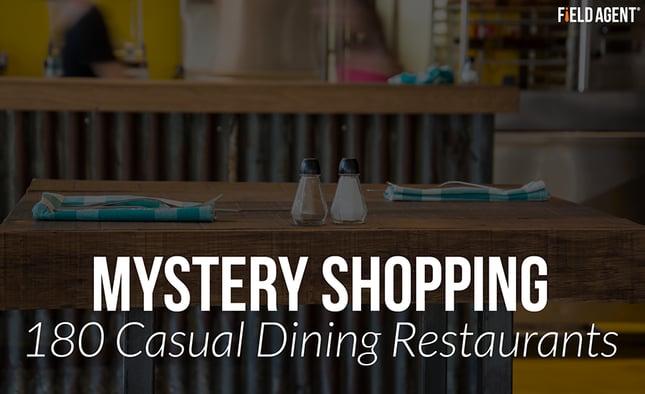 It's been feast or famine for restaurants over the past decade.
After a few years of famine, 2008-2010, the National Restaurant Association projects total industry sales will exceed $709 billion this year.
The dollars are hotly contested. After all, the restaurant industry is hyper competitive, both within segments (Applebee's vs. Chili's) and between segments (Casual Dining vs. Fast Casual).
And to stay competitive, many restaurants rely on mystery shopping—to see their operations from the customer's point-of-view. Field Agent's QuickShops offer a simpler, faster, more affordable alternative to traditional mystery shopping, when companies don't have the time, money, or need for a full-blown mystery shop.
We recently dispatched QuickShoppers to 6 popular casual dining chains, ultimately collecting results from 180 locations. Here we present the answers to 5 pressing questions about casual dining restaurants.
Bon appétit.

5 Pressing Questions about Casual Dining Restaurants
1. What are wait times like?
Not bad. Not bad at all.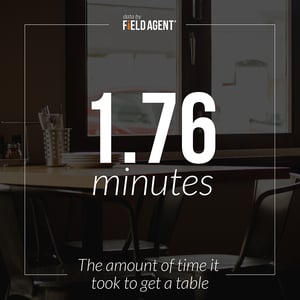 QuickShoppers were required to visit their assigned restaurant during dinner hours, where they were instructed to order a full meal for dine-in only. We asked how long, from the minute they walked in the door, it took to sit down at their table.
The average wait time was an agreeable 1.76 minutes. 73% said this was shorter than expected.
Longest wait time among the 6 casual dining chains: 3 minutes
Shortest wait time: 0.83 minutes
See also: 5 Reasons Why Your Restaurant May Be Losing Customers
2. Are servers upselling guests?
Only 25% of our 180 QuickShoppers said their server attempted to upsell them or push a promotional meal/item. Of these, 31% actually ordered the server's suggestion.
Dessert was a different story. 75% of QuickShoppers said their server asked if they'd like dessert.
3. Are facilities clean? Specifically, what about restrooms?
As we pointed out in the article, "5 Reasons Why Your Restaurant May Be Losing Customers," in the restaurant industry especially, cleanliness is next to godliness.
While at their assigned restaurants, we instructed QuickShoppers to inspect the restroom. We asked, "On a scale from 0-10, where 10 is extremely clean and 0 extremely unclean, rate the cleanliness of the restroom you just visited."
The average rating was 8.09, with 73% of diners assigning the restroom an 8 or higher. 2% were rated 3 or lower.
Lowest cleanliness rating among the 6 chains: 7.8
Highest cleanliness rating: 8.3
4. How do customers rate the casual dining experience?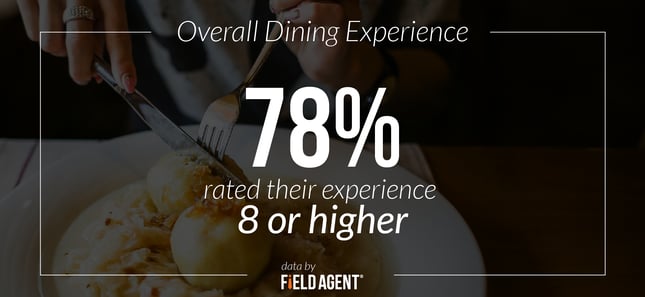 QuickShoppers were asked to rate four dimensions of the dining experience on a scale from 1-5, where 5 was "great" and 1 "very poor." In general, customers liked what they saw:
Food quality: 4.32
Service speed: 4.39
Atmosphere: 4.35
Staff friendliness: 4.68
In terms of overall satisfaction, QuickShoppers rated their dining experience an 8.4 on a 10-point scale, with 10 "extremely satisfied" and 0 "extremely dissatisfied." 78% rated their experience 8 or higher.
Lowest satisfaction rating among the 6 chains: 7.6
Highest satisfaction rating: 8.9
5. Will their experiences generate future sales?
We gauged this in two ways. First, we asked customers to what degree the dining experience would influence their likelihood of eating at the restaurant again. A convincing 74% said they'd be more likely to return to their assigned restaurant, and only 7% indicated they would be less likely.
Second, we asked mystery shoppers how likely they'd be to recommend the restaurant to a friend. A very favorable 75% reported they would be either "extremely likely" or "very likely" to do so. Only 9% were no more than "slightly likely."
The QuickShop: Dine Along with Your Customers
QuickShops let managers see their restaurants from a customer's point-of-view, more simply, quickly, and affordably than traditional mystery shopping. To witness these capabilities, download "The QuickShop: How Restaurants Use Their Own Customers to Co-Create Outstanding Dining Experiences."
Mobile Research, Mystery Shopping, Restaurants, Customer Experience