Omnichannel Special: 253 WALMART PAY Users Review the Digital Service
Something pretty cool, maybe even trendsetting, is happening on smartphones right now.
No, not Pokémon Go.
I'm talking about Walmart Pay, a new retailer-specific, digital payment service that lets Walmart app users purchase merchandise with nothing more than their smartphones.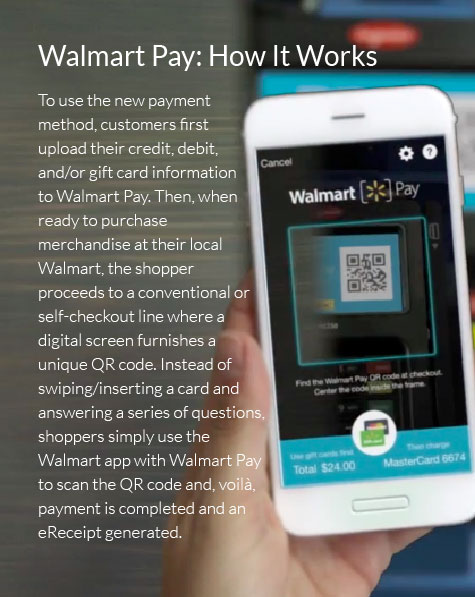 Just weeks after its limited release, the nation's largest retailer has already rolled out Walmart Pay to all of its U.S.-based stores, more than 4,600 nationwide.
That was fast.
As Daniel Eckert, senior VP of services for Walmart U.S. explained, the company hopes Walmart Pay will enhance the in-store shopping experience for customers:
"Walmart Pay is not a payment app for payment's sake. It's a way to build a digital relationship with the customer…The combination of assets that go into Walmart Pay make checkout more convenient, faster and fun."
But, there remains a weighty question on many minds:
Will Walmart Pay actually pay off for Walmart?
It'll naturally boil down to what customers think.
What Do Customers Think about Walmart Pay?
This week Field Agent enlisted 253 U.S. adults to use and review Walmart Pay. Most of these—90% in all—were first-time users of the digital service, and thus had to download the Walmart app and/or enroll in Walmart Pay prior to participating.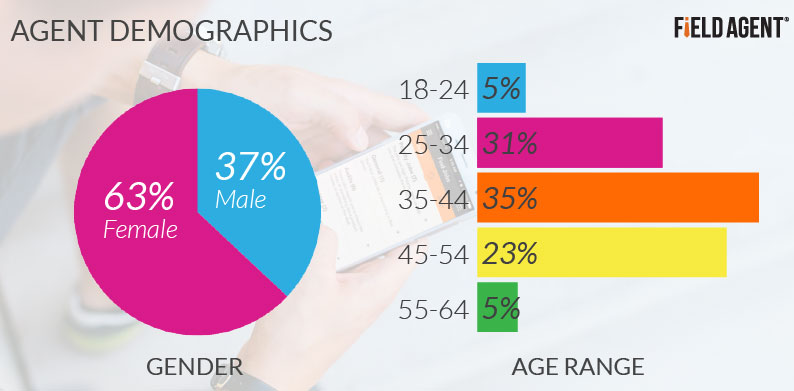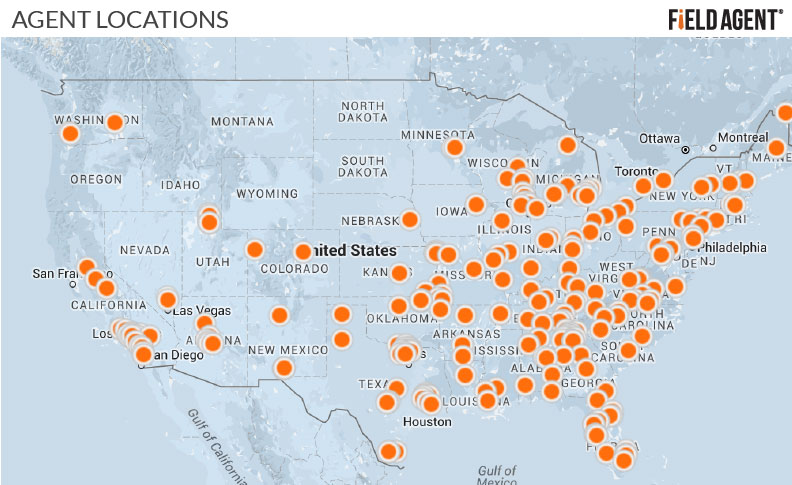 We instructed participants to visit their local Walmart to shop for and purchase one or more items using Walmart Pay. As images in this article suggest, these customers submitted screenshots of their smartphones at various junctures in the payment process. The screenshots also substantiate that every participant did, in fact, use Walmart Pay to make a purchase.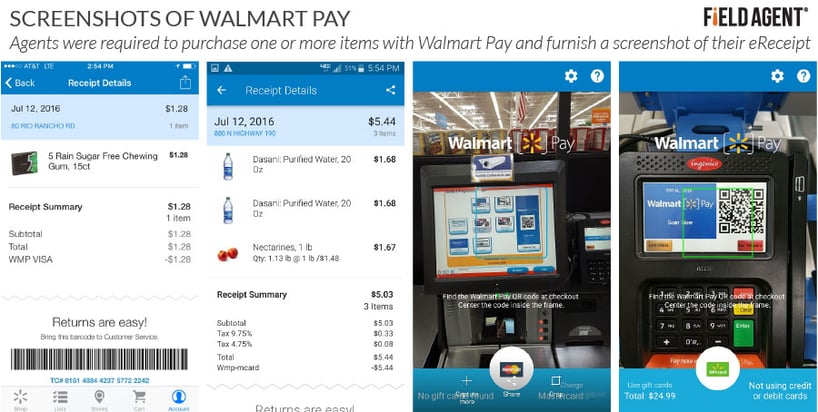 Immediately following the experiential portion of the study, participants answered a range of questions intended to gauge their attitudes toward the new payment method.
Below we offer the results as a quick-fire Q&A.
Quick-Fire Q&A: Walmart Pay
1. How user-friendly is the Walmart Pay enrollment process?
The overwhelming majority of participants found the Walmart Pay enrollment process remarkably easy. 55% said the process was extremely user-friendly and 34% very user-friendly. Only a combined 2% found enrollment only slightly or not at all user-friendly.
2.

Which is better in customers' opinion: Walmart Pay or paying with a card?
After using the digital service, participants were asked which they feel is better—Walmart Pay or paying by card—across three different dimensions:
For speed (i.e., how quickly they could make payment), 80% said Walmart Pay is better than paying by card
For convenience (i.e., how simple and easy overall it is to pay), here, again, 80% indicated Walmart Pay is superior
For the perception of safety/security (i.e., the feeling their financial information is protected), 58% said Walmart Pay beats using a card
Overall, all things considered, 3 of 4 customers said Walmart Pay is better than paying by card.
Impressive. Especially considering 90% were first-time Walmart Pay users.
See also: What Do Shoppers Think about Walmart's Superstore of the Future?
3. How safe and secure do customers feel when using Walmart Pay?
Because it involves their sensitive personal and financial information, no doubt safety and security—or at least the perception thereof—will play a role in the adoption and ultimate success or failure of Walmart Pay.
Almost half (49%) in our study responded they feel extremely or very safe and secure using Walmart Pay, while an additional 38% indicated they feel moderately safe/secure using it. Just 5% responded not at all safe/secure.
4. How knowledgeable and helpful were Walmart associates with respect to Walmart Pay?
Altogether, 61% of customers in our study had contact with one or more Walmart associates about the digital payment service. Of these (n = 154), 24% found employees extremely knowledgeable, and 21% very knowledgeable, about Walmart Pay. However, 18% said employees were only slightly knowledgeable/helpful, and another 18% reported they were not at all knowledgeable/helpful.
5. When will customers use Walmart Pay?
Perhaps customers will use Walmart Pay only selectively—for instance, when lines are short (or long) or if they're in a rush (or not)? Among participants who indicated some likelihood of using Walmart Pay in the future:
72% said they're particularly likely to use the digital service when in the self-checkout line. Compare this to the 49% likely to use it when in a traditional, clerk-operated line
77% indicated they're particularly likely to use the digital service when in a rush, compared to 49% when not in a rush
56% are especially likely to use Walmart Pay, they said, when checkout lines are long, while 45% are likely to use it when lines are not long
For some customers anyway, Walmart Pay may serve as a contingent form of payment rather than an exclusive method.
6. How likely are customers to use Walmart Pay to upload, manage, and use Walmart gift cards?
Walmart Pay also allows users to upload, manage, and use Walmart gift cards. But will customers make the most of this feature?
Of those at least slightly likely to use Walmart Pay in the future, more than half (58%) said, in the event they receive one or more Walmart gift cards, they'd be completely likely to use Walmart Pay to manage and use them. Another 26% would be very likely and only 2% not at all likely.
7. What kind of rating would customers give Walmart Pay?
Field Agent asked customers to rate Walmart Pay on a 5-star scale, accounting for all considerations (e.g., ease of use, speed, safety/security).
In our study, customers awarded Walmart Pay 4 of 5 stars.
8. How likely are customers to use Walmart Pay in the future?
In our sample of 253 customers, including 227 first-time Walmart Pay users, a healthy 38% said they're completely likely, and 28% very likely, to use the digital service in the future. That's 66% demonstrating strong repeat intentions. And just 8% said they're only slightly likely, and 8% not at all likely, to use Walmart Pay again. Some of these, indeed, may have showed low repeat intentions because they rarely or never shop at Walmart.
See also: The Omnichannel Scene: Inside 5 Innovative Retail Services
9. Are customers more likely to shop at Walmart as a result of Walmart Pay?
This may be the best news for Walmart.
Among all customers, 62% indicated they're more likely to shop at Walmart after personally experiencing Walmart Pay, broken down as follows: 18% much more likely, 27% more likely, and 17% a little more likely.
10. Does Walmart Pay improve shoppers' perception of Walmart as an innovative company?
In our survey, yes.
We asked participants whether they agreed with the statement: "Walmart Pay improves my perception of Walmart as an innovative retailer." 29% completely agreed with the statement, 40% agreed, and 14% slightly agreed.
11. What suggestions do customers have for Walmart Pay?
We ended the study by giving customers a chance to offer suggestions, in their own words, for improving the Walmart Pay service.
Many took the opportunity simply to praise the new service, like this 42-year-old man from Simpsonville, SC, who wrote, "Love it. It's lightning fast at checkout."
Still others did offer suggestions or criticisms, including:
Provide a physical receipt (or the option for one): "Allow customers to receive paper receipts as well if they choose to. I'm not a huge fan of e-receipts and know many others aren't as well" (Male shopper, 22, Coraopolis, PA).
Better train/inform employees: "Make sure your employees are more knowledgeable and helpful with this new paying system because it can be overwhelming at first" (Female shopper, 39, Hollywood, FL).
Offer a confirmation/authorization prompt: "Only complaint would be to allow for confirmation of payment prior to submission. If there was an error, [I] didn't see opportunity to cancel" (Male shopper, 39, LaGrange, GA)
Conclusion: Heading for the Checkout
Results from this 253-customer study generally bode well for Walmart Pay—and perhaps other retailer-specific, digital payment services that might be on the horizon.
Our survey offers several favorable signs for the new digital service: customers say it's easy to set up; they feel it's an improvement over conventional payment methods; they mostly feel safe and secure using it; they are likely to use it again; and, they are—the majority of them—at least a little more inclined to shop at Walmart after using it.
How's that for a report card?
Want even more insight into cutting-edge retail innovation? Download the report, "Reimagining the Big Box," to see the results from a mystery shop of Walmart's superstore of the future and Target's new Connected Living Experience department.