Pet Supply Audit: Which Retailers are Winning the Dog & Cat Fight?
According to the American Pet Product Association, pet owners spent around $60 billion on their furry friends in 2015, including approximately $23 billion on pet food alone.
Any way you look at it, that's a lot of kibble.
And retailers across many verticals are competing fiercely for a piece of this huge prize.
Which Retailers are Winning Pet Owners???
To answer this question, Field Agent recently surveyed 300 verified dog and/or cat owners. We asked, "Where do you purchase most of your pet food and other pet supplies from?"
Mass merchandisers were the alphas in our survey at 37%, followed by pet specialty retailers (30%) like PetCo and PetSmart in not-too-distant second place.
Digging Deeper: 100-Store Audit of Pet Supplies
To further illuminate this competition for pet owners, we deployed one-third of these dog and cat owners to 100 stores across the country, where they audited pet supply prices, displays, and product availability. Specifically, we sent 10 Agents apiece to mass merchandisers Walmart and Target, and 40 Agents apiece to pet specialty chains PetCo and PetSmart.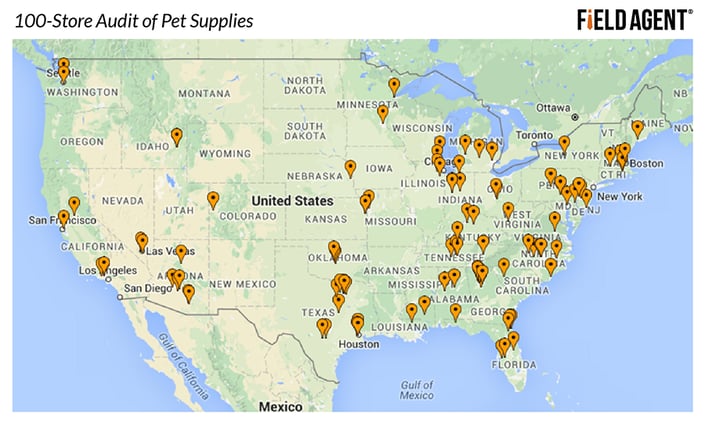 Our pet supply audit dealt with 3 important questions:
1. Who has the best prices on pet products?
As the table below demonstrates, we asked Agents to record the regular price of 4 popular pet products along with photo verification.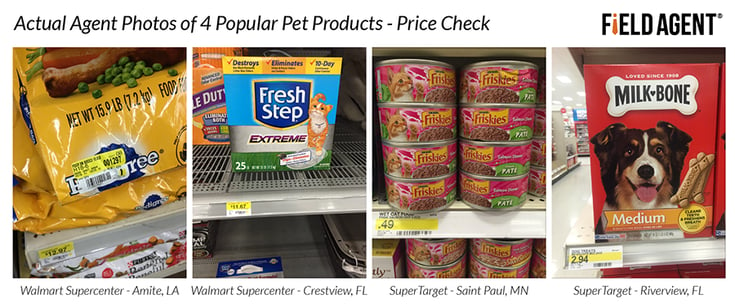 Walmart undercut its competitors on all four products, by just a penny on the wet cat food but more substantially on the other goods. Consider two additional observations:
If a shopper purchased the whole basket of pet products from Walmart, they'd spend $7.00 exactly, a savings of $0.40 over Target and $0.81 over PetSmart.
When averaged together, mass merchandisers sold the complete basket of pet goods for $7.20, or $0.65 less than specialty pet stores.
See also: Mobile Audits: The Weapon of Choice Against Limited In-Store Vision
2. How efficiently are retailers executing in-store marketing, specifically, pet supply product displays?
Field Agent also audited 4 product displays at the two pet specialty chains.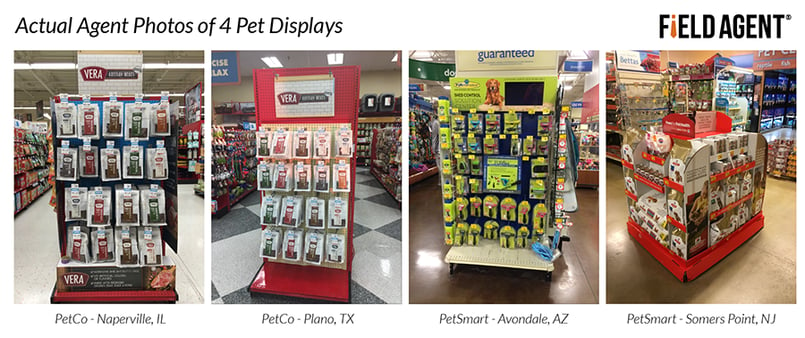 As seen in the table, for each display we calculated an availability score, or the percentage of stores with the display on the floor.

On average, the two pet specialty retailers received a display availability score of 85%, with the highest score 95% for the Vera Artisan Meats endcap and the lowest score 78% for the Furminator "Shed Control" endcap.
3. And how efficiently are retailers stocking pet supplies?
Finally, we conducted a product availability audit by asking Agents to report the number of display compartments/pegs with out-of-stocks.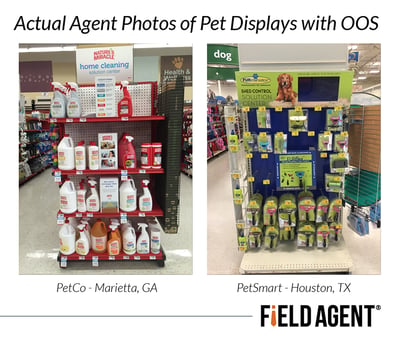 This number was used to calculate an in-stock score (see table above), which refers to the percentage of display compartments/pegs with inventory available.
In all, 94% of display compartments/hooks were stocked with at least one product unit. The lowest in-stock score was 88% for the Furminator endcap while the highest score was attributed to Vera Artisan Meats at 99.5%.
Notably, the highest availability and in-stock scores belonged to the same display, and, likewise, the lowest availability/in-stock scores belonged to the same display.
Be the Big Dog in Your Industry
Quality product? You have one.
Solid strategy? You have that, too.
Persuasive shopper marketing? Oh yeah.
But how's your retail execution? Even companies with the best products, strategies, and marketing often lose sales to retail oversights.
Download "Mobile Audits: How It Works" to learn how Mobile Audits crowdsource smartphones to help brands monitor displays, signage, prices, on-shelf availability, on-shelf placement, and other aspects of your retail execution.